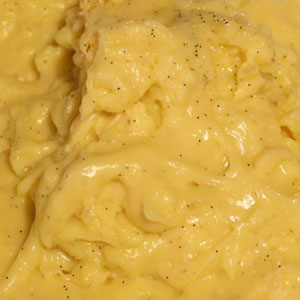 The queen of all creams is pastry cream.
It is the first recipe I learnt in my 3-hour course at Lenôtre in Cannes, back when I was a complete ignorant about pastry and it is very easy to make.
In my course I learnt how vanilla looks like and how it must be used (cut in two, to extract the seeds) but I was also amazed at its taste: it was close to something I knew, but better.
Only time made me realize that never in my life had I tasted pure vanilla: the cheap pastry shops I knew only used vanillin, an inexpensive and artificial substitute (may you be stricken with lightning if you use that in my presence).
Apart from the taste, you can recognize vanilla in creams or other products if you see the black seeds: they give the flavour and assure you of the quality of the product (vanilla is tasty, but relatively expensive).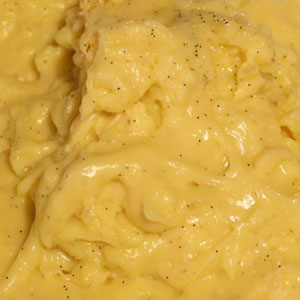 The full recipe is available in the "Creams, custards and sauces" section of this website.