Recipe: Vanilla custard sauce (Crème anglaise)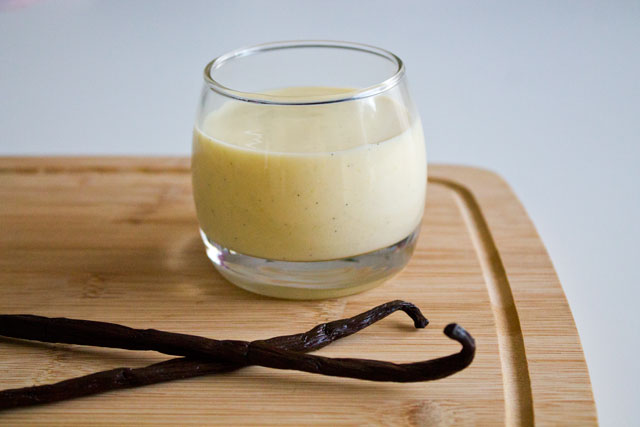 After all pastry creams, Chantilly creams, almond creams (and so on…), welcome to the kingdom of sauces!
Sauces are liquid mixtures cooked on the stove, usually with no thickeners other than egg proteins (so you see the difference with pastry cream which contains cornstarch as thickening agent).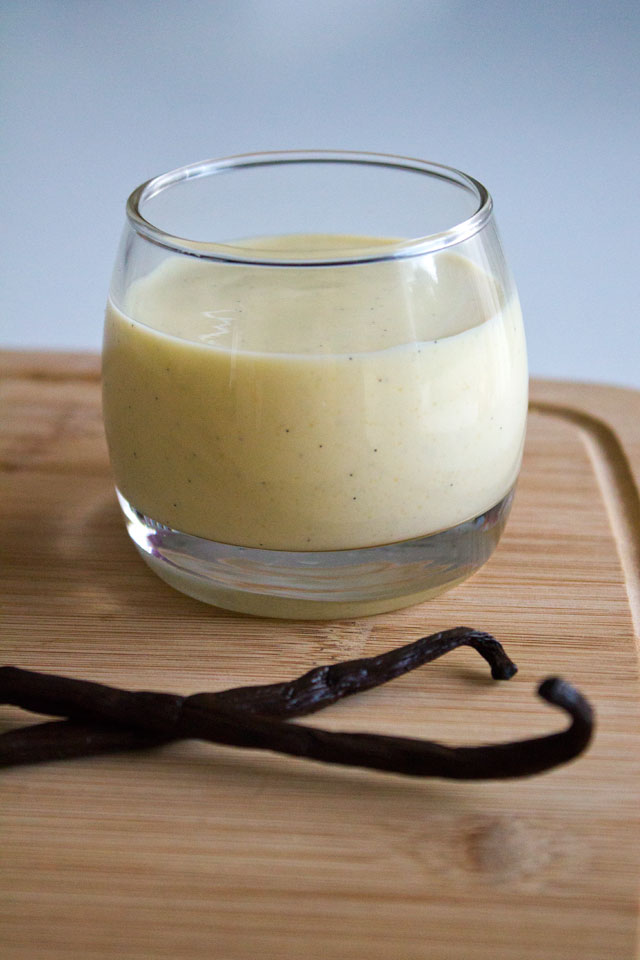 This vanilla custard sauce or "crème anglaise" is the mother of all sauces (and is basically a pastry cream without cornstarch): it can be served hot or cold to accompany any dessert and is the basis for many other preparations in pastry, such as ice cream or Bavarian cream.
Preparing a custard sauce (which, by the way, can be flavoured with chocolate, or any alcohol or spice/herb you want, from ginger to Earl Grey tea), is easy but requires some technique and attention (see notes at the end of the recipe):
It has to be stirred constantly to prevent the egg yolks from curdling
It has to be chilled immediately after cooking to prevent bacteria proliferation
Must be pasteurised at a specific temperature and yet it must not be overcooked
Pasteurisation occurs at 85°C or after keeping the sauce at 82°C for at least a minute, so a thermometer might be required, especially the first times (serious pastry chefs just need a glance to see if the sauce is well cooked, I can't yet!), but otherwise you can perform the (less-reliable) "back-of-the-spoon" test explained in the recipe.
The eggs have curdled! How to salvage a custard sauce gone wild?
Just strain the sauce into a clean bowl over an ice bath, then whisk like there is no tomorrow!
If this doesn't help, place the sauce in a blender and process for a few moments (the final sauce will be smooth but probably thinner and less creamy).
Finally, if you find it really difficult to cook a sauce without making the eggs curdle, try cooking it over a bain marie!
Vanilla custard sauce (Crème anglaise)

Print recipe
Ingredients
| | |
| --- | --- |
| 250ml | Milk |
| 250ml | Heavy cream |
| 1 | Vanilla bean, split |
| 120g | Egg yolks (~ 6 egg yolks) |
| 130g | Granulated sugar |
Directions
Note
The finished sauce should last 3 to 4 days.
Eggs are a potentially hazardous food with a high bacterial content, so they must be pasteurised by keeping the custard at 82°C for 1-2 minutes in this recipe. This will kill all the bacteria in the custard. Any temperature above 85°C is risky as the yolks might start curdling.
The final custard with pasteurised eggs should not be poured in the container that contained the raw eggs, as this would make the pasteurisation useless.
The custard must be chilled quickly to prevent the proliferationof bacteria, which is highest at temperatures between 10°C and 60°C. To do this, prepare an ice bath with ice and cold water.