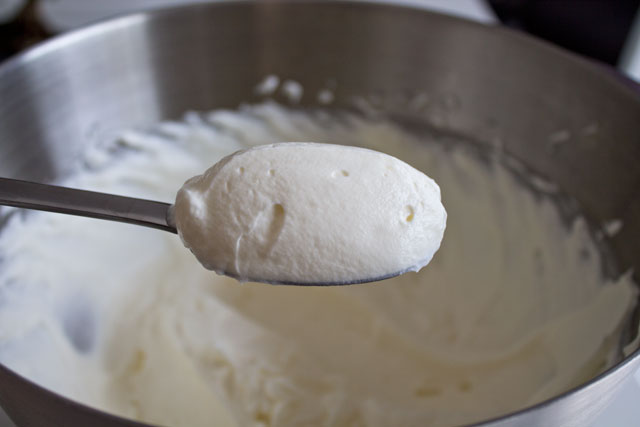 Honestly, I don't think you can go simpler than this. It's the shortest recipe ever on this blog, yet it has a very important role in pastry.
Chantilly cream is simply heavy cream whipped to soft peaks and flavoured with sugar and vanilla. It can be used for garnishing desserts or pastry items.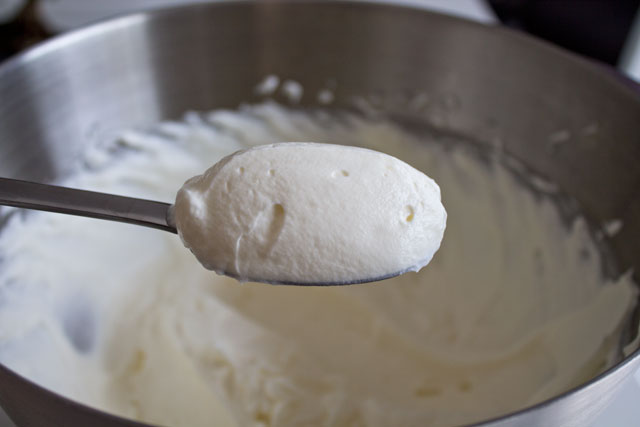 Although making crème Chantilly is easy, it is essential that:
The cream and the bowl are well chilled: room-temperature cream will resist whipping
Heavy cream is used: it contains around 35% of butterfat, which will make the final Chantilly cream more stable than whipped cream made with whipping cream (any cream with less than 30% butterfat might not whip at all). In general, the fatter the mixture, the easier it will be to whip it (e.g. adding mascarpone to the liquid cream will give you a modern and firm Chantilly in a few seconds)
Chantilly cream can be made with either granulated or powdered sugar:
Granulated sugar assists in forming a better foam, but the final cream might feel gritty
Powdered sugar dissolves more quickly and easily, but doesn't assist at all in foaming
In any case, it is better to add sugar and flavourings just before the whipping is complete to avoid interfering with the cream's volume and stability.
As any pastry product that incorporates air, Chantilly cream is very soft and can be used to give lightness to any dessert.
Chantilly cream

Print recipe
Ingredients
| | |
| --- | --- |
| 200ml | Heavy cream (very cold - with at least 30% fat) |
| 20g | Granulated sugar |
| 1 teaspoon | Vanilla extract |
Directions
Note
Chantilly cream can be stored for several hours in the fridge. After that, it will lose its shape, but it can easily be rewhipped.
Believe me, there is no way to whip a room-temperature cream: it must necessarily be cold!
The cream is usually whipped to a soft consistency for usage in other products (e.g. Bavarian cream)
Very important: do not overwhip the cream otherwise the fats will separate from the liquids (and you will obtain butter and whey, which might also be your desired result!) 😛