Video: Almond biscuits. Dipped in chocolate. Plus me.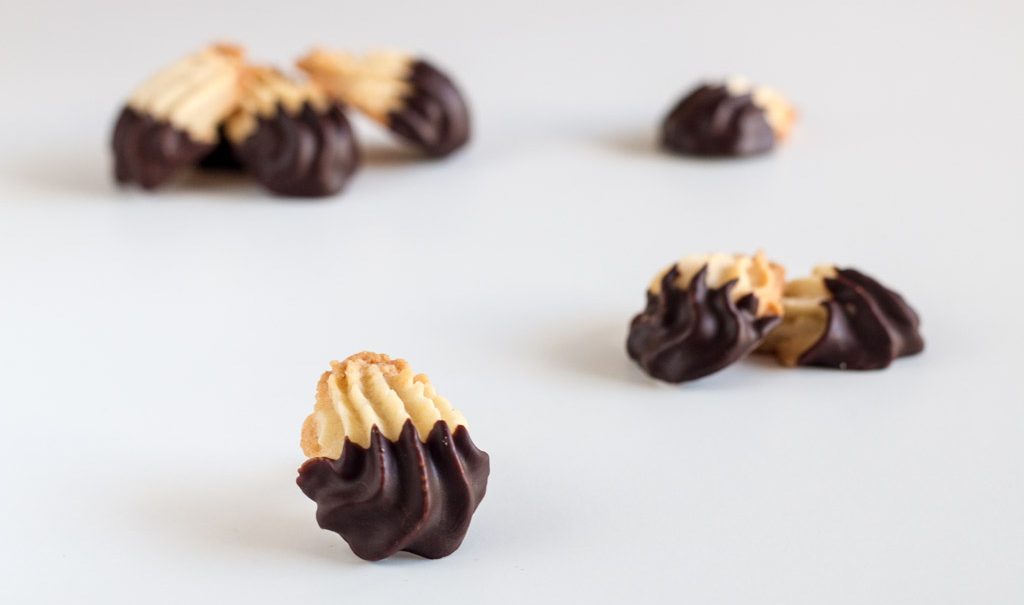 As many times before, I found my fridge full of egg whites.
The majority of recipes I love use only egg yolks, so this was just the consequence.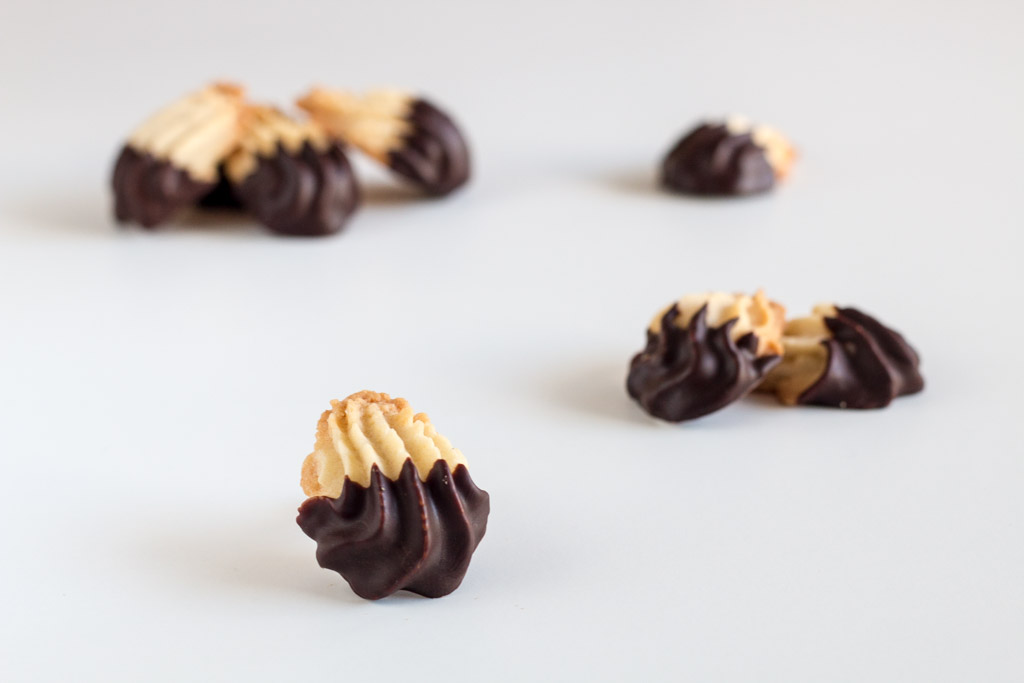 To solve the problem without throwing away food (I hate that!), I looked for an egg-white-only recipe on my Italian book by the master himself Iginio Massari and found this gem: chocolate-dipped almond biscuits… perfect for tea time.
(Also check out these posts for recipes with egg whites or egg yolks!)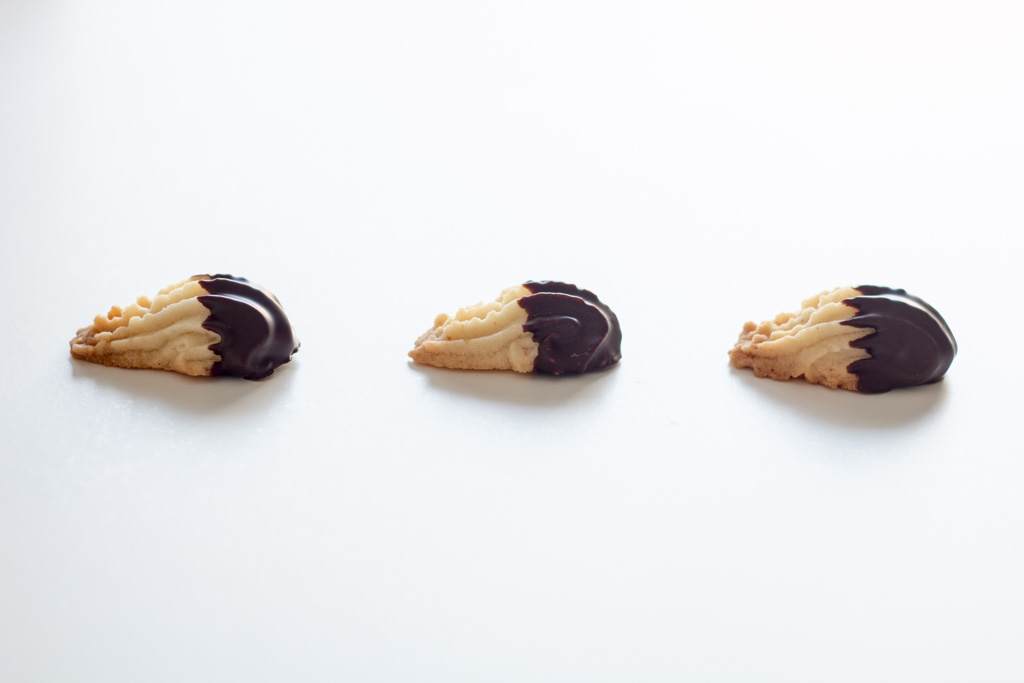 The recipe is very easy to make, although the dough was very hard at the end and I had to leave it at room temperature for a while before I was able to pipe it well.
The only difficulty in the recipe is in tempering chocolate, but if you follow the instructions with a thermometer you might succeed at the first attempt (and even if you fail, you can start from scratch at any time).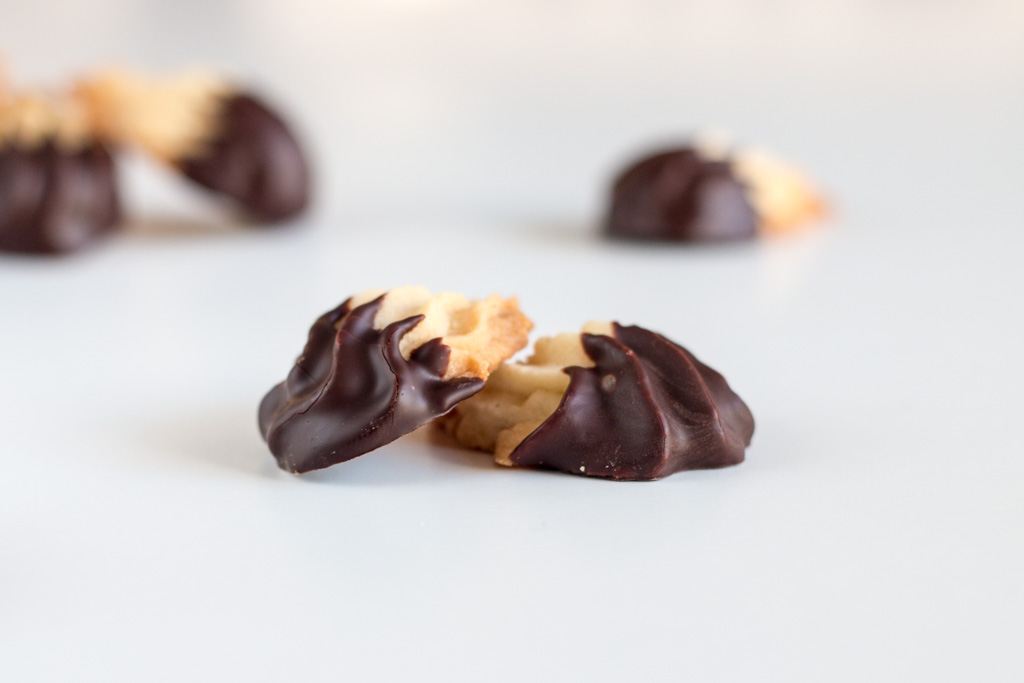 Oh, by the way, this is also the first video in which I appear!!! 😛 I think I still need some practice when speaking in front of a camera, but I hope you like the video. Let me know in the comments what you think!
Chocolate-dipped almond biscuits

Print recipe
Ingredients
Biscuit dough
| | |
| --- | --- |
| 150g | Almonds |
| 30g | Egg whites (for the almonds) |
| 240g | Unsalted butter, room temperature |
| 150g | Granulated sugar |
| 1/2g | Vanilla bean |
| 1 pinch | Salt |
| 55g | Egg whites |
| 300g | Pastry flour |
Decoration
Directions
Biscuits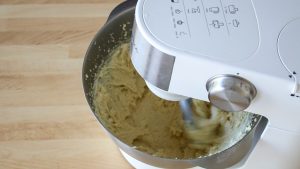 2
Cream the butter with the sugar, the almond mixture, a pinch of salt and the vanilla seeds on high speed for 10 minutes using the paddle attachment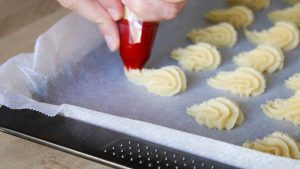 6
Piping suggestion: pipe some dough keeping the tip near the paper; then keep on piping raising the bag up a bit then down and at the same time towards you. Bake the biscuits for 15 minutes at 170°C with the oven door slightly open.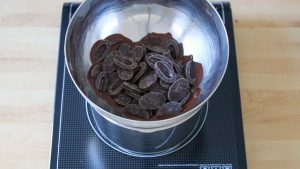 7
Temper the dark chocolate: heat it over a bain marie of simmering water until it reaches 55°C, then chill it in an ice bath stirring continously until it reaches 28°-29°C; finally replaces for a few seconds over the bain marie until it reaches 32°C. Do not exceed 32°C in this phase, otherwise you'll have to start again from scratch.