Recipe: S-shaped cocoa biscuits
I'm being very laid back with the blog lately, although nothing much has changed in my life: I'm still working as usual, I didn't go on holidays yet and I'm still baking almost every week.
But it's summer, and living in a seaside region makes you feel on holiday even if you're not. So yeah, all this was to justify why I'm posting a bit less on the blog, but I'm as excited as usual about sharing my lovely recipes and photos… especially now that I've reached the great milestone of 1.000 likes on Facebook! (You're not following me yet? Do you have any valid reason? If not, just go on Fb and like my page! Now!).
I know that summer should be all about fresh fruit tarts and light creams, but I had some leftover egg whites and decided to try this recipe for S-shaped cocoa biscuits which are rich in not-so-summery butter.
This recipe by Italian pastry chef Iginio Massari is very interesting because it can be considered a variation of a shortbread tart dough, but in this case the butter is creamed to obtain an airy, flaky dough and the egg whites are used instead of whole eggs or egg yolks.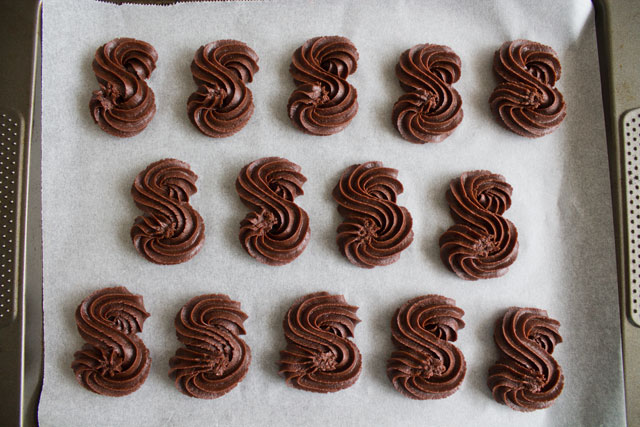 Finally, the biscuits have to be piped, baked and then dipped in tempered milk chocolate. This was my first successful attempt at tempering chocolate with the seeding method (you find the details in this recipe, but I'm going to write a separate article for a full explanation). For this reason I was ecstatic, until I tasted the biscuits and became even more ecstatic because they are absolutely fantastic!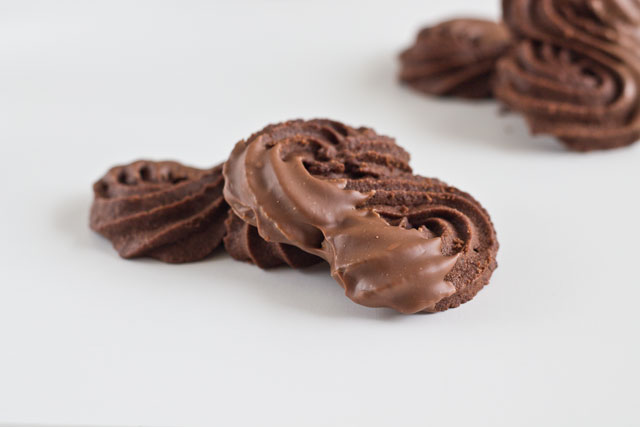 They had the best texture I have ever found in biscuits, and the crunchy milk chocolate on the outside is just perfect (of course it's crunchy only if you are able to temper it well)!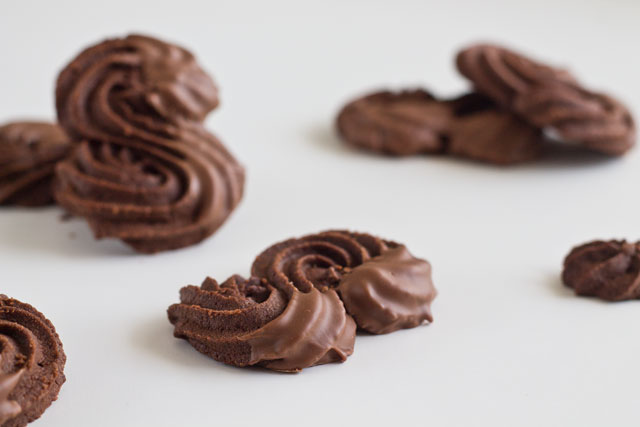 I really recommend these biscuits and they are perfect for tea time, although now that it's 40°C outside, I don't bother making tea and I just eat them one after the other! 🙂
S-shaped cocoa biscuits with chocolate

Print recipe
Ingredients
| | |
| --- | --- |
| 250g | Unsalted butter (room temperature) |
| 100g | Powdered sugar |
| 1 pinch | Salt |
| 1/2 | Vanilla bean |
| 60g | Egg whites (~2 egg whites, room temperature) |
| 290g | Pastry flour |
| 50g | Cocoa powder |
| 250g | Milk chocolate |
Directions