Recipe: Strawberry tart with pastry cream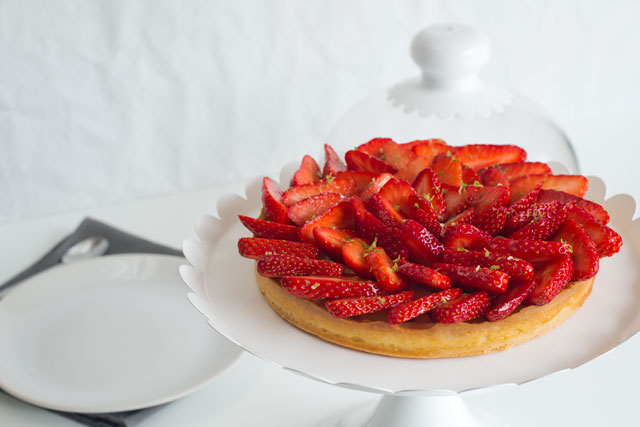 Since the beginning of spring, I keep on being super tired.
As we say in Italian: "April, sleeping is sweet" (which is quite dull in English, but in Italian it rhymes, I assure you)… but anyway now we're in May and I'd love to be able to get out of bed at a decent time! But no… I need a crane in the morning to lift me up!
I don't know if this is the effect of the season change (or it's maybe due to the fact that I go to bed late), but luckily enough spring has also brought many nice things so far: warm weather, blossoming plants, my birthday, new series on Netflix, a royal baby, but most importantly… strawberries! 🙂
They are by far my favourite fruit (together with cherries), so I started some serious baking activity around them. The first result is these nice strawberry tart.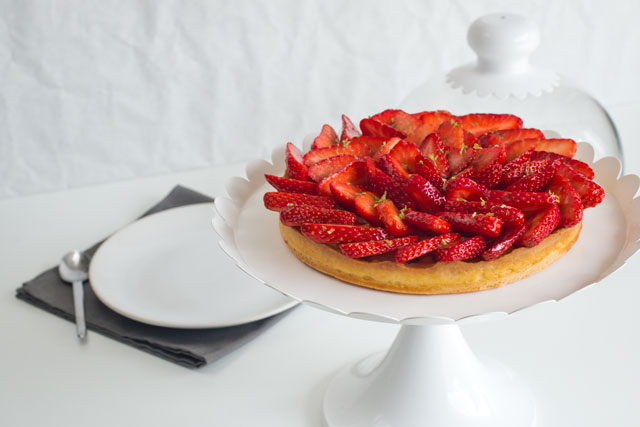 Nothing difficult actually: a simple shortbread tart dough, a classic vanilla pastry cream with a bit of lime zest and a truckload of fresh strawberries.
I covered the strawberries with a home-made neutral tart glaze: it is nothing more and nothing less than a sugar syrup with gelatin, but it's one of the best-kept secrets by pâtissiers. Glazing fruits in a tart really makes them stand out and shine. And it will also make your tart rise to a flattering "Oh but you must have bought this, I can't believe you made it yourself" level! 🙂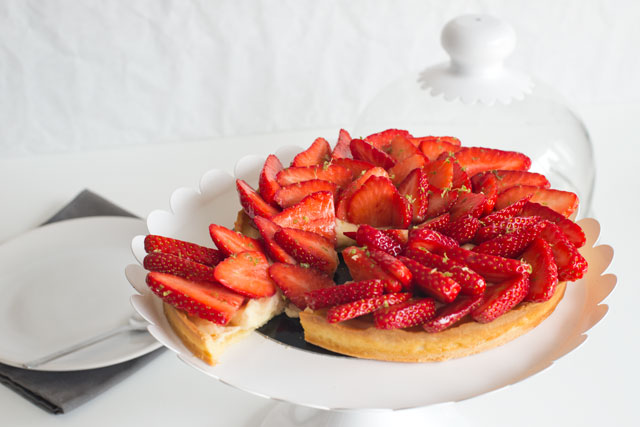 And remember: the secret to a nice tart is arranging fruits harmonically, but also not leaving empty spots where the cream could be seen!
So enjoy this tart and stay tuned for other strawberry extravaganza coming soon! 😛
Strawberry tart with pastry cream

Print recipe
Ingredients
Shortbread tart dough
| | |
| --- | --- |
| 250g | Pastry flour |
| 200g | Unsalted butter (cold) |
| 100g | Powdered sugar |
| 15g | Honey |
| 25g | Eggs (roughly half egg, beaten) |
| 1 pinch | Salt |
| 1/2 | Lime zest (grated) |
Pastry cream
| | |
| --- | --- |
| 250g | Milk |
| 25g | Granulated sugar |
| 25g | Granulated sugar |
| 3 | Yolks |
| 1/2 | Vanilla bean |
| 1/4 | Lime zest (grated) |
| 17g | Cornstarch |
Tart
| | |
| --- | --- |
| 400g | Fresh strawberries (medium size) |
| 1/4 | Lime zest (grated) |
Neutral glaze
Directions
Note
You can store the tart refrigerated for up to 3 days
The remain tart glaze can be kept refrigerated in an airtight container for up to two weeks