Recipe: Fresh peach tart with puff pastry and almond cream
Some time ago I brought this tart with puff pastry, fresh peaches and almond cream to a picnic on the beach.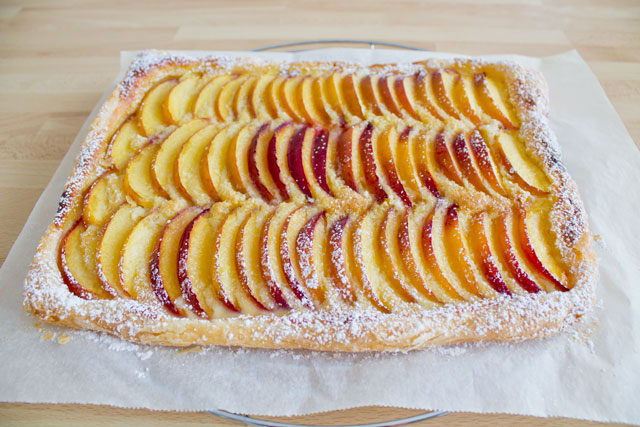 It is extremely easy to make and also very quick (provided you already have some spare puff pastry)! But the reason I chose it was that it is also perfect to carry in "extreme conditions" (e.g. to a beach with no cooler nor proper container) 🙂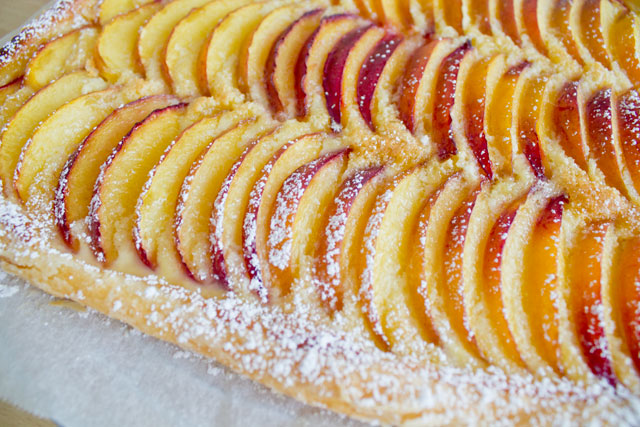 It is best served warm, but it can even be stored at room temperature and it's a tasty way to eat fruits in summer.
(Recipe adapted from the book "On baking")
Fresh peach tart with almond cream

Print recipe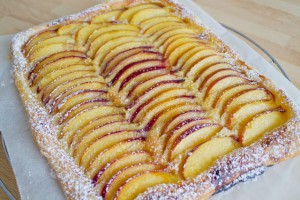 Ingredients
| | |
| --- | --- |
| 150g | Puff pastry |
| 150g | Almond cream |
| 3 | Fresh peaches or nectarines |
| 30g | Unsalted butter (melted) |
| 15g | Powdered sugar |
| | Powdered sugar (as needed) |
Directions
Note
You can serve this tart with a scoop of vanilla ice cream, for example, to create a nice contrast of temperatures for this dessert
Your fruits must be quite ripe as this will enhance the flavour of the finished tart
Don't exaggerate with the almond cream as it might cover the flavour of the fruits (i.e. pipe less cream than in my picture!) 🙂