How to make a dark chocolate cake with a white chocolate core
Good artists borrow, great artists steal.
Now I am very modest (of course, what were you thinking!) but I think I've come out with a great recipe and all I did was stealing separate parts from different cakes!!! 😛
(So yeah, that would make me a great artist)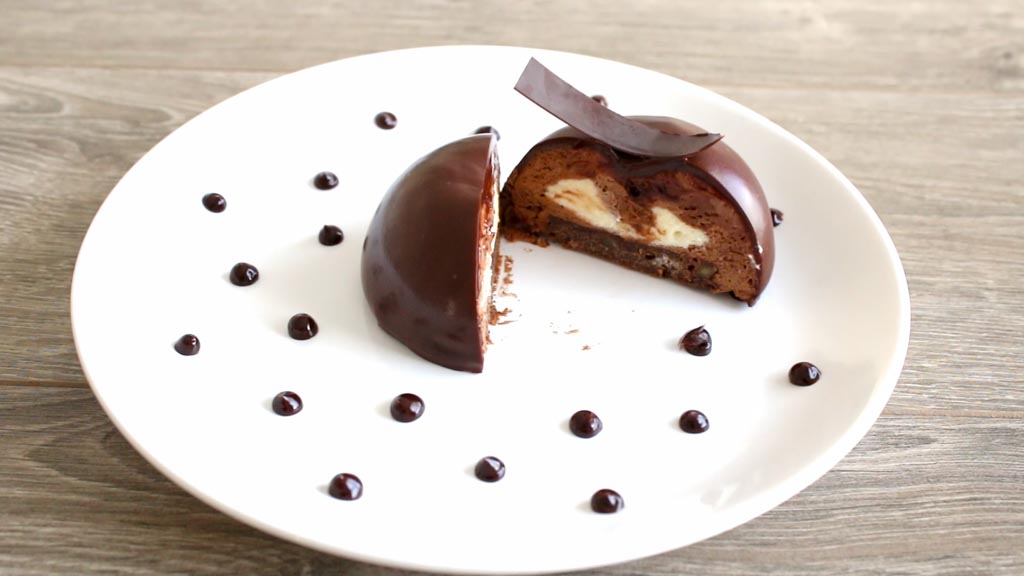 I had looked for days in my pastry books for a simple dark chocolate/white chocolate mousse domes, but I couldn't find any. Yeah I was surprised too, because I thought I had almost any possible recipe in my massive book "On baking".
There was no other choice but to invent the recipe for the cake I had in mind! The dark chocolate mousse is by Alexander Bourdeaux, the white chocolate one by Cyril Lignac, the glaze by Pascal Caffet and the brownie layer by Pierre Hermé himself!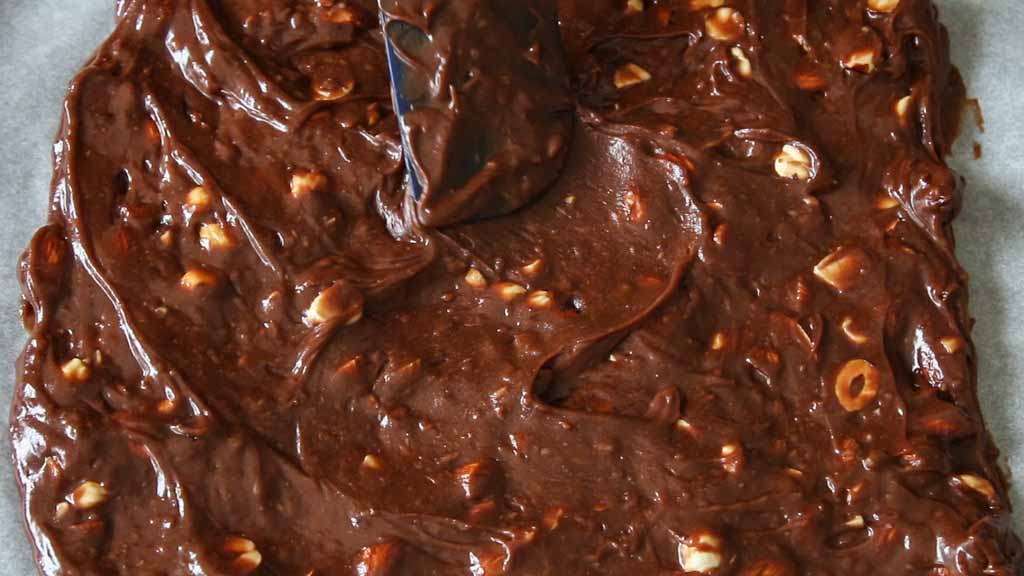 The mixture of all these elements was fine and quite balanced: the final cake had a very strong flavour of chocolate (surprising uh?) but it was not heavy and the texture was very interesting, thanks to the creaminess of the mousse, the softness of the brownie and the crunchiness of the dry fruits.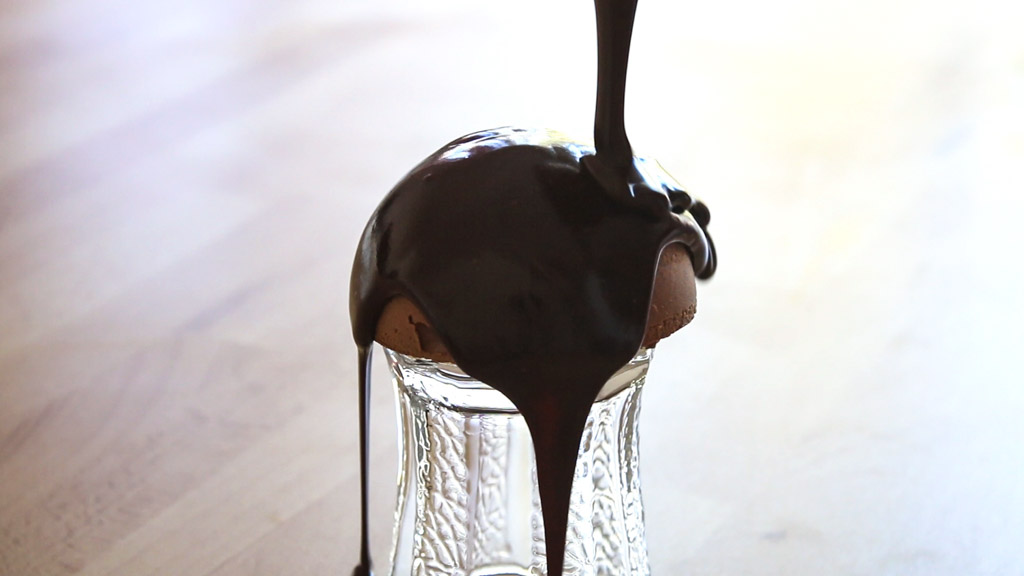 The only part that did not convince me was the glaze: it contained real chocolate (unlike the chocolate mirror glaze, which only contains cocoa powder) but the result was hard to handle and not very nice. Maybe I did something wrong, but the glaze kept on becoming too thick immediately so I couldn't waste a single moment before pouring it onto the cakes. Moreover, once it set on the cake, it formed a separate, solid, thick layer and did not blend well with the rest of the cake. So next time I'll try the domes with my mirror glaze!
What do you think of the video? Would you like more videos like this for complex recipes or should I stick to simpler ones? 🙂
Double chocolate domes

Print recipe
Ingredients
Chocolate glaze
| | |
| --- | --- |
| 40g | Heavy cream |
| 25g | Glucose syrup |
| 79g | Water |
| 43g | Granulated sugar |
| 1.1g | Pectin |
| 140g | Dark couverture chocolate (70%) |
White chocolate mousse
| | |
| --- | --- |
| 200g | Heavy cream |
| 200g | White chocolate |
| 200g | Whipped cream |
Brownie layer
| | |
| --- | --- |
| 100g | Hazelnuts and almonds |
| 115g | Unsalted butter |
| 70g | Dark chocolate |
| 2g | Eggs |
| 100g | Granulated sugar |
| 60g | Pastry flour |
Chocolate mousse
| | |
| --- | --- |
| 88g | Egg yolks |
| 88g | Granulated sugar |
| 22g | Water |
| 176g | Dark couverture chocolate |
| 352g | Whipped cream |
| 4g | Sheet gelatin |
Directions