I admit I'm totally late in posting this on my blog: I made an Opéra cake for my friend's New Year's Eve party and now we're almost in summer!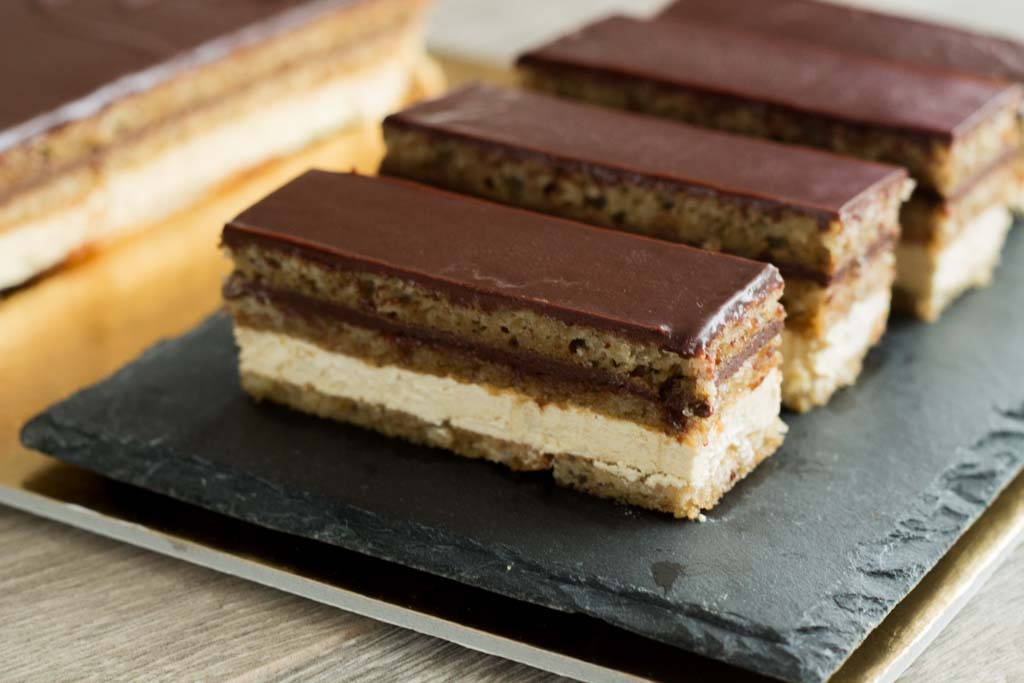 Needless to say that this cake disappeared way before midnight! It is one of the best cakes I've tasted in all my life, even better than the versions I've bought here in France.
This is a super famous dessert sold in almost all pastry shops of France: it is made of layers of joconde spongecake, chocolate ganache and coffee buttercream.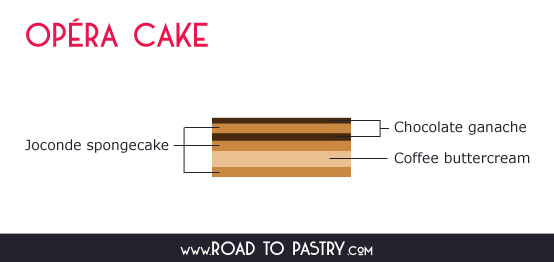 The Opéra was invented a few decades ago either by the French maison Dalloyau in 1955 or by Lenôtre in 1960 (they both claim the invention, although some say it already existed at the end of the 19th century!). Its name is probably due to the shape of the cake: a minimalist flat rectangle that looked like the stage of the Opéra Garnier theatre in Paris.
This is a "modern cake", also called "entremet": to simplify a lot, entremets are elaborate cakes with different layers. Take as an example my Royal chocolate cake: it is very different from traditional stuff like the Victoria spongecake (it is actually the opposite: the mousse on the outside hides the dacquoise on the inside).
For this kind of cakes, pastry chefs often use a joconde spongecake made with almonds and baked in thin layers.
In this recipe taken from my book "On baking", I've also used a French buttercream: nothing difficult about this, but it requires a thermometer because the eggs must be pasteurized with a sugar syrup.
In short, the Opéra is a rich cake: it is very intense in flavour (coffee and chocolate!) and you should probably keep it for special occasions given the amount of fats (almonds, chocolate, butter) it contains. Nevertheless (and much to my surprise), it is extremely delicate and light… it was a real surprise and it was hard to stop eating it!
(Did I say "special occasion"? I just meant any weekend)
Opéra

Print recipe
Ingredients
Joconde spongecake
| | |
| --- | --- |
| 150g | Almond flour |
| 180g | Granulated sugar |
| 45g | Cake flour |
| 210g | Eggs (~4 eggs) |
| 105g | Egg whites (~3-4 egg whites) |
| 45g | Unsalted butter, slightly melted |
Silky ganache deluxe
| | |
| --- | --- |
| 135g | Heavy cream |
| 42g | Granulated sugar |
| 42g | Glucose syrup |
| 160g | Bittersweet chocolate |
| 42g | Unsalted butter |
Simple syrup
| | |
| --- | --- |
| 60g | Water |
| 60g | Sugar |
| 30g | Coffee liqueur |
| 15g | Coffee extract (or espresso coffee) |
| 10g | Vanilla extract |
Coffee buttercream
| | |
| --- | --- |
| 150g | Granulated sugar |
| 25g | Glucose syrup |
| 50g | Water |
| 50g | Eggs (~1 egg) |
| 50g | Egg yolks (~2-3 yolks) |
| 210g | Unsalted butter, room temperature |
| 1 teaspoon | Vanilla extract |
| 15g | Coffee extract (or espresso coffee) |
Directions