Framboisier (Creamy raspberry cake)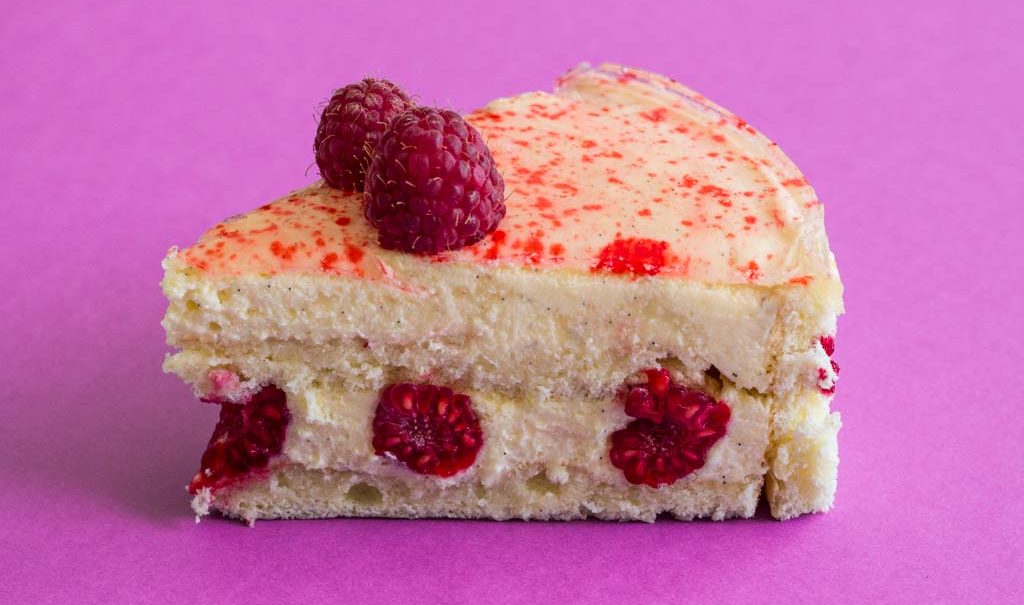 I've had quite a busy time in the last weeks. I was abroad for work for around 20 days, went to a wedding in Italy and then my parents visited me here in Cannes.
Very little or no time for baking, but I was able to make something for my parents last weekend. You must know that they are very used to Italian pastry, which in my humble opinion is a bit stuck in the 70's: an abundance of whipped cream, Maraschino-soaked spongecakes and too often that chemical-red candied cherry on top.
So whenever they taste my typically French creations, they are turned off by the important amount and strong taste of butter and by the lack of a "light" whipped cream (they say all my cakes are heavy!). The only cake they "accept" from me is a spongecake with pastry cream and red fruits. The most basic of the basics! Boring! It would include Maraschino too, but that's too much, I cannot handle it! (Does anybody really like Maraschino?)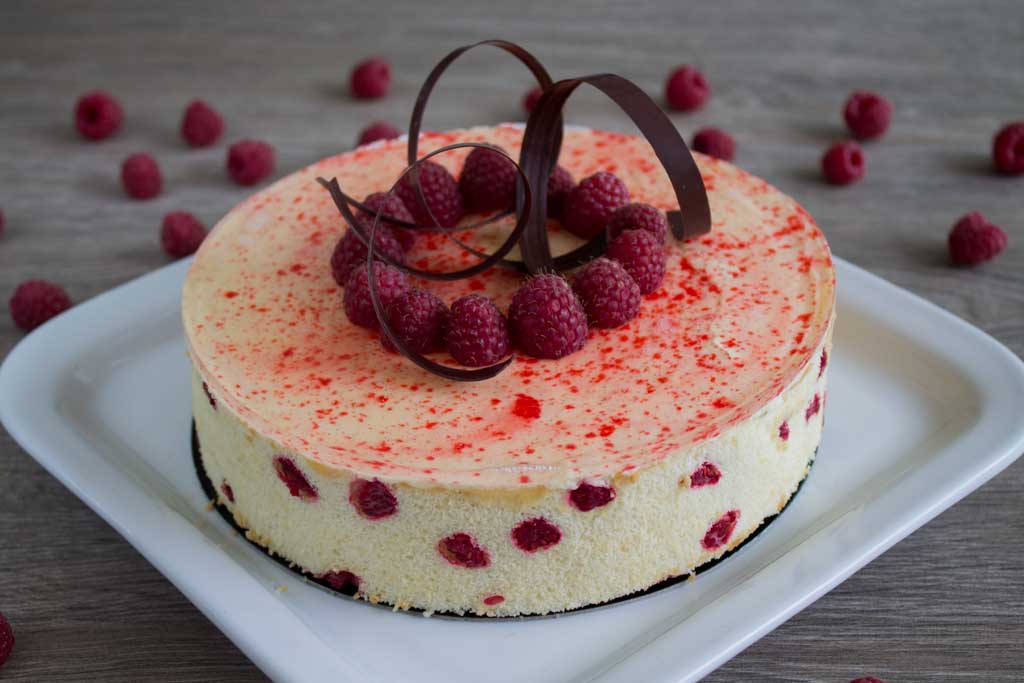 A good compromise I found for our weekends together is a French equivalent of the classical spongecake with cream. Years ago I made a fraisier, but this year I tried for the first time a framboisier, a raspberry-filled cake with a vanilla mousseline cream (read: "lots of butter").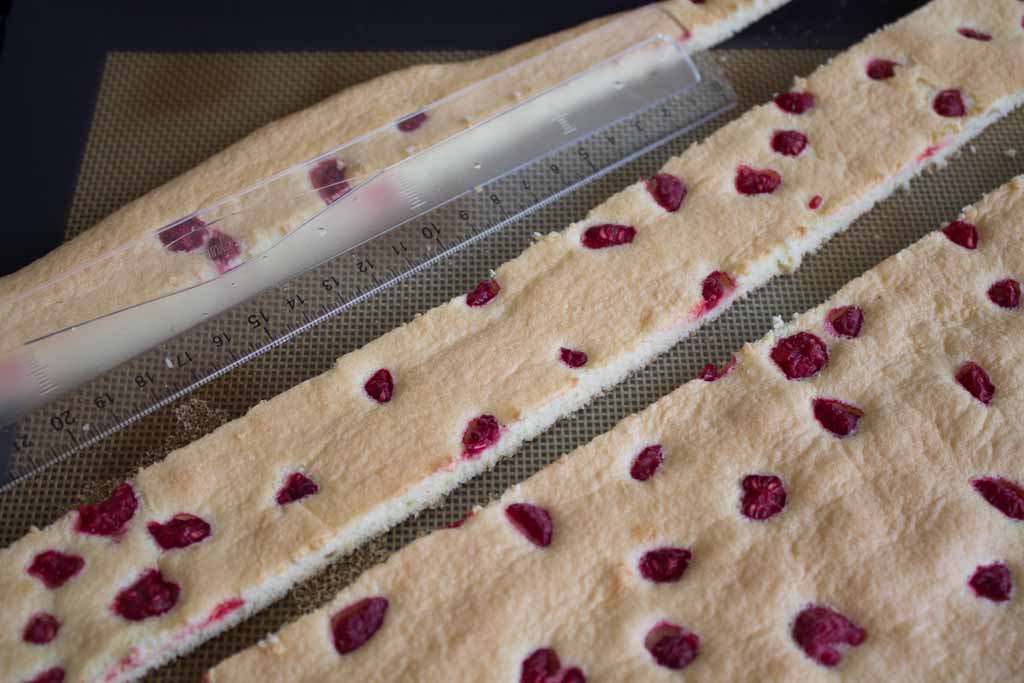 Nothing too complicated with this recipe: I just had a problem when I removed the acetate strip because it removed part of the spongecake too! I think this can be solved by dusting the spongecake with powdered sugar before baking, as it should normally happen for ladyfingers.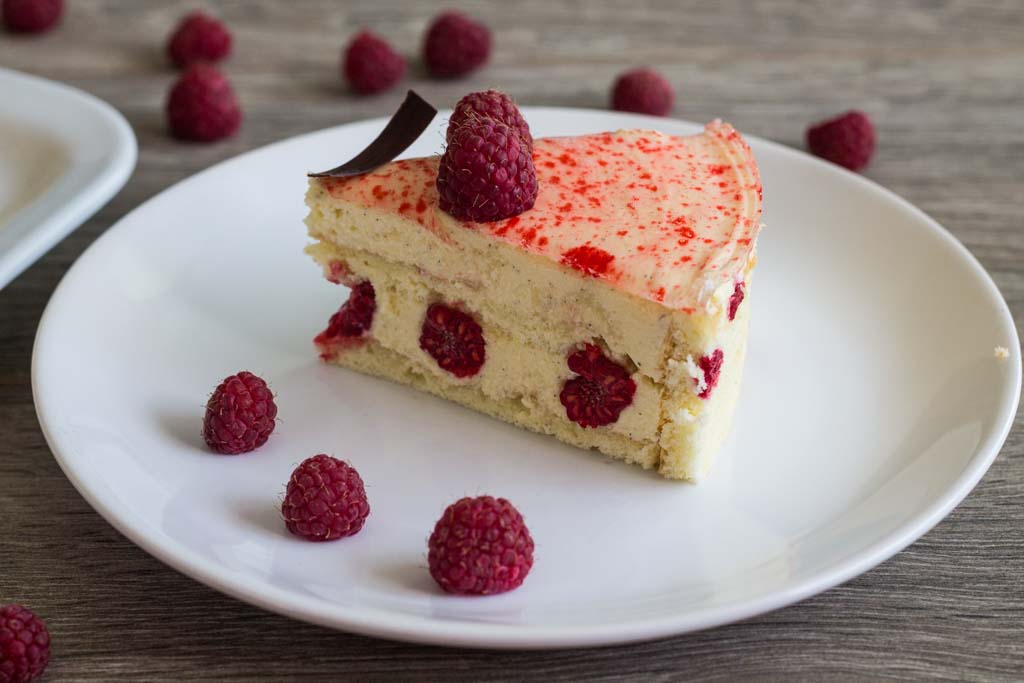 I am also very proud of my chocolate decorations on the top. Now, tempering chocolate is very stressful and delicate for me so, even with my mum helping me, I could not take a single picture of the process, but I'll provide a tutorial soon! 🙂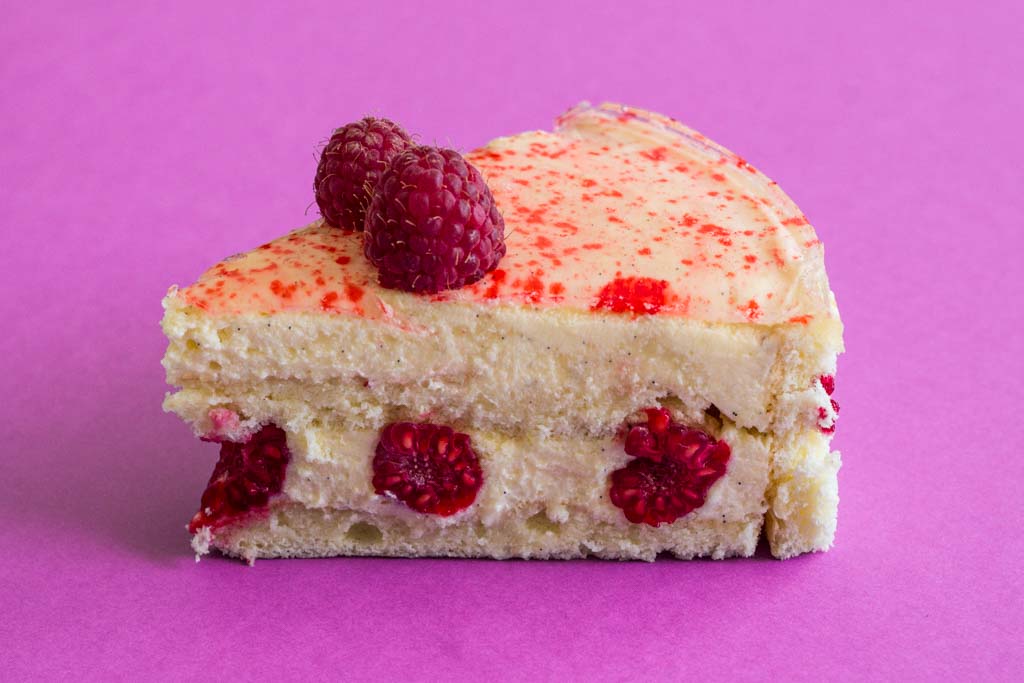 Not so proud of the red "blood-like" stains on top, but at least they help the cake stand out! And it's a nice, simple technique to know, anyway (see below for details).
So, how was this cake? Very good, fresh and summery. Did my parents like it? No, it was too heavy for them………………….
Framboisier

Print recipe
Ingredients
Ladyfingers spongecake
| | |
| --- | --- |
| 110g | Egg yolks (~4.5 yolks) |
| 50g | Granulated sugar |
| 135g | Egg whites (~4 egg whites) |
| 60g | Granulated sugar |
| 60g | Pastry flour |
| 50g | Cornstarch |
| As needed | Raspberry pieces |
Vanilla mousseline cream
| | |
| --- | --- |
| 350g | Whole milk |
| 1/2 | Vanilla bean |
| 90g | Granulated sugar |
| 35g | Eggs (almost 1 egg, beaten) |
| 50g | Egg yolks (~2.5 yolks) |
| 30g | Cornstarch |
| 175g | Unsalted butter |
Lemon syrup
| | |
| --- | --- |
| 145g | Water |
| 65g | Sugar |
| 1 | Lemon zest |
Neutral glaze
| | |
| --- | --- |
| 60g | Water |
| 60g | Sugar |
| 2g | Gelatin |
Decoration
| | |
| --- | --- |
| As needed | Fresh raspberries |
| As needed | Chocolate decorations |
Directions