Fraisier – Creamy strawberry cake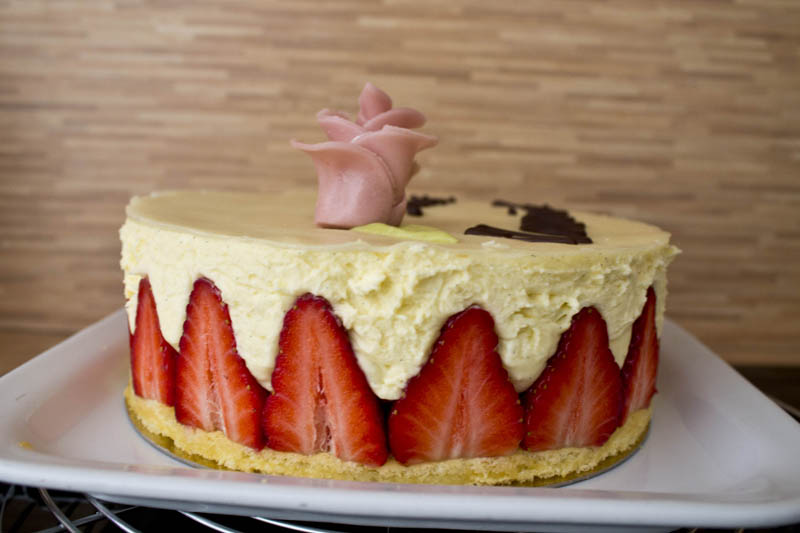 It's spring time! Well, almost, since it is snowing in many parts of France, but anyway strawberries are here!
One of the most famous French cakes is the Fraisier: two layers of genoise with a vanilla mousseline cream and fresh strawberries.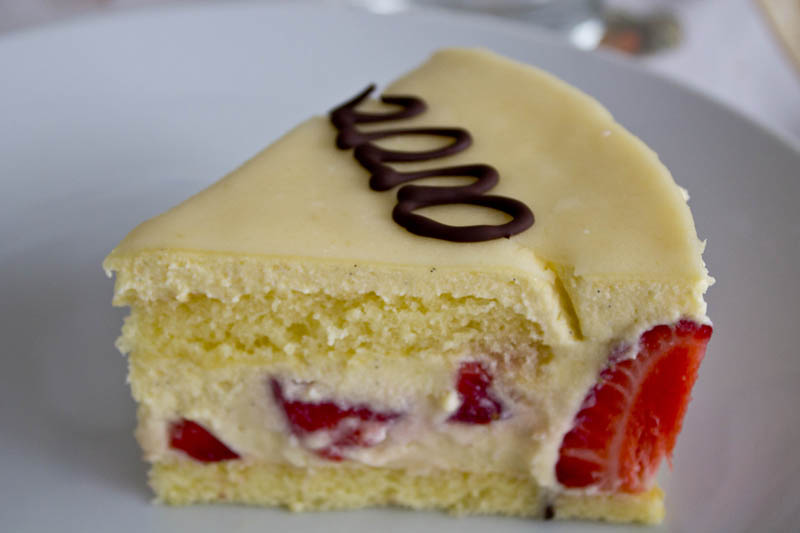 It is also required for my C.A.P. pastry exam next June, so I was eagerly waiting for March to finally be able to buy strawberries.
I tried decorating the cake some way, but I failed pathetically… and that's why I don't have pictures taken from the top! 😛
But anyway, here is the step-by-step recipe of the Fraisier. It might seem long and complicated but it's not. Let's start with the two layers of genoise:
Basic genoise
Ingredients
| | |
| --- | --- |
| 150g | Eggs (3) |
| 90g | Granulated sugar |
| 90g | Pastry flour |
Directions
Then let's prepare the cream right before assembling the cake (you can prepare in advance and store it in the fridge, but then you'll need to let it come back to room temperature and whip it again to make it light and airy).
Vanilla mousseline cream
Ingredients
Pastry cream
| | |
| --- | --- |
| 425ml | Milk |
| 70g | Egg yolks ((4)) |
| 125g | Granulated sugar |
| 40g | Corn starch |
| 1/2 | Vanilla bean (split) |
| 85g | Unsalted butter |
Mousseline cream
| | |
| --- | --- |
| 85g | Unsalted butter (room temperature) |
| 2 tablespoons | Kirsch (optional) |
Directions
Note
The mousseline cream can be used to fill fresh fruit tarts, but also modern cakes (e.g. Fraisier).
It is very important that pastry cream be at room temperature or slightly above, not too cold and not too hot, otherwise the butter will either solidify immediately or melt, and you will ruin your mousseline cream.
The cream can be stored in the fridge for 3 days. It can't be frozen. Don't store at room temperature for more than 2 hours, since it would become the ideal environment for bacteria.
And finally, let's assemble everything together:
Fraisier
Ingredients
| | |
| --- | --- |
| | Almond paste (for decoration) |
Basic genoise
| | |
| --- | --- |
| 2 | Rounds of genoise (ø18cm) |
Filling
| | |
| --- | --- |
| 850g | Vanilla mousseline cream |
| 125g | Fresh strawberries (cut in half) |
| 125 | Fresh straberries (diced) |
Sugar syrup
| | |
| --- | --- |
| 90ml | Water |
| 70g | Granulated sugar |
| 20ml | Kirsch |
Directions