Recipe: Baked crème brûlée (Cambridge burnt cream)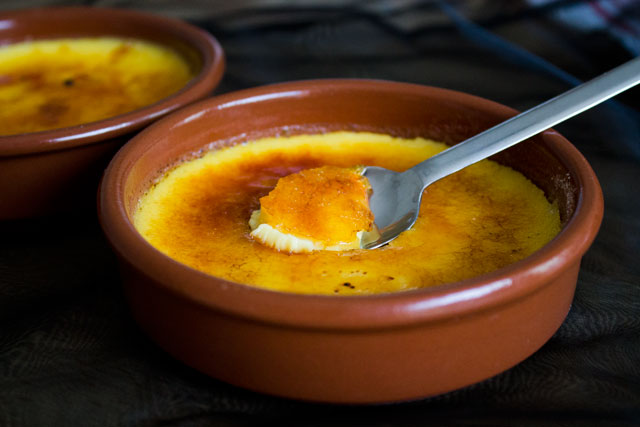 The baked crème brûlée is one of the few desserts I knew before getting serious about pastry. I would have never imagined that one day I would have been able to make it, nor that it is one the easiest recipes! You (almost) have nothing to do!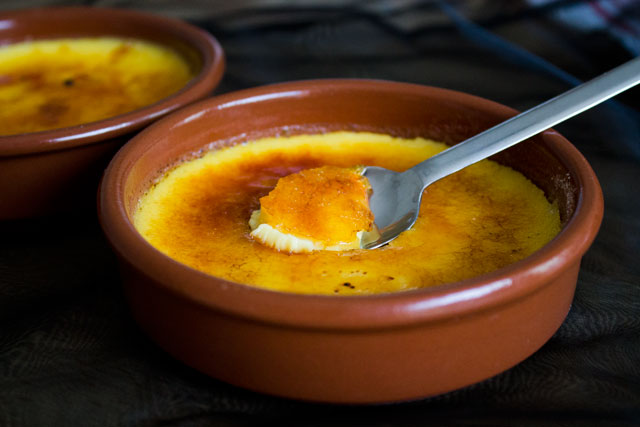 Probably that's why almost all restaurants in France offer this dessert in their menu!
It features one of the "magic tricks" of pastry: you put a liquid mixture (with no gelatin nor flour) in the oven, and it becomes a thick, almost jelly dessert (ok, it's not magic, it's science: eggs coagulate!).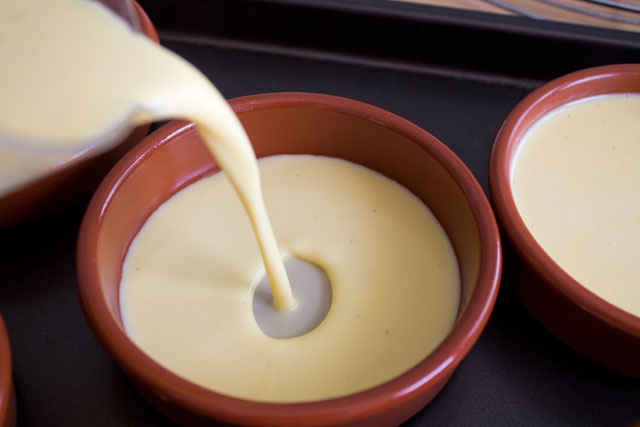 The name "Crème brûlée" literally means "burnt cream", because once the dessert it's ready, it's dusted with granulated sugar which is then caramelized with a propane torch. The caramelized sugar becomes a hard crust, and it is a pleasure to break it with the tip of a spoon before eating.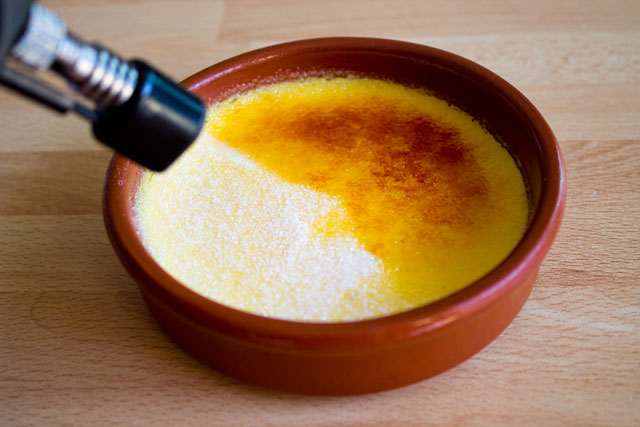 Now, I know that not everyone has a propane torch for pastry at home (although it costs just around 30€), so don't despair: you can caramelize the top of the crème brûlée by putting the ramekins for a few seconds in the oven, preheated at the maximum temperature with the grill on.
(P.S. : to be fair, the invention of this dessert is claimed by France, but also, with minor variations, by Spain and England where this dessert is respectively know as "Catalan cream" and "Cambridge burnt cream")
Baked crème brûlée

Print recipe
Ingredients
| | |
| --- | --- |
| 120g | Whole milk |
| 20g | Granulated sugar (for the milk) |
| 360g | Heavy cream |
| 1 | Vanilla bean (split) |
| 5 | Egg yolks |
| 65g | Granulated sugar (for the yolks) |
| | Granulated or brown sugar (as needed) |
Directions
Preparation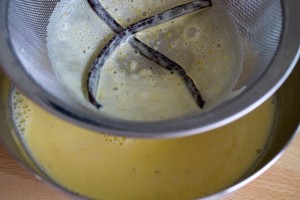 3
When the milk is boiling, strain it over the yolks and sugar in three times, whisking continuously to prevent the mixture from curdling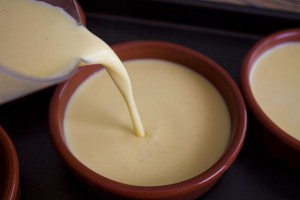 5
To facilitate this task, you can pour the cream from a container with a spout (or simply a bottle). Make sure you stir the mixture after filling every ramekin, otherwise the vanilla will remain on the bottom and the last ramekin will get all of it!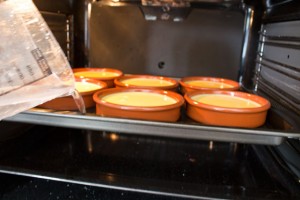 6
Place the pan with the ramekins in an oven preheated at 160°C. Pour enough boiling water to come two-thirds of the way up the sides of the ramekins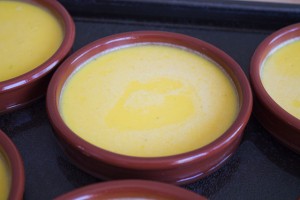 7
Bake for around 50 minutes or anyway until just set then let cool down in the pan with the water. The cream should not darken nor form bubbles.
Cover with plastic wrap then refrigerate the ramekins for at least 4 hours.
Serving