Recipe: Cherry clafoutis, with a crumble twist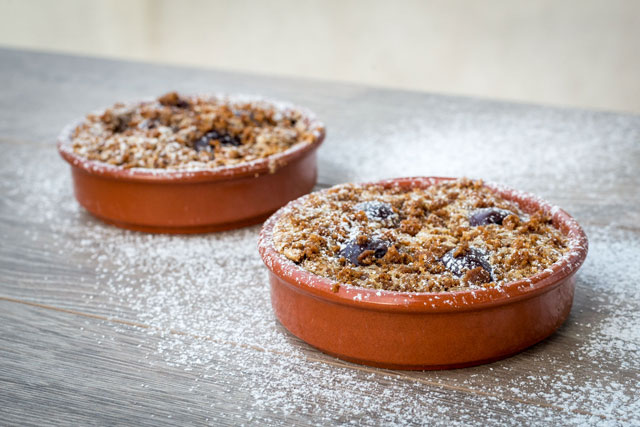 So I'm late once again. I can't help it, I'm always late in general, and I make the same mistake when it comes to blogging.
We've had basically two months in which cherries were available and here is my recipe with cherries… posted on the blog just a week after cherries have disappeared from every market and supermarket to leave space to grapes.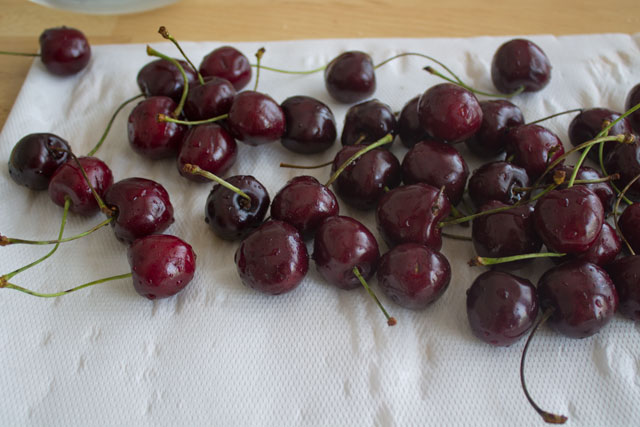 Still, a recipe with cherries is better now than in December, and I definitely didn't want to wait till next summer to post it, so here is my cherry clafoutis. 🙂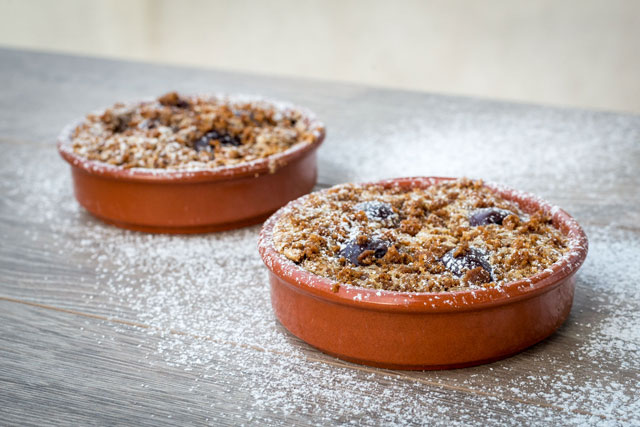 A clafoutis is a traditional French cherry dessert baked in ramekins like a crème brûlée or a flan. This recipe comes from pastry superstar Philippe Conticini and he gave a modern touch to this traditional dessert: the ramekins are baked with a topping of crunchy speculoos (i.e. cinnamon biscuits) crumble.
The recipe is super easy and the cherry flavour goes perfectly with a touch of orange and hazelnut. Bon appetit!
Cherry clafoutis crumble

Print recipe
Ingredients
Crumble
| | |
| --- | --- |
| 70g | Unsalted butter (room temperature) |
| 30g | Brown sugar |
| 100g | Speculoos biscuits (or Graham crackers or Digestive, etc... - coarsely crushed) |
Clafoutis
| | |
| --- | --- |
| ~50 | Fresh cherries |
| 3 | Eggs |
| 70g | Ground hazelnuts |
| 135g | Brown sugar |
| 55g | Pastry flour |
| 1 pinch | Salt crystals |
| 1 | Orange zest |
| 140g | Semi-skimmed milk |
| 25g | Heavy cream |
| 3 | Vanilla beans |
| 1 teaspoon | Ground cinnamon |
| | Butter and sugar (for the ramekins) |
Directions
Speculoos crumble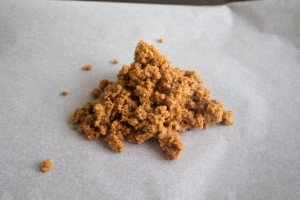 2
Mix all the ingredients quickly by hand to obtain a sticky dough. Place it on a parchment lined pan.
Clafoutis
6
Add the hazelnut flour, sifted flour, orange zest, salt, sugar, then finally the milk and cream. Whisk everything together until all ingredients are incorporated. Use an immersion blender to homogenize the mixture if needed. Let the mixture sit for 15 minutes.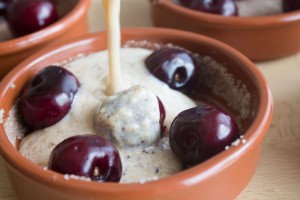 9
Wash the cherries and place 5-7 of them in each ramekins the fill the ramekins with the clafoutis mixture