Milk chocolate, caramel and apple yule log
Christmas time is the best time of the year to bake. Seems like everybody wants to do it, and everybody is willing to eat more, so that's the perfect combination!
Here in France, the bûche de Noël, aka the yule log, is a must: this year I tried to invent my own recipe of a modern log and it was awesome!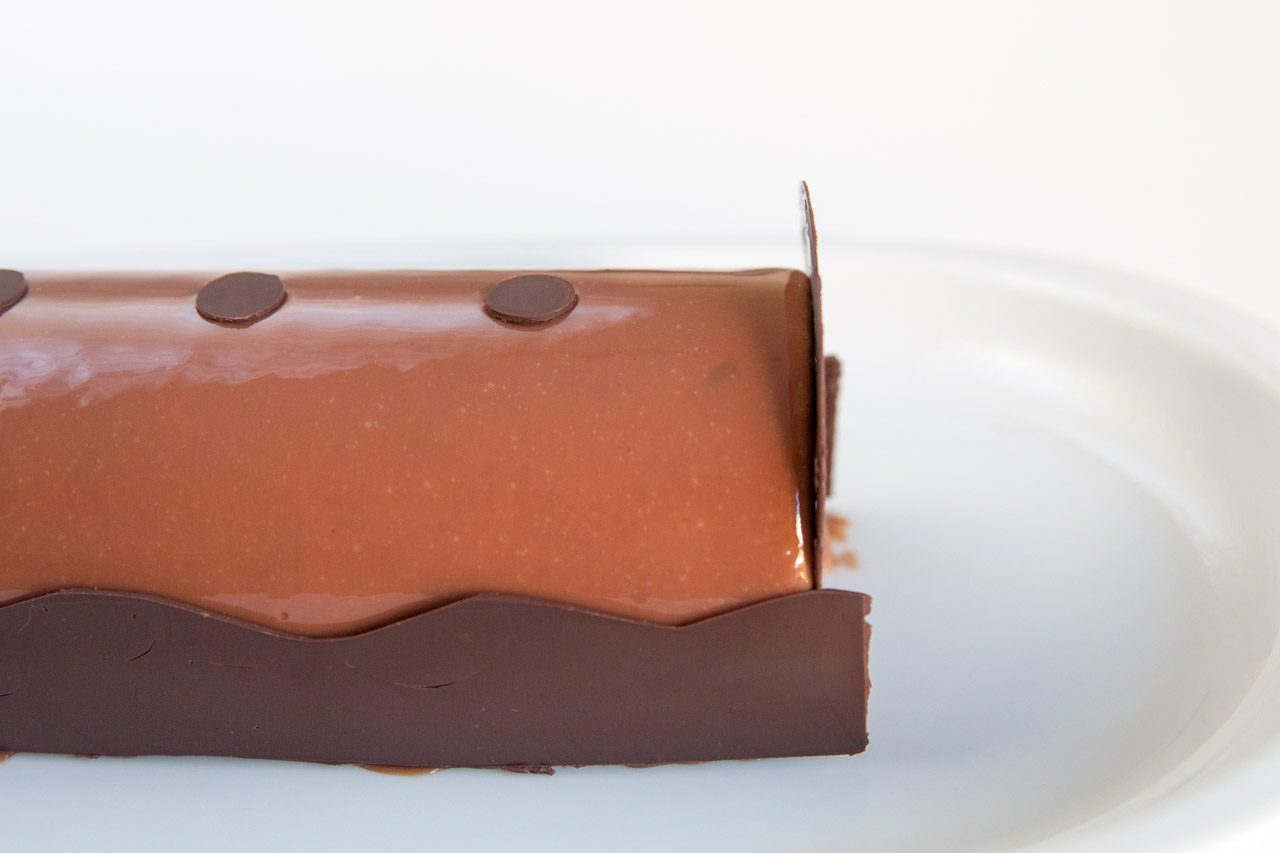 Ok, it took me basically a whole weekend (almost), but I'm glad it came out so tasty and balanced.
The cake features:
A buttery and crunchy shortbread at the base
A spread of salted caramel sauce
A layer of caramelized apples with cinnamon
Almond spongecake
Milk chocolate mousse
Milk chocolate mirror glaze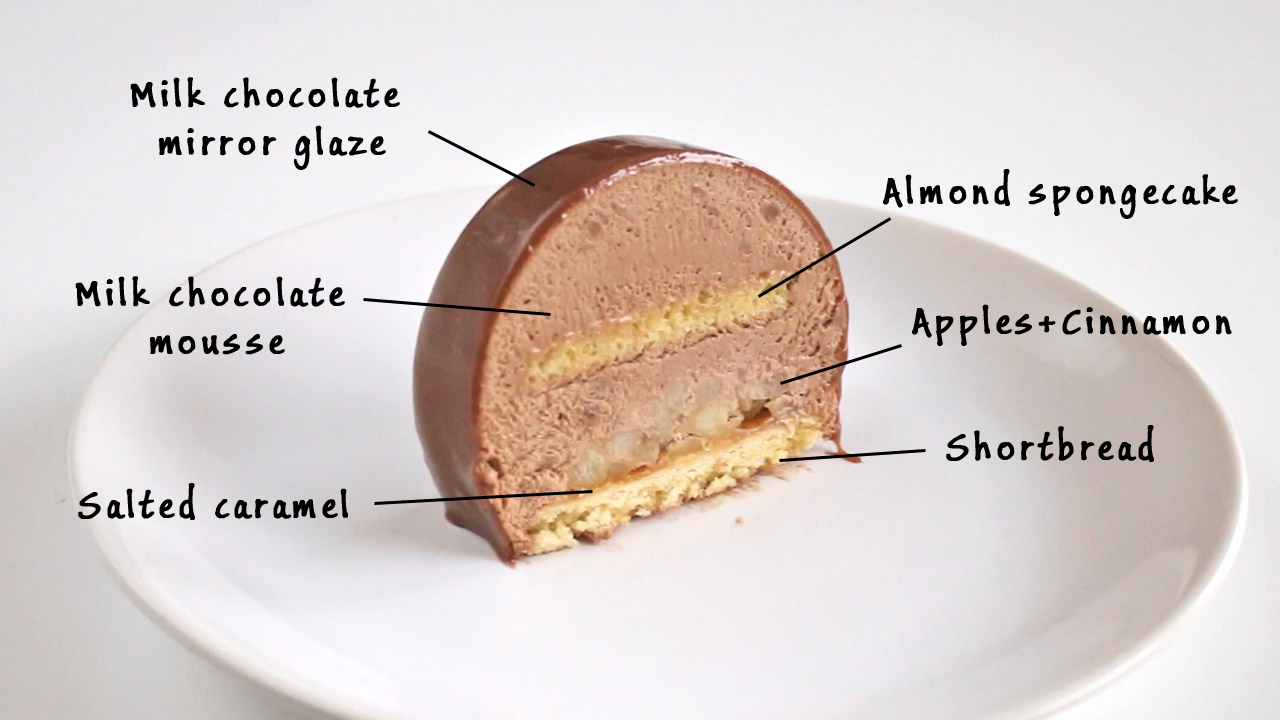 I was afraid that the milk chocolate + caramel + everything else would be too sweet, but the log turned out fine, and oooh… the pleasure of covering a cake with mirror glaze…!!!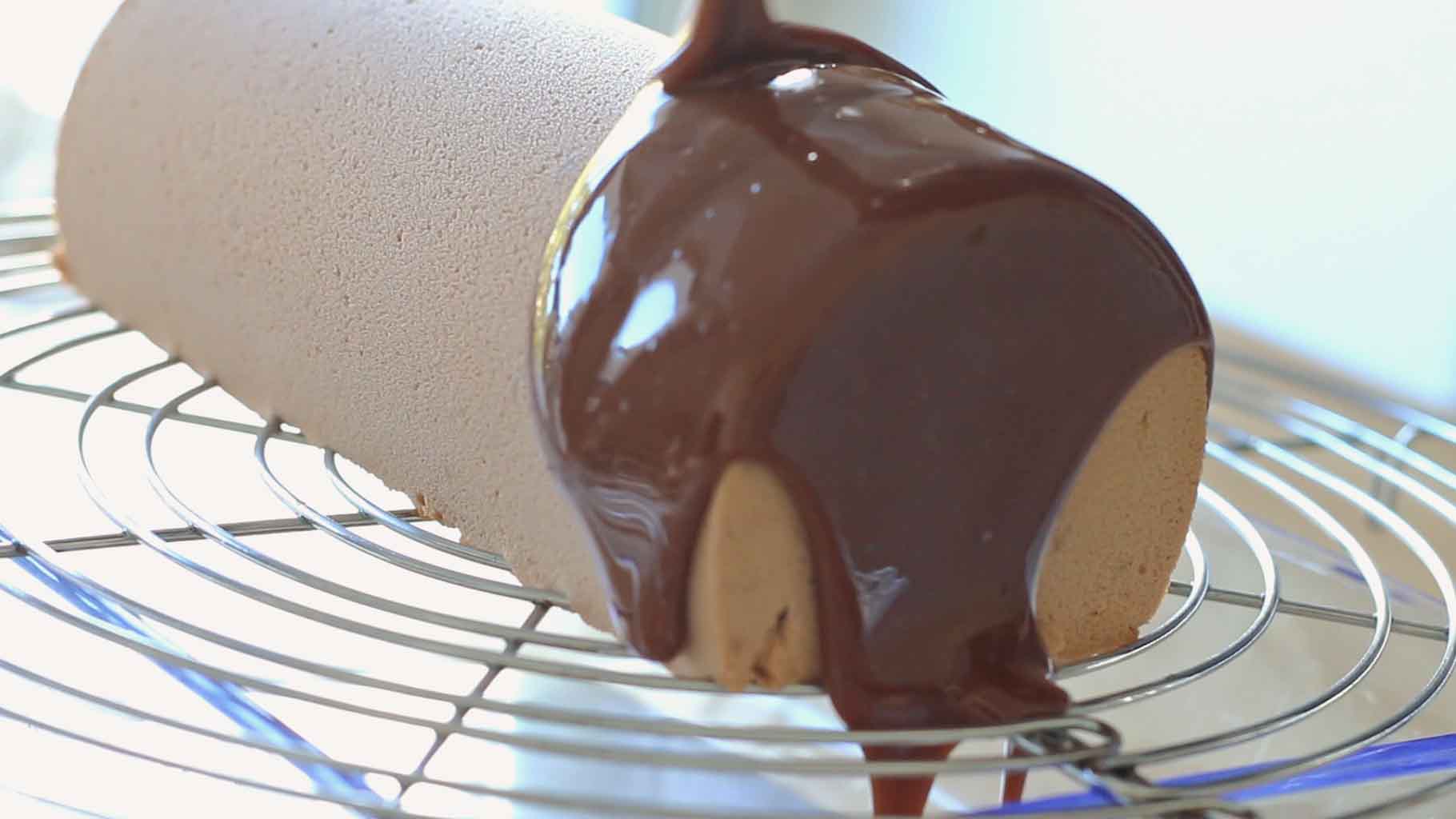 This is definitely something that you can proudly offer your family or friends for Christmas, my friends really enjoyed it!
(But if you make it, make sure you start the day before! Actually everything, apart from the chocolate mousse, can be prepared in advance)
And you, what cake will you make this Christmas? 🙂
Milk chocolate, caramel and apple yule log

Print recipe
Ingredients
Shortbread
| | |
| --- | --- |
| 85g | Salted butter |
| 105g | Pastry flour |
| 40g | Icing sugar |
| 1 | Egg yolk |
Milk chocolate mirror glaze
| | |
| --- | --- |
| 150 | Granulated sugar |
| 150 | Glucose syrup |
| 80 | Water |
| 100 | Sweetened concentrated milk |
| 150 | Milk chocolate |
| 8 | Sheet gelatin |
Salted caramel
| | |
| --- | --- |
| 50g | Granulated sugar |
| 120g | Heavy cream |
| 1 tablespoon | Unsalted butter |
| 1 pinch | Fleur-de-sel |
Almond spongecake
| | |
| --- | --- |
| 60g | Egg whites |
| 60g | Granulated sugar |
| 50g | Eggs |
| 20g | Egg yolks |
| 65g | Almond flour |
| 20g | Pastry flour |
| 1 pinch | Fleur-de-sel |
| 70g | Unsalted butter |
Apples with cinnamon
| | |
| --- | --- |
| 2 | Granny Smith apples |
| 15g | Unsalted butter |
| 20g | Brown sugar |
| 1 teaspoon | Cinnamon |
Milk chocolate mousse
| | |
| --- | --- |
| 40g | Water |
| 80g | Granulated sugar |
| 80g | Egg yolks |
| 4g | Sheet gelatin |
| 250g | Milk chocolate |
| 360g | Heavy cream |
Decoration
| | |
| --- | --- |
| As needed | Decorations made with tempered chocolate |
Directions