Recipe: Chocolate and hazelnut Christmas yule log
Christmas is around the corner!
Everybody is starting to go shopping for presents, but I don't care: I prefer to make Christmas cakes! 🙂
A few days ago I found a recipe by Benoît Couvrand, pastry chef at the Pâtisserie Cyril Lignac in Paris on a French magazine: it was an awesome-looking bûche de Noël (Christmas yule log) with a chocolate filling and caramelized hazelnuts.
What I loved the most about this recipe is that:
1) It is made with a flourless chocolate cake: this makes it a bit hard to roll, but in the end the yule log is very moist and light (so light that I didn't feel guilty to get a double portion, although I should have)
2) It doesn't look like the old-fashioned rolled cakes that were decorated in a kitsch way to resemble a real log: it's covered with a stunning mirror glaze that has the power to make any cake look amazingly professional and modern! 😛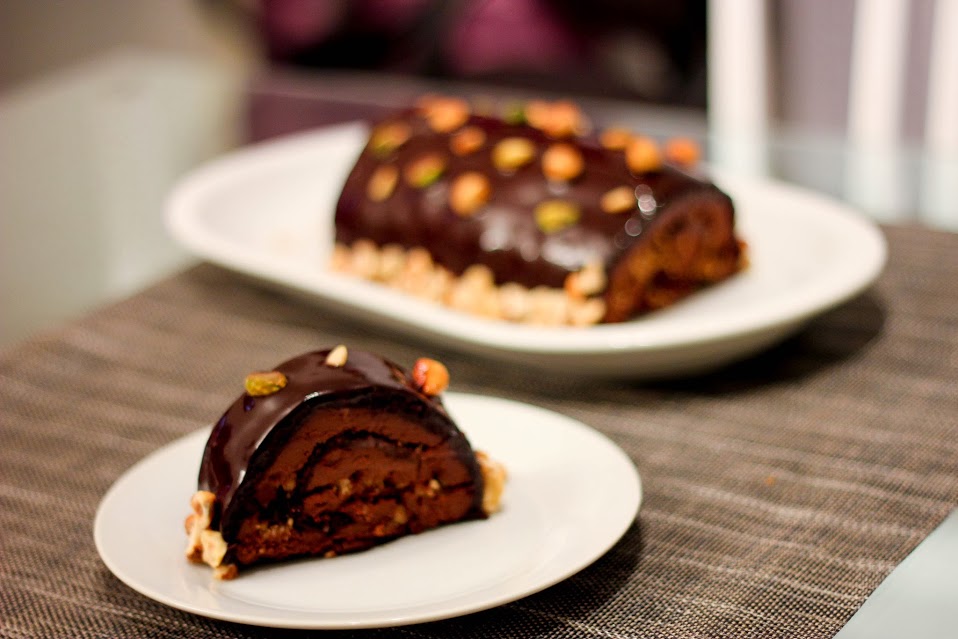 This chocolate and hazelnut Christmas yule log is a perfect balance of sweetness and bitterness, given by cocoa powder, while the crunchiness of caramelized hazelnuts adds an interesting texture to the creamy ganache and moist cake.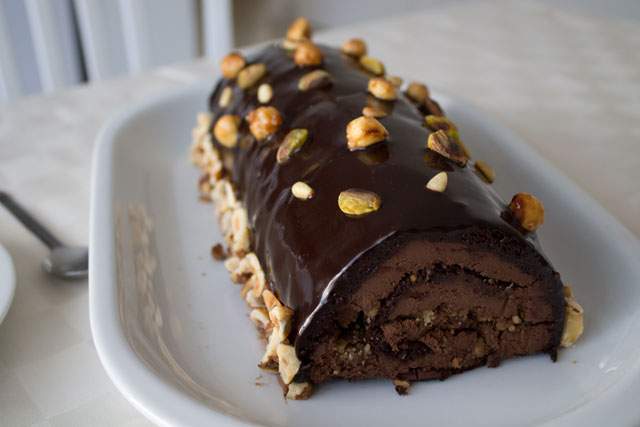 Here is the full step-by-step recipe of this French bûche de Noël: although the magazine said "preparation time: 1h30min" I doubt you can finish it in 90 minutes unless you're a pro. 🙂
Anyway, there is nothing really difficult in the recipe, it just involves many steps, but just take your time! It is really worth it!!! 😛
Chocolate and hazelnut Christmas Yule Log

Print recipe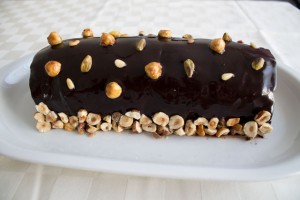 Ingredients
Flourless chocolate cake
| | |
| --- | --- |
| 160g | Egg whites (~ 4/5 egg whites) |
| 180g | Granulated sugar |
| 110g | Egg yolks (~ 4/5 egg yolks) |
| 1 | Orange zest |
| 50g | Unsweetened cocoa powder |
Cocoa syrup
| | |
| --- | --- |
| 20g | Unsweetened cocoa powder |
| 130g | Water |
| 50g | Granulated sugar |
Chocolate ganache filling
| | |
| --- | --- |
| 450g | Bittersweet chocolate (66%) |
| 150g | Unsalted butter |
| 390g | Milk |
Caramelized hazelnuts
| | |
| --- | --- |
| 250g | Hazelnuts |
| 75g | Granulated sugar |
| 35g | Water |
Chocolate mirror glaze
| | |
| --- | --- |
| 50g | Water |
| 140g | Granulated sugar |
| 45g | Cocoa powder |
| 95g | Heavy cream |
| 6g | Sheet gelatin (= 3 sheets of 2g) |
Directions