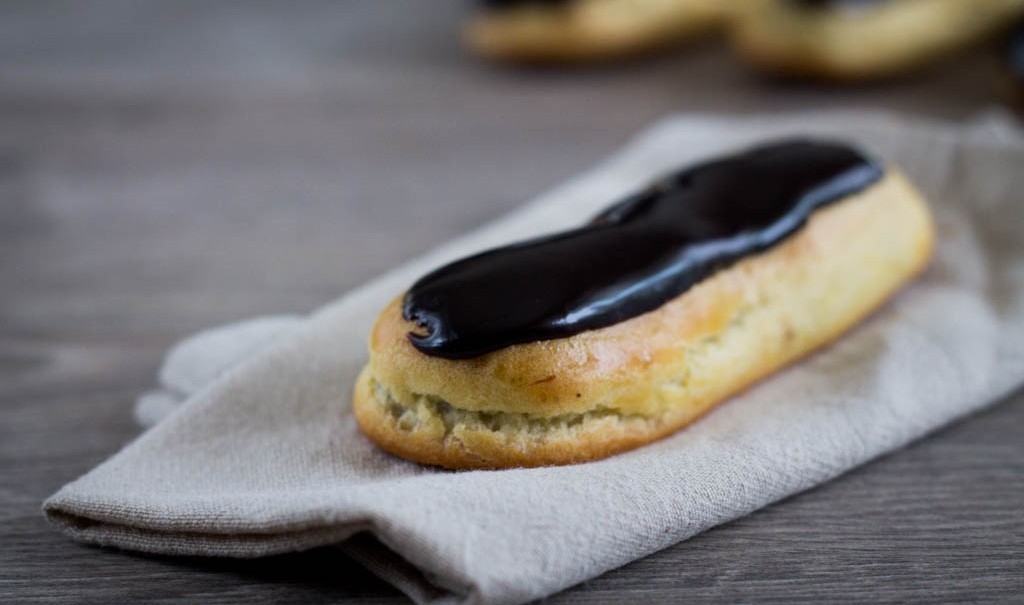 I think the most common new year's resolutions are "I need to quit smoking" and "I need to lose weight" . Well, the former is way easier in France, because pastry chefs have got you covered with desserts until Easter. When Christmas is over, it is time for galettes des rois throughout January; then in February it's crêpes day, then it's Carnival with mardi gras and many regional fried pastries, and finally you get to eat chocolate eggs for Easter.
It is not an easy living, believe me! Especially if, in addition to all that, you also eat your own desserts like me! 🙂
After the massive pastries during Christmas, I chose to make a simple and (somewhat) light dessert: chocolate éclairs!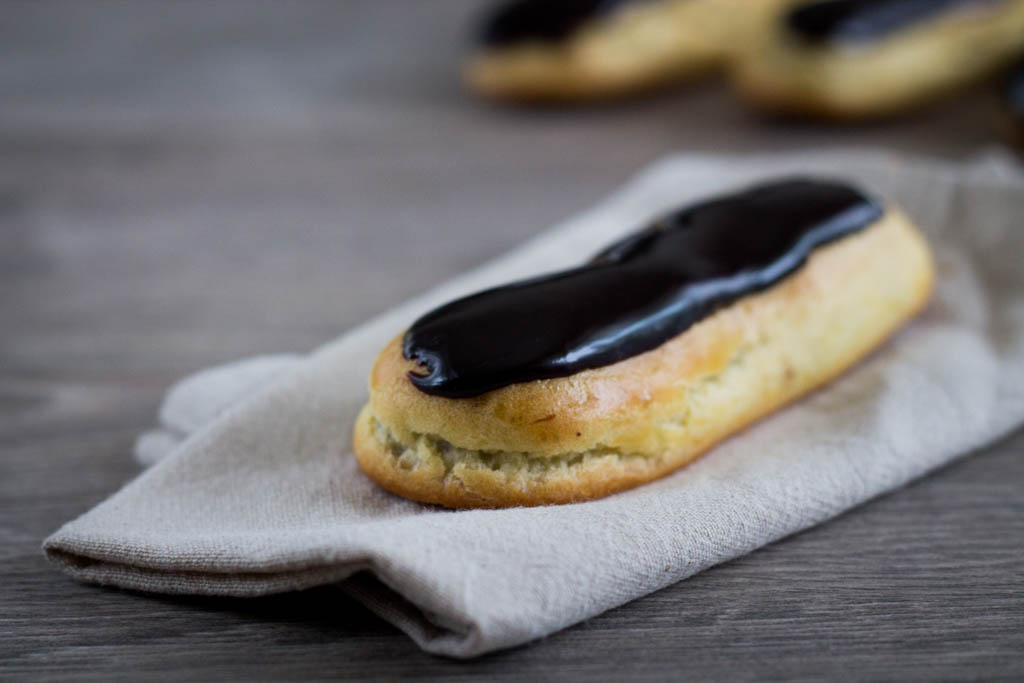 Choux pastry is very versatile and can be used for many pastries, from a simple cream puff to a stunning St. Honoré cake.
The "long cousin" of the cream puff is the éclair, one of the most common pastries here in France.
For éclairs, the choux pastry is piped in thick stripes about 10-12cm long.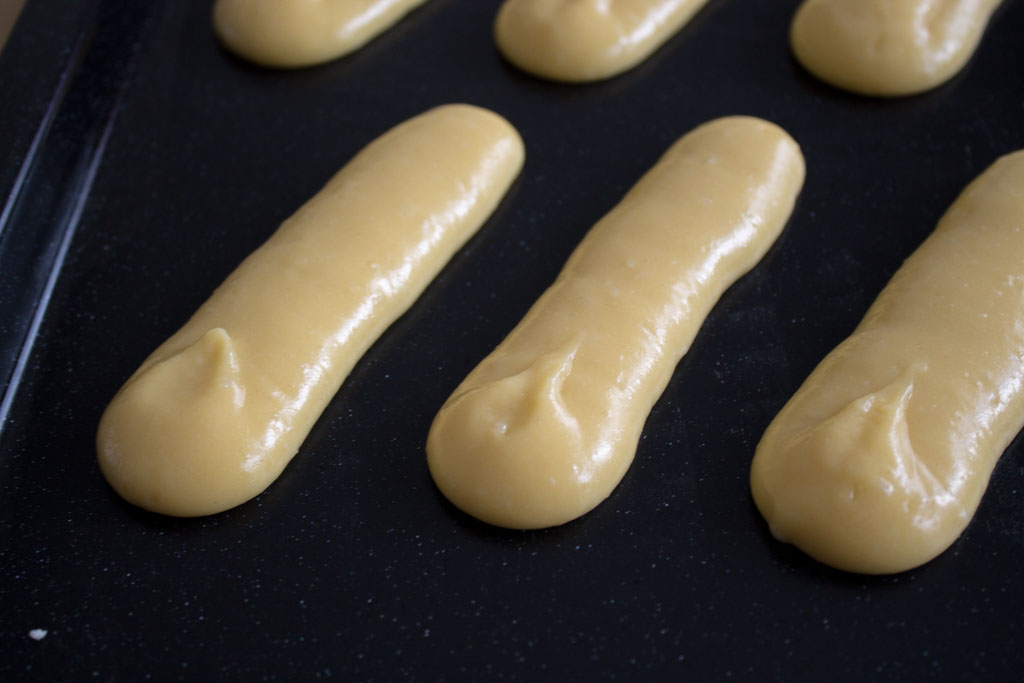 The baked pastries are then filled and glazed like choux. The standard (read "old-fashioned") glaze is fondant, but recently a new breed of pastry chefs like Christophe Adam finally started experimenting and reinventing the top decoration of éclairs.
As for these chocolate éclairs, I chose to glaze them with a mirror glaze (a leftover from the Trianon, my favourite cake), don't they look classy and modern? 🙂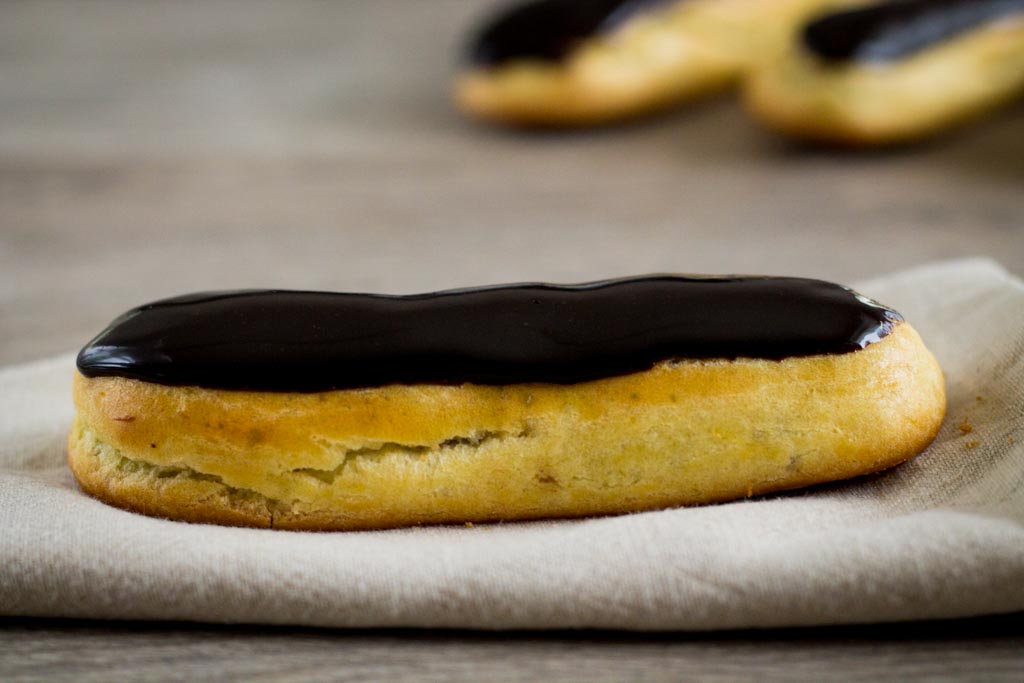 And the cream… oh, the cream! The best chocolate cream I've tried so far: unlike other pastry creams where chocolate is incorporated and melted directly at the end, this recipe features a standard pastry cream with the addition of a ganache. The result is richer, with a distinguishable flavour of chocolate. I loved these éclairs!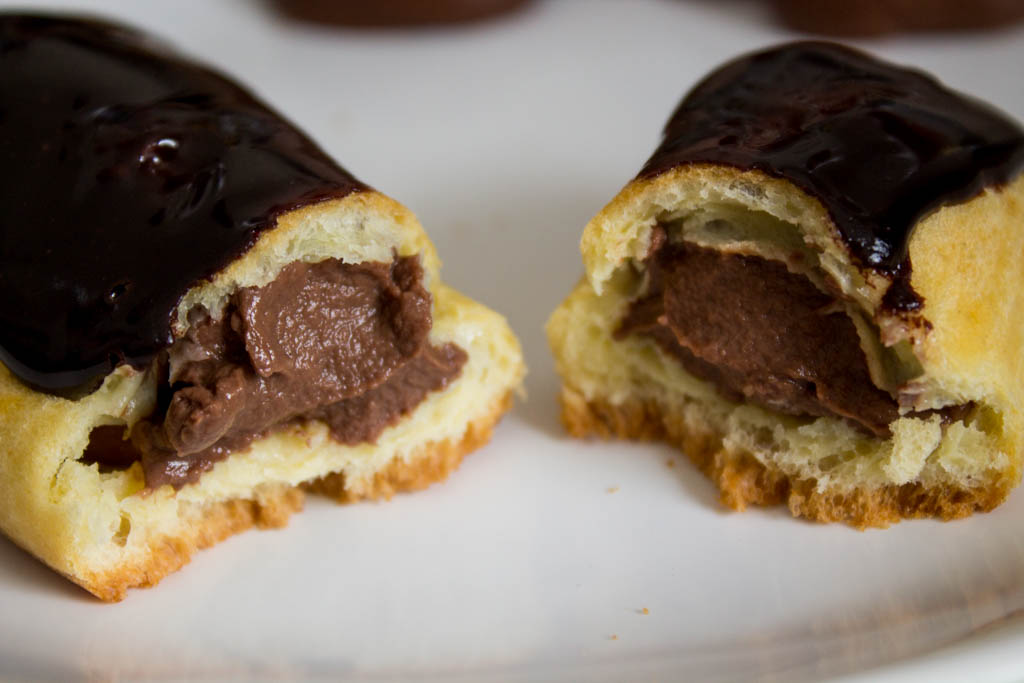 Chocolate éclairs

Print recipe
Ingredients
Pâte à choux
| | |
| --- | --- |
| 72g | Water |
| 72g | Milk |
| 3g | Salt |
| 65g | Unsalted butter |
| 90g | Bread flour |
| 150g | Eggs (~3 eggs) |
Ganache
| | |
| --- | --- |
| 90g | Milk |
| 80g | Couverture chocolate (40%) |
| 50g | Couverture chocolate (70%) |
Chocolate pastry cream
| | |
| --- | --- |
| 35g | Egg yolks (almost 2 egg yolks) |
| 30g | Granulated sugar |
| 16g | Cornstarch |
| 6g | Cocoa powder |
| 320g | Milk |
Chocolate mirror glaze
| | |
| --- | --- |
| 50g | Water |
| 140g | Granulated sugar |
| 45g | Cocoa powder |
| 95g | Heavy cream |
| 6g | Sheet gelatin (= 3 x 2g sheets) |
Directions