Recipe: Cream puffs with pastry cream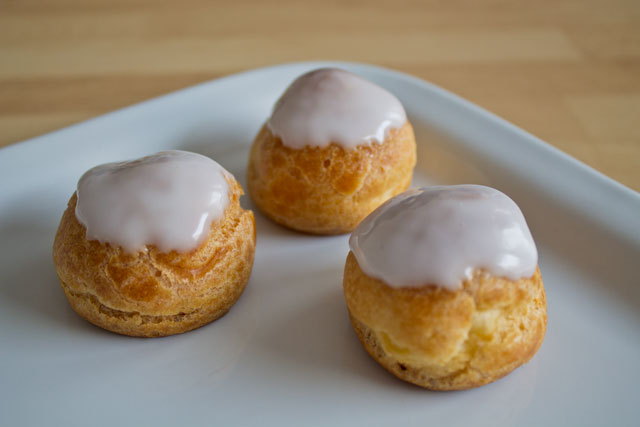 I had seen them in every single bakery, in all sizes and flavours, ever since I was born… and I would never have imagined that one day I would have been able to make them!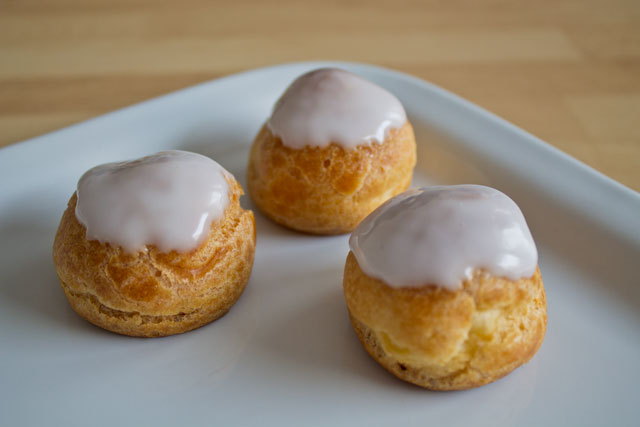 Cream puffs (called "choux" in French and "bignè" in Italian) are small round pastries traditionally filled with cream and glazed with fondant.
When I was a pastry illiterate, I had no idea what fondant was like nor how to make it. Now I still don't bother to make it (like many pastry chefs), but at least I know that I can buy 1kg for like 7€ in professional shops or online!
It is therefore very easy to get fondant, but it's not that easy to use it. It must be heated gently with a spoonful of water to a very specific temperature (35°-37°C) and it must not be too liquid.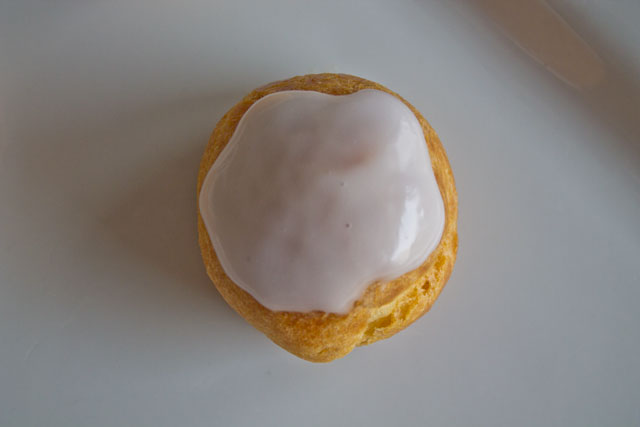 What I propose here is a very traditional recipe, but of course you can spice it up by adding any flavouring to the cream (rhum, chocolate,…) and colouring the fondant accordingly. If you want to have more information on the two main components of this recipe, you can read my articles on pâte à choux and pastry cream.
Cream puffs with pastry cream

Print recipe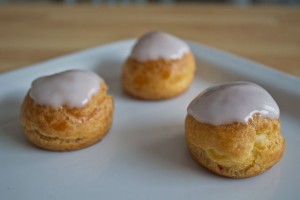 Ingredients
Éclair paste
| | |
| --- | --- |
| 120ml | Water |
| 120ml | Milk |
| 4g | Salt |
| 105g | Unsalted butter |
| 150g | Bread flour |
| ~250g | Eggs (around 5) |
Pastry cream
| | |
| --- | --- |
| 500ml | Milk |
| 50g | Granulated sugar |
| 50g | Granulated sugar |
| 6 | Egg yolks (~120g) |
| 1/2 | Vanilla bean |
| 35g | Cornstarch |
| 40g | Unsalted butter |
Glaze
| | |
| --- | --- |
| | Fondant (as needed, around 300g) |
Directions
Note
The cream puffs can be stored in the fridge for up to 2-3 days, but be careful since the cream might make the choux soggy.

Pâte à choux:
This dough can be used immediately or even frozen
It is very important that the butter be fully melted when the milk and water come to a boil and for this reason it must be diced (it will melt faster): if it is not melted when the liquids are at 100°, you'll have to wait before adding the flour and waiting means the water will evaporate, changing the proportions of ingredients in this delicate recipe
Always add the last egg little by little, checking frequently if the dough has reached right shiny, firm texture
Leave the oven door slightly open only after the first half of the baking process
Steam is necessary at least for the first half of the baking process, so don't open the oven door until your pâte à choux has fully risen! Be careful as well of excessive steam, since it might contribute to an uneven development and to the formation of cracks on the baked pastries.
To test for doneness, I usually touch the touch in the oven and if they seem hard, they're done. Otherwise, you can remove one unit and let it sit for 2 minutes at room temperature: if it doesn't collpase, it means the choux are ready! 😛 (Don't worry, pâte à choux doesn't burn easily if baked for a longer time...)
Pastry cream:
Creams with milk and eggs are very perishable and must therefore always be stored in the fridge until use.
As soon as a pastry cream is prepared, its temperature should drop  to 1°-4° C in the shortest amount of time to prevent bacteria from forming: for this reason, the optional steps 6 and 7 provide a way to chill the cream in a fast way: spreading the cream on a thin layer in a plastic wrap will chill it quickly and will prevent a thick skin from forming.
You must be careful when you mix the hot milk with eggs: at all times there is a risk of curdling (you don't want scrambled eggs, do you?), so make sure you whisk vigorously and constantly.
The milk should come to a boil relatively slowly: it is important to let the vanilla bean infuse, so the longer the time, the stronger the flavour.
Fondant:
Don't overheat the fondant: a temperature higher than 37 C might result in a loss of shininess and cracks on the surface of the choux
If you realize you've added to much water, don't despair: add back some more fondant to balance back the mixture