Pastry cream – Crème pâtissière
The queen of all creams is pastry cream. It is a stirred custard and its standard version requires the use of vanilla as flavouring.
In a few words, the vanilla bean is infused in the hot milk which is used to temper a mixture of egg yolks, sugar and starch: the resulting mixture is put back on the heat until thickened.
A small amount of starch is needed to thicken the cream: I used corn starch (Maizena) which is available practically everywhere. You can also use other starches like rice starch, but please don't use flour: it might form lumps more easily, it is heavier and might leave a bad after taste.
Starch also protects the egg yolks from curdling so, to exploit its thickening action, you can (and must!) boil the cream (trust me: raw starch is not good).
Pastry cream is so famous because it is very versatile, can be flavoured with many ingredients (e.g. chocolate, liqueurs, spices, fruits, etc…) and can be used as a filling in many preparations: éclairs, choux, napoleons, tarts and pies…
It is thick and rich (especially in cholesterol!) so a bit heavy, but you can just use it as a base for other creams. In particular:
Pastry cream + whipped cream = Crème diplomate (e.g. for napoleons or tarts)
Pastry cream + butter = Mousseline cream (e.g. for fraisiers)
Pastry cream + Italian meringue = Crème Chiboust (e.g. for Saint-Honoré cakes)
Pastry cream

Print recipe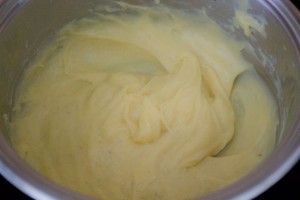 Ingredients
| | |
| --- | --- |
| 250ml | Milk |
| 25g | Granulated sugar |
| 25g | Granulated sugar |
| 3 | Egg yolks |
| 1/2 | Vanilla bean |
| 17g | Corn starch |
| 20g | Butter |
Directions
Note
Creams with milk and eggs are very perishable and must therefore always be stored in the fridge until use. The same applies to product that contain creams (e.g. tarts)
As soon as a pastry cream is prepared, its temperature should drop  to 1°-4° C in the shortest amount of time to prevent bacteria from forming: for this reason, the optional steps 6 and 7 provide a way to chill the cream in a fast way: spreading the cream on a thin layer in a plastic wrap will chill it quickly and will prevent a thick skin from forming.
You must be careful when you mix the hot milk with eggs: at all times there is a risk of curdling (you don't want scrambled eggs, do you?), so make sure you whisk vigorously and constantly.
The milk should come to a boil relatively slowly: it is important to let the vanilla bean infuse, so the longer the time, the stronger the flavour. The "black dots" (vanilla seeds) you find in commercial products are always a sign of quality, meaning that real vanilla was used and not artificial flavourings.
Of course this is only the recipe of the standard pastry cream with vanilla, but you can use other flavours according to your taste: dark, milk or white chocolate, coffee, tea, ginger, pistachios, liqueurs, etc...