Recipe: Pistachio and strawberry éclairs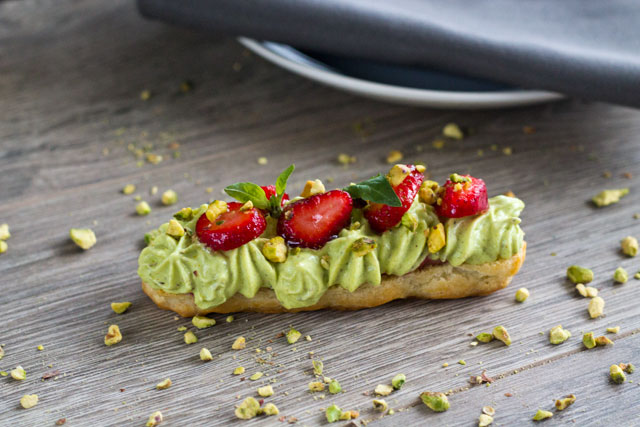 I'm back on the blog after a short break, during which I enjoyed the magic atmosphere of the film festival here in Cannes. The city changes completely during the festival: lots of photographs, journalists, movie stars, police security and then even cheap shops start selling tuxedos!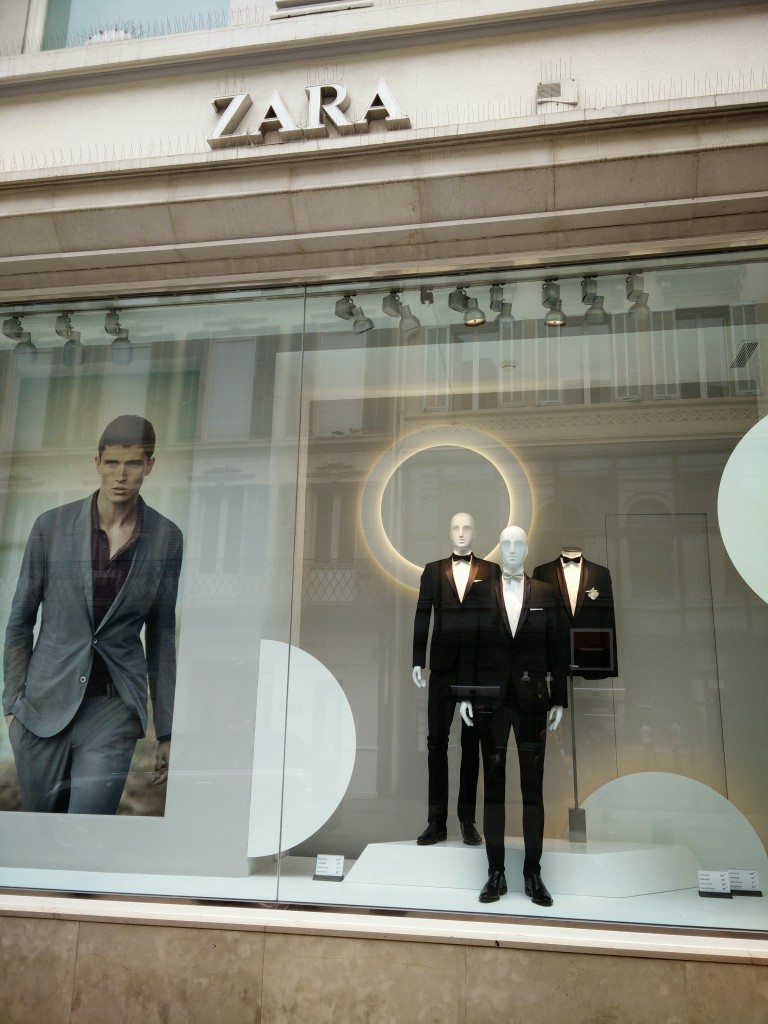 We have two crazy, glamorous weeks a year, where lots of people try to crash the private beach parties. Once again, I failed miserably in getting an invitation to those so I just ended up baking at home as usual. 🙂
I had been waiting for strawberries to come back since last September, when I found this recipe by Christophe Adam: pistachio and strawberry éclairs.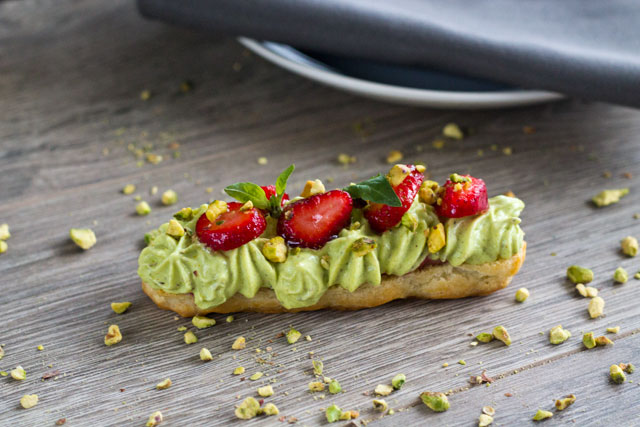 Christophe Adam has been modernizing éclairs in the last years and I absolutely love the looks of his pastries, all very colourful and original.
These pistachio and strawberry éclairs  are decorated with strawberry slices and a whipped pistachio ganache which hides a small spongecake soaked in a strawberry and orange blossom water syrup. Sounds fancy uh? 🙂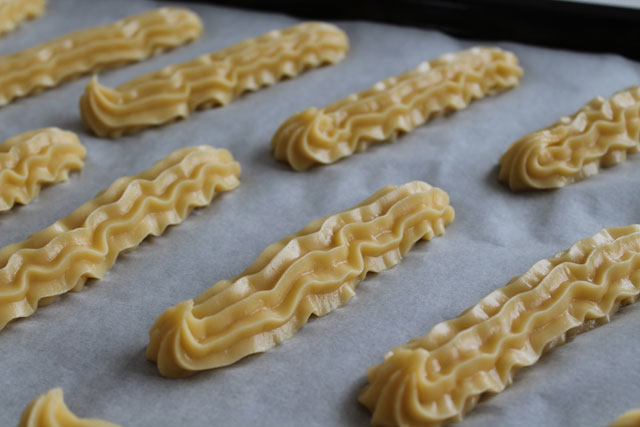 I won't lie to you: this recipe takes time. Oh, and you also need to be able to make choux pastry, a spongecake and a whipped ganache… but everything is possible if you follow my step-by-step recipe! 😀 Have fun!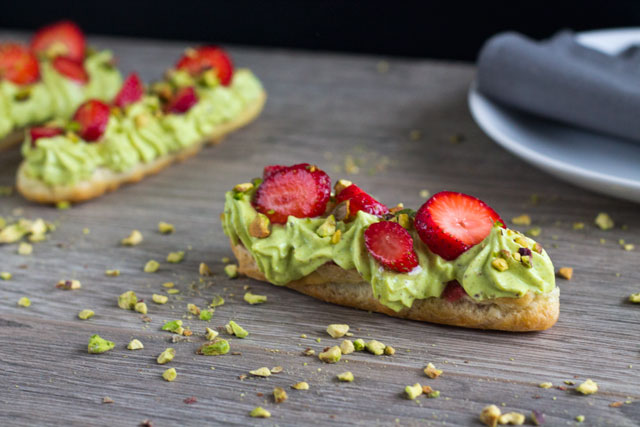 Pistachio and strawberry éclairs

Print recipe
Ingredients
Choux pastry
| | |
| --- | --- |
| 105g | Water |
| 105g | Milk |
| 105g | Unsalted butter |
| 2g | Salt |
| 4g | Granulated sugar |
| 105g | Strong flour |
| ~190g | Eggs (~4 eggs) |
Pistachio paste
| | |
| --- | --- |
| 70g | Pistachios |
| 30g | Grapeseed oil |
Whipped pistachio ganache
| | |
| --- | --- |
| 2g | Gelatin (= 1 sheet) |
| 430g | Heavy cream (35% fat) |
| 100g | White couverture chocolate |
| 30g | Pistachio paste |
Pain de Gênes spongecake
| | |
| --- | --- |
| 40g | Granulated sugar |
| 100g | Almond paste (50% sugar) |
| 100g | Eggs (~2 eggs) |
| 30g | Strong flour |
| 2 pinches | Baking powder |
| 20g | Unsalted butter |
| 1 dash | Milk |
Strawberry syrup
| | |
| --- | --- |
| 25g | Water |
| 15g | Granulated sugar |
| 5g | Orange blossom water |
| 100g | Fresh strawberries |
Decoration
| | |
| --- | --- |
| 30 | Fresh strawberries |
| | Mint or basil leaves |
Directions