How to make a modern yule log in a mold (with coconut, passion fruit and mango)
And here we are again, Christmas… the golden time of the year for pastry chefs! Each country has its own celebration desserts, and here in France the king is the bûche de Noël, aka the yule log.
Every year I make a yule log for my blog: I started with a light, chocolatey one, then there was the "Totally Hazelnuts" and last year I invented my own with a chocolate spongecake and a vanilla-clementine cream (my favorite!).
All those were "traditional" logs, which means they were "rolled" like in the old days; today, though, cool pastry chefs simply use modern molds that recall the log shape but allow saving a lot of time (no rolling, which I personally hate as much as frosting a cake) and the result is always clean and elegant.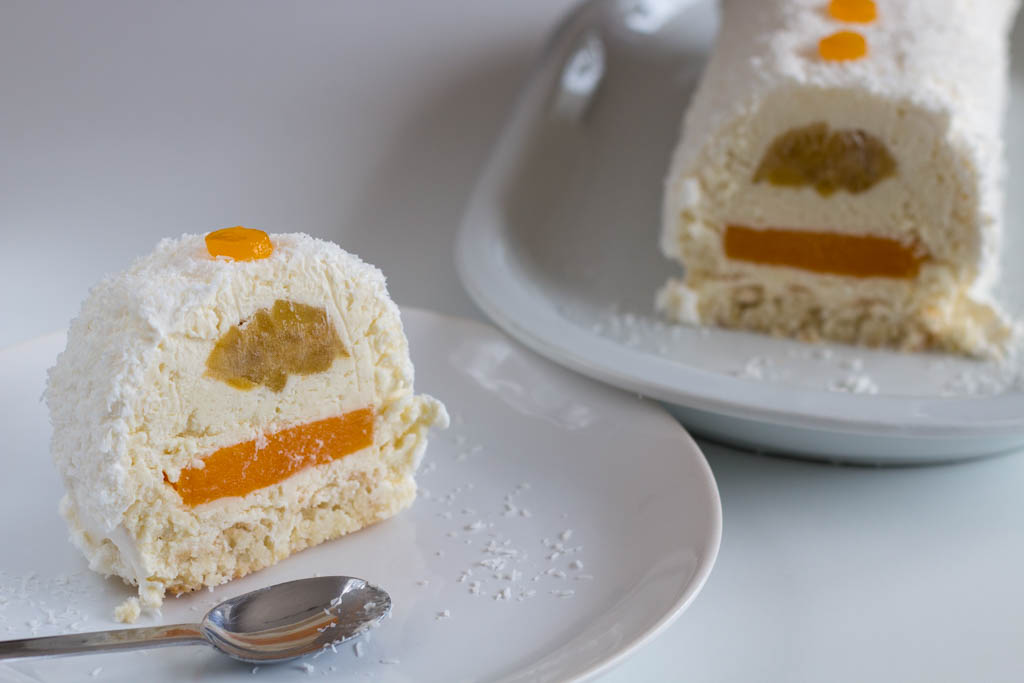 Since I want to become a cool pastry chef too, this year I bought a mold and invented my own recipe of a "Totally white" Christmas log with a dacquoise base, coconut mousse, passion fruit gelée and mango compote.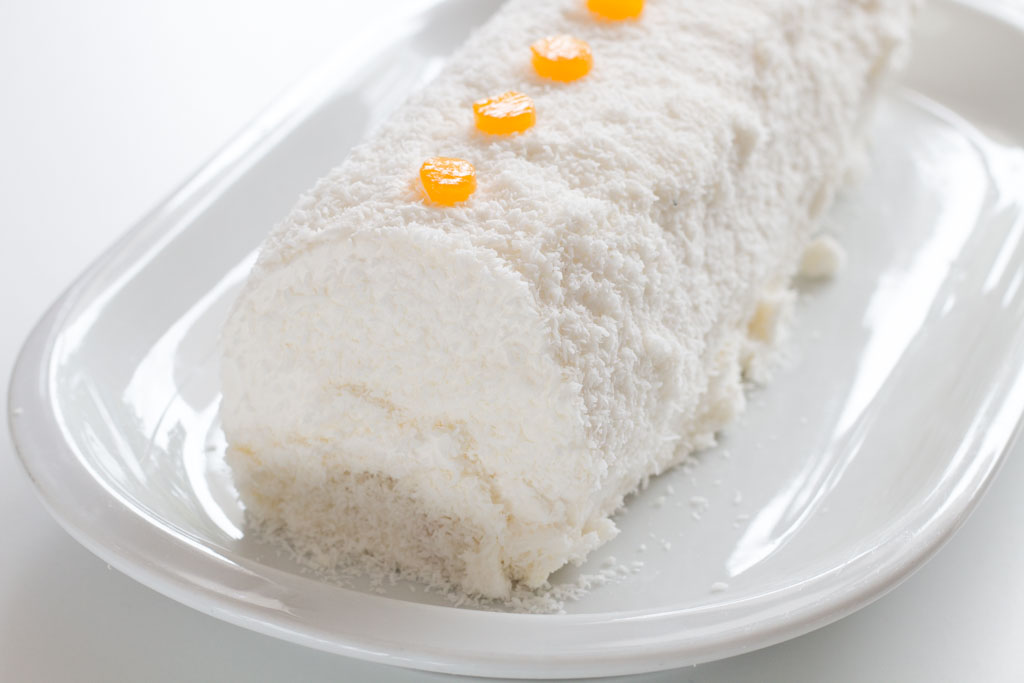 The dacquoise and the gelée were excellent. The passion fruit perfectly balanced the sweetness of the coconut with acidity. The coconut mousse perhaps contained too much white chocolate, but it was very good anyway (just could have been lighter).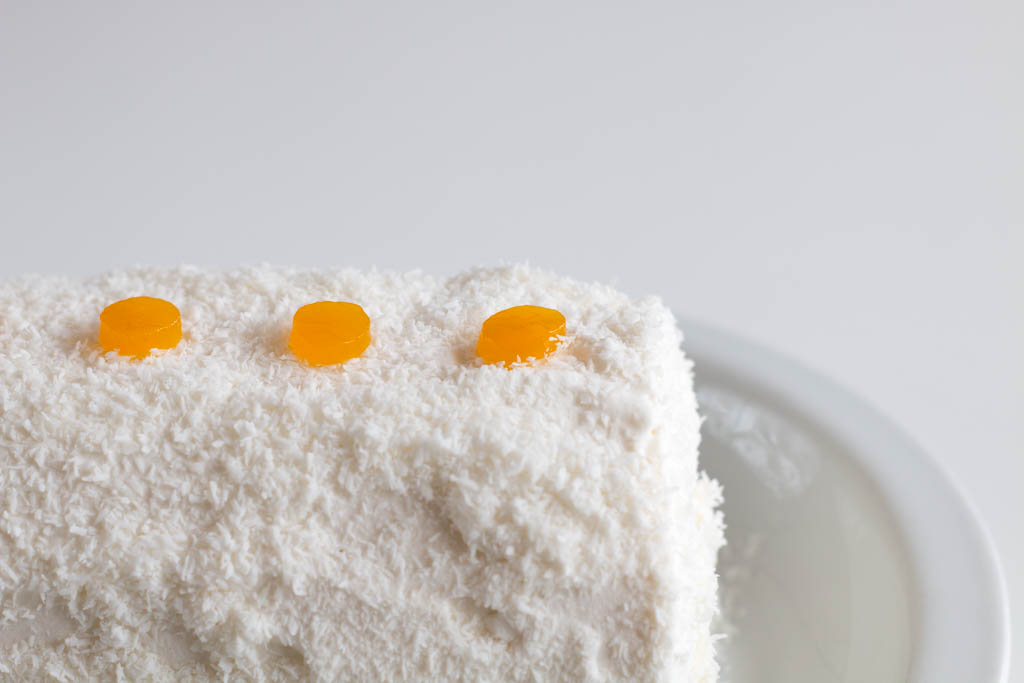 I must admit I was a bit disappointed with the mango compote because it was a bit dull, as if it was missing something. The overall result was anyway very good (I also served this log with chocolate ice cream on top, which seemed nonsense and simply-too-much at first, but it was a revelation!)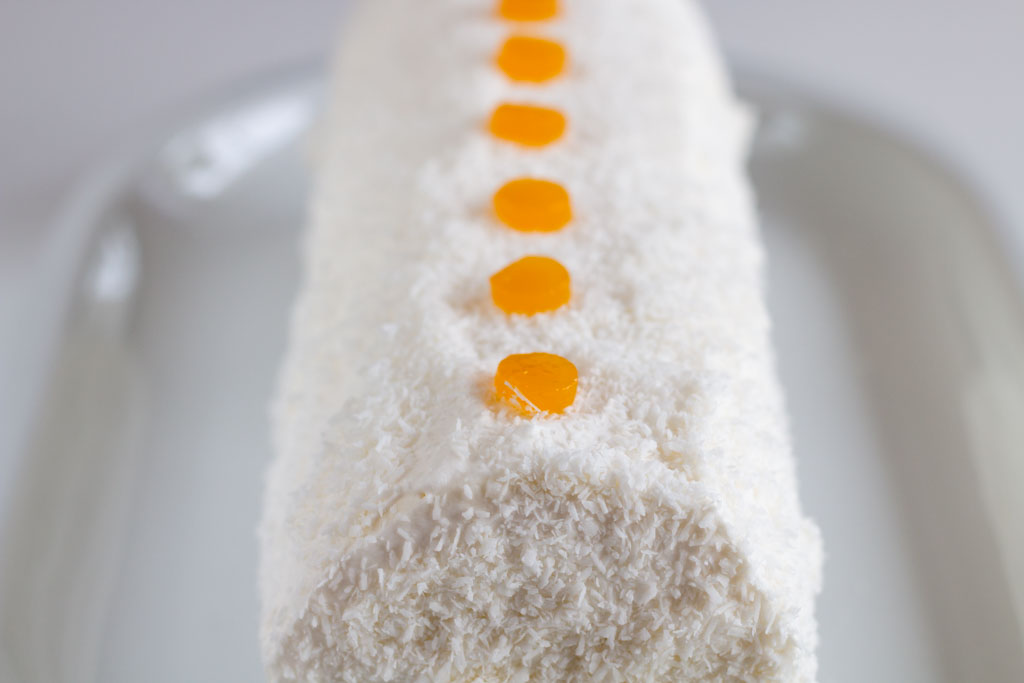 I invite you to try this recipe and let me know what you think, so that I can improve it next year!
In the meantime, happy holidays! 🙂
Totally white yule log

Print recipe
Ingredients
Passion fruit gelée
| | |
| --- | --- |
| 200 | Passion fruit pulp |
| 50 | Granulated sugar |
| 3 | Gelatin |
| 3 | Pectin |
Coconut dacquoise
| | |
| --- | --- |
| 55g | Almond flour |
| 30g | Shredded coconut |
| 55g | Powdered sugar |
| 60g | Egg whites |
| 20g | Granulated sugar |
Mango compote
| | |
| --- | --- |
| 42401 | Mango, diced |
| 1 teaspoon | Unsalted butter |
| 10g | Brown sugar |
Coconut mousse
| | |
| --- | --- |
| 140g | Coconut milk |
| 260g | Whipped cream (cold) |
| 250 | White chocolate |
| 20g | Shredded coconut |
| 6g | Gelatin |
Decoration
| | |
| --- | --- |
| As needed | Whipped cream |
| As needed | Shredded coconut |
Directions