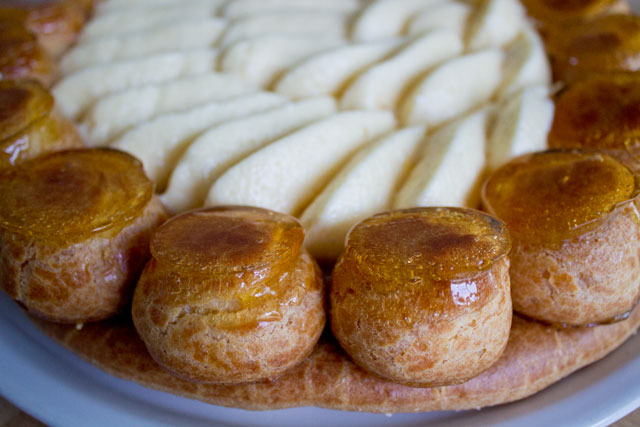 Are you ready for a challenge? 🙂
After months of hesitation, I finally found the courage to face one of the behemoths of pastry: the famous Saint-Honoré cake.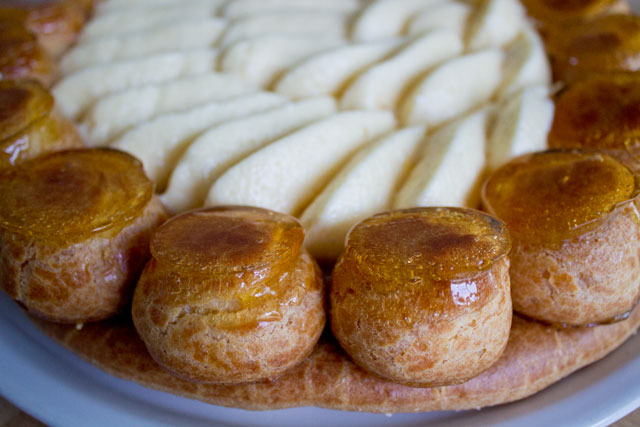 What is the Saint-Honoré cake?
A Saint-Honoré is a complex cake with a base of puff pastry and choux pastry, a ring of caramel-glazed cream puffs on the border and a Chiboust cream filling.
It is traditionally decorated by using a piping bag fitted with the St. Honoré tip.
The somewhat-tricky Chiboust cream today is often replaced with a lighter Chantilly cream, and sometimes the base is made of tart dough rather than puff pastry. For this post, though, I tried to respect the traditional recipe as much as possible.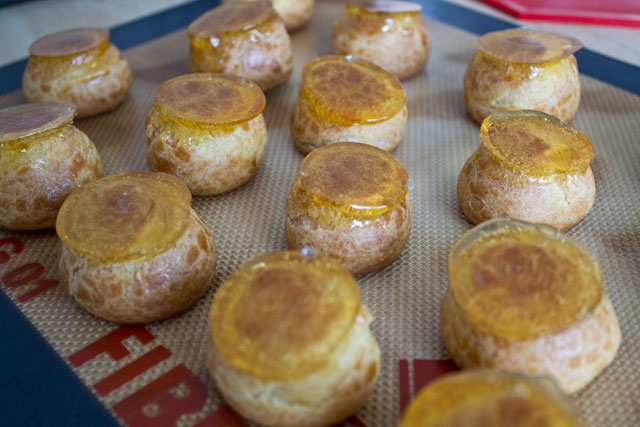 What's the story behind the Saint-Honoré?
This famous French gâteau was created in the 1800's by a pastry chef named Chiboust, who had a shop in Rue Saint Honoré.
On a side note, a baker in 1202 offered his money to build a chapel in Paris in honour of Saint Honoré: the chapel became one of the richest of the city and in 1400, the bakers of Paris established their guild in the church of "Saint Honoratus", who is now the patron saint of bakers.
Techniques you need to master for a Saint Honoré
Oh, so you like the Saint-Honoré and you would like to make it. Fine, I just hope this is not the first pastry attempt of your life! 🙂
This cake is not impossible at all, but it requires a lot of time, a good mastery of some fundamental techniques, and most importantly of all a perfect organisation and planning.
I suggest you try the following techniques at least once before attacking the Saint-Honoré:
Puff pastry (follow the link for the recipe; sure you can buy it at the supermarket, but I wouldn't talk to you anymore)
Caramel
Italian meringue (for the Crème Chiboust)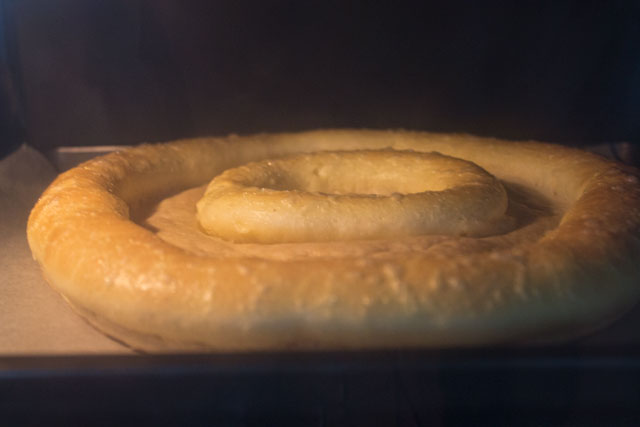 The way I structured my work is the following. I tried to optimize time as much as possible (I recognize there might be better methods):
Puff pastry: you can even make it a few days in advance
Make the choux pastry: you need to make it the same day
Bake the cream puffs
Bake the cake base (puff pastry + choux pastry)
Prepare the pastry cream
Chill a part of the pastry cream and keep the rest for the Chiboust cream
Make the Italian meringue
Prepare the caramel
Fill the choux with the chilled pastry cream
Glaze the cream puffs
Glue the cream puffs to the chilled cake base
Fill the cake
Decorate
If you're not scared by this complex cake, then it means that you can make it (or that you're too self-confident!), so here is the full, step-by-step recipe of this Saint-Honoré with Chiboust cream.
Saint-Honoré with crème Chiboust