Recipe: Paris-Brest with mousseline cream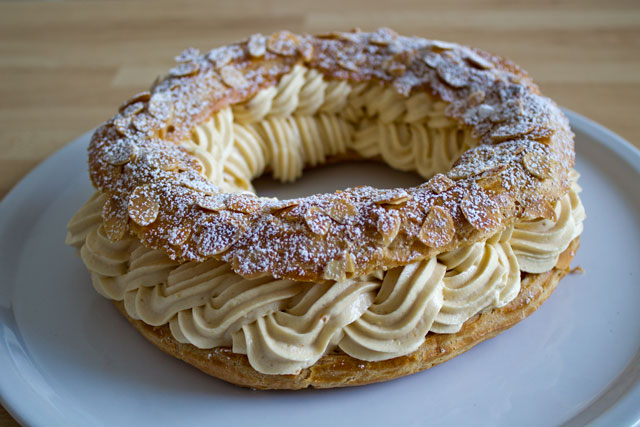 It was 1910 when pastry chef Louis Durand created upon request one of the most famous French desserts of all time, the Paris-Brest.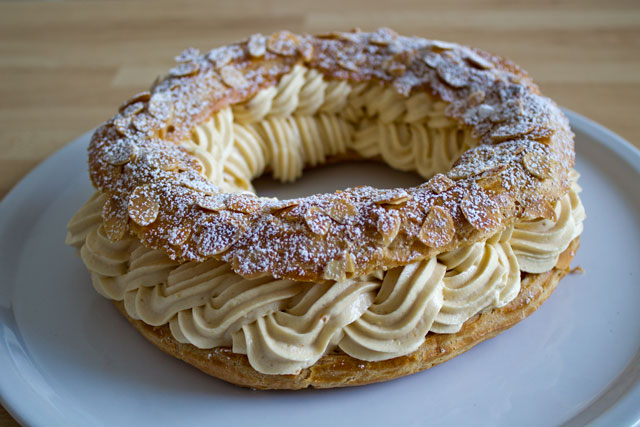 The request came from the organizer of a popular "Paris-Brest-Paris" bicycle race (which still exists today but is only open to amateurs) who wanted a dessert to be served at the arrival.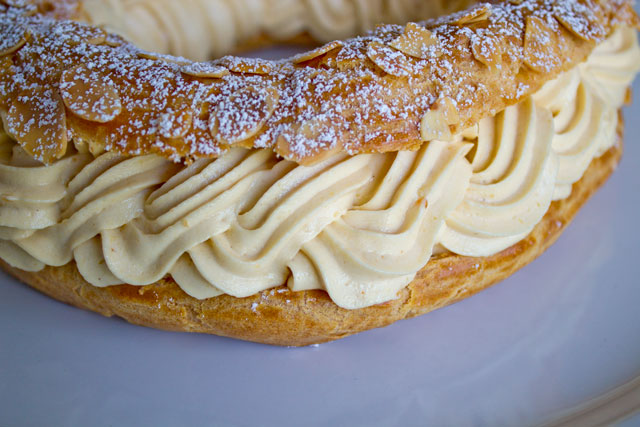 The Paris-Brest is traditionally made of a ring of choux pastry filled with a praliné mousseline cream and its shape resembles that of a bicycle wheel.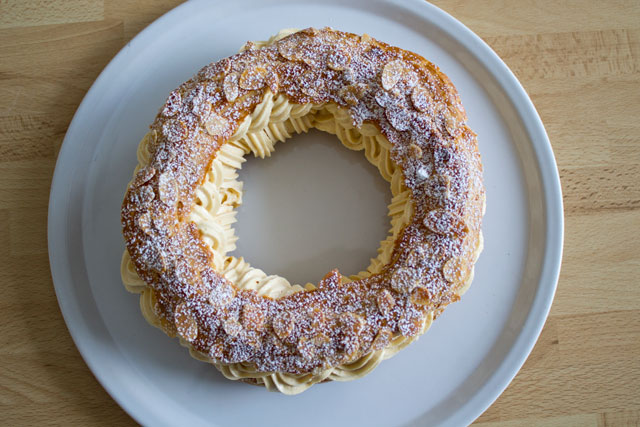 I absolutely love the looks of this dessert, which is perfect and stunning in its simplicity.
The recipe calls for praliné, a paste made by mixing caramelized hazelnuts and almonds: it can be bought in professional shops or also home made (120g of hazelnuts and almonds for 80g of sugar).
A tip for the recipe: for the mousseline cream it is very important that the butter be at the same temperature of the pastry cream (i.e. not too hot, not too cold) otherwise it will either melt or solidify and form lumps.
This is definitely one of my favourite desserts! It's a shame that in other countries it's not as popular as in France!
Paris-Brest with praliné mousseline cream

Print recipe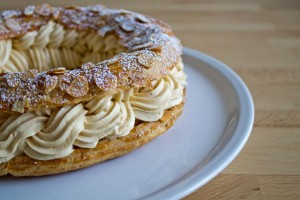 Ingredients
Choux pastry
| | |
| --- | --- |
| 70g | Milk |
| 70g | Water |
| 1 pinch | Salt |
| 60g | Unsalted butter |
| 90g | Bread flour |
| ~150g | Eggs (~3 eggs) |
Pastry cream
| | |
| --- | --- |
| 250g | Milk |
| 1/2 | Vanilla bean |
| 40g | Granulated sugar |
| 3 | Egg yolks |
| 18g | Cornstarch |
| 90g | Unsalted butter (cold) |
Praliné mousseline cream
| | |
| --- | --- |
| 60g | Praliné paste |
| 90g | Unsalted butter (diced - room temperature) |
Decoration
| | |
| --- | --- |
| | Powdered sugar (as needed) |
| | Sliced almonds (as needed) |
Directions
Choux pastry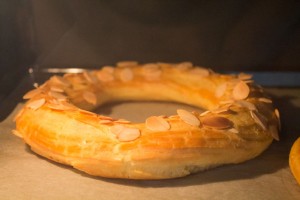 15
Bake at 170° for about 45-50 minutes or until the choux pastry rings are golden brown and well dried.
Pastry cream
Praliné mousseline cream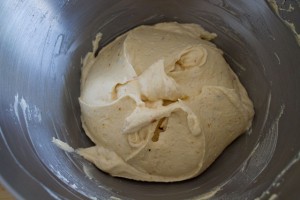 23
Incorporated the soft, diced butter little by little and keep on whipping for around 5 minutes until the cream is soft and airy
Assembling the Paris-Brest
Note
Tip: try adding some chunks of caramelized hazelnuts into the cream after piping!
If the cream is too soft to be piped you can refrigerate it for a few minutes, but be careful, because its big quantity of butter will make it solid quickly and impossible to pipe.
Of course the cream can be stored up to 3 days into the fridge, but if you want to pipe it, you will have to whip it again to incorporate air and make it lighter.