Recipe: Galette des rois with almonds and Grand Marnier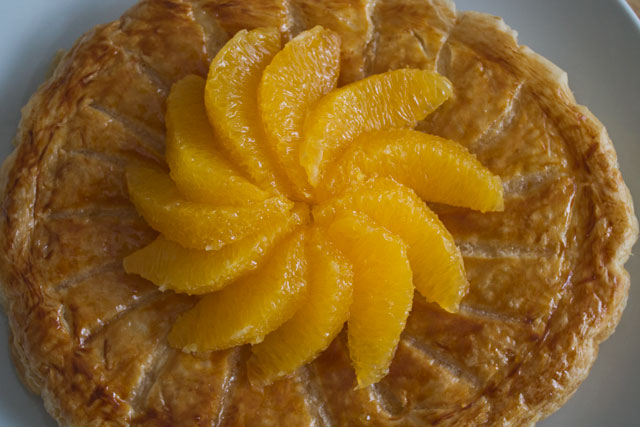 January is almost over, and, alas, so is the period of galettes des rois.
Before saying goodbye to these traditional Epiphany cakes, though, I wanted to try one more recipe for this year.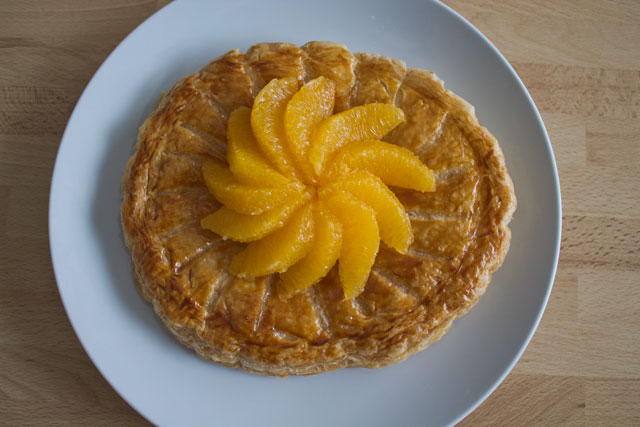 This Galette des rois with almond cream, oranges and Grand Marnier is inspired by the delicate version by Yann Brys, pastry chef at Fauchon.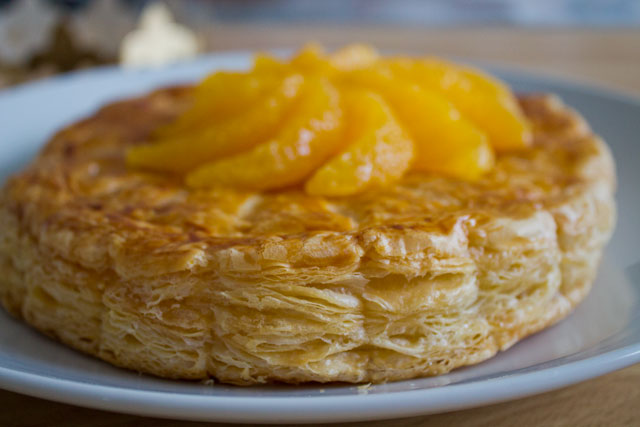 The recipe gives a twist to the traditional galette des rois with almond cream, by replacing rum with Grand Marnier and by adding an orange compote with candied orange peel and fresh orange supremes.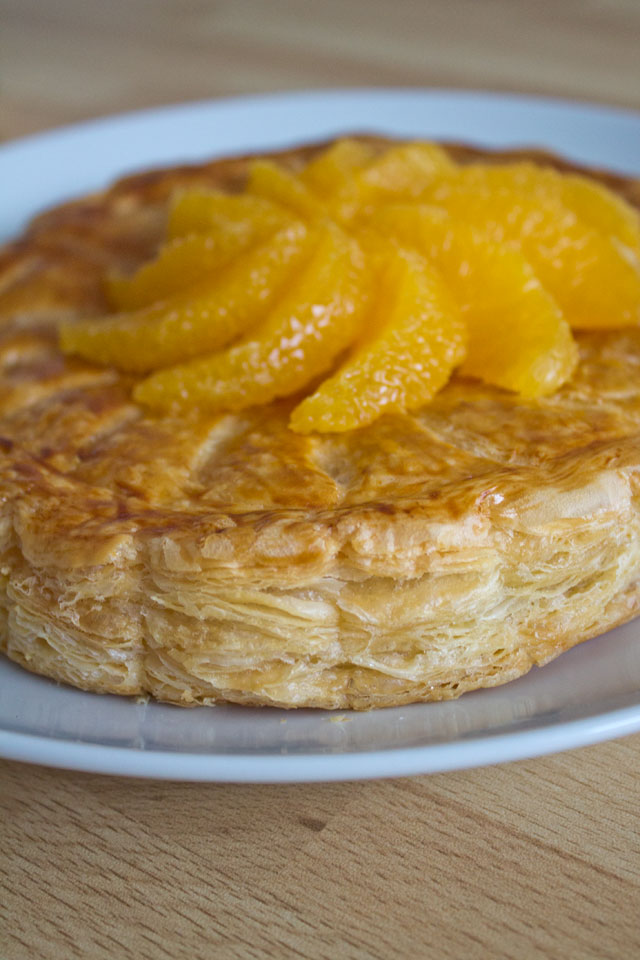 There are no complicate steps in the recipe, provided you can make puff pastry and cut orange supremes (which is not difficult at all). 🙂 Of course, you can replace home-made puff pastry with the supermarket one (or better, ask your baker).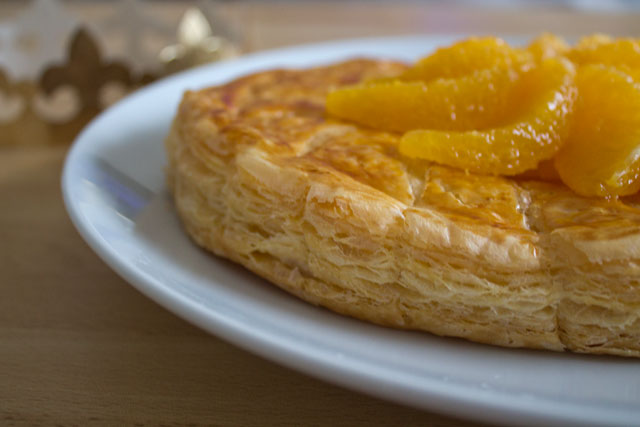 After baking this recipe, do you prefer a filling with just almond cream or frangipane cream? 🙂
(Source: Pierre Oscar Muller Auteur)
Galettes des rois with almonds, oranges and Grand Marnier

Print recipe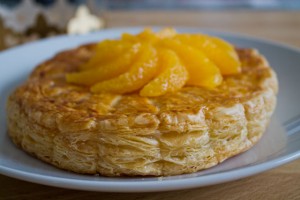 Ingredients
Almond cream with Grand Marnier
| | |
| --- | --- |
| 15g | Grand Marnier |
| 80g | Ground almonds |
| 6g | Cornstarch |
| 80g | Powdered sugar |
| 1 | Egg |
| 75g | Unsalted butter (room temperature) |
Crust
| | |
| --- | --- |
| 300g | Puff pastry (6 folds) |
Decoration
| | |
| --- | --- |
| 1 | Fresh orange |
| 60g | Candied orange peel (left for one hour in 15g of lukewarm Grand Marnier) |
| 15g | Granulated sugar |
| 3g | Pectin |
| 100ml | Fresh orange juice |
Egg wash
Directions
Almond cream
Assembling the galette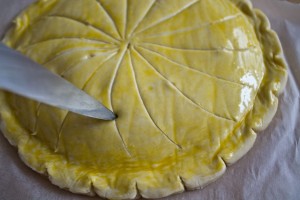 16
Make a decoration on the top with the tip of a pointed knife (I drew some curves from the centre). Make sure not to cut the puff pastry completely otherwise the dough will crack while baking. Also make 5-6 small holes in the decoration lines to make sure the air can escape providing a proper rise. Store in the fridge for 3 hours.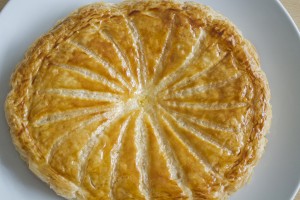 17
Mark the decoration lines a second time with the tip of the knife. Finally bake at 200°C for around 10 minutes then let the oven reach 180° C and bake for 25-30 more minutes, until the galette becomes a golden brown. Let cool down on a wire rack.
Decoration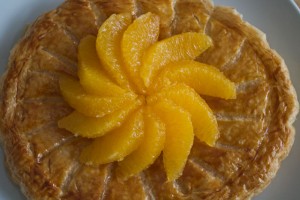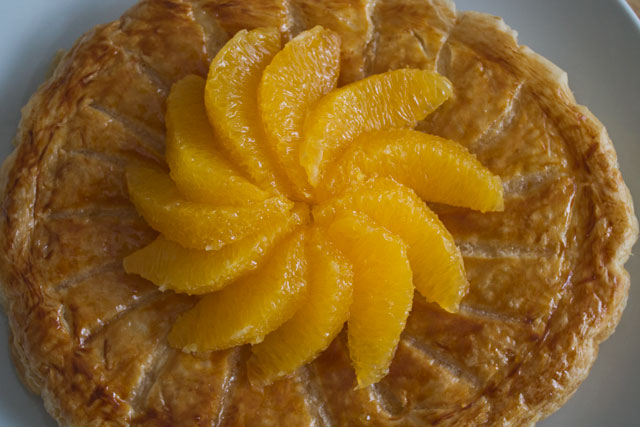 21
Get all the supremes from the fresh orange and place them in a circular pattern on the orange compote
Note
The egg wash should be used before making the decoration to ensure the lines are visible and of a different colour in the baked product.
Remember that the scraps of puff pastry cannot be mixed together and rolled out for a high-rising product such as the galette. Nevertheless you can put them one on top of the other (to keep the layers intact) and roll them out to make fruit tarts or a napoleon.
The galette should be eaten the same day it is baked. Storing it at room temperature for more than 1 day is possible, but the crust will get slightly moist and definitely not crunchy anymore.
You can brush the fresh oranges with neutral glaze for additional shine.