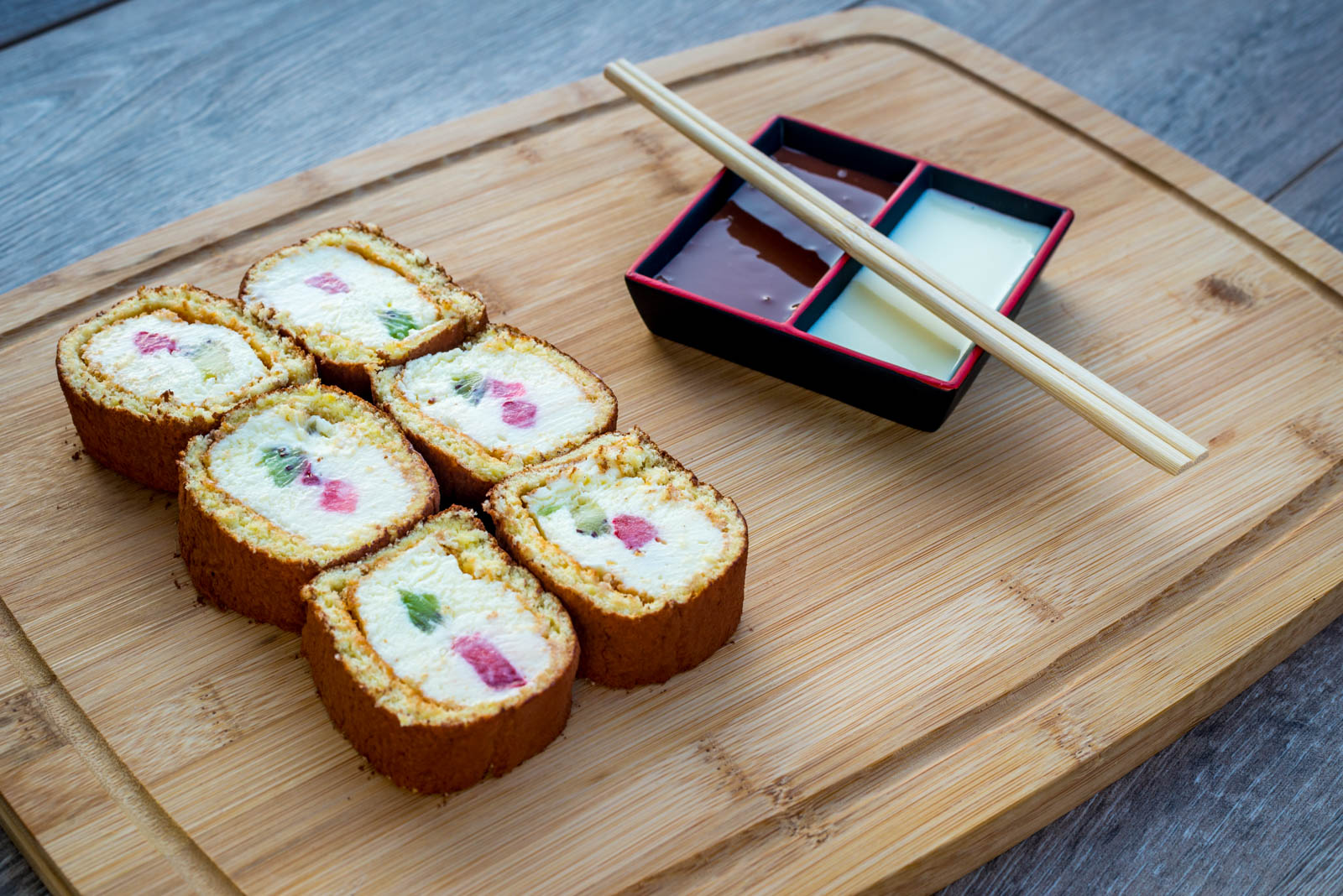 I haven't been baking that much lately. I'd like to think it's more because the weather has been insanely hot rather than because I've been insanely lazy. Ok, maybe it's for both reasons.
And it's absolutely a shame, because there are so many good fruits in this season! Strawberries for example. I mean, I would put them in every cake, they are delicious.
But since I'm lazy, here I am at the end of the strawberry season, rushing to make some nice dessert with them!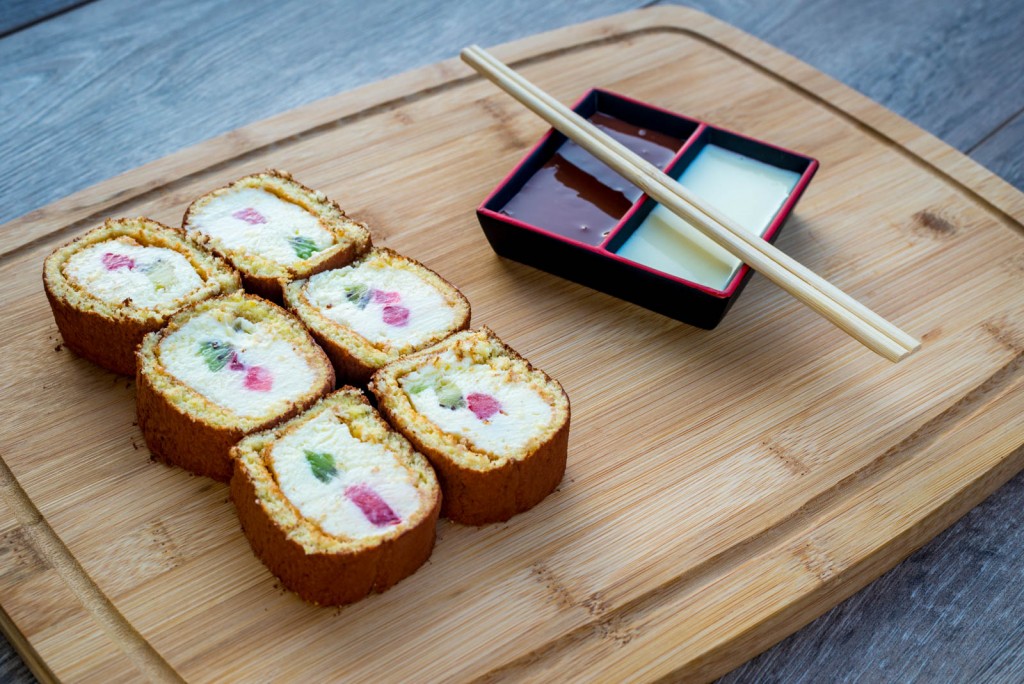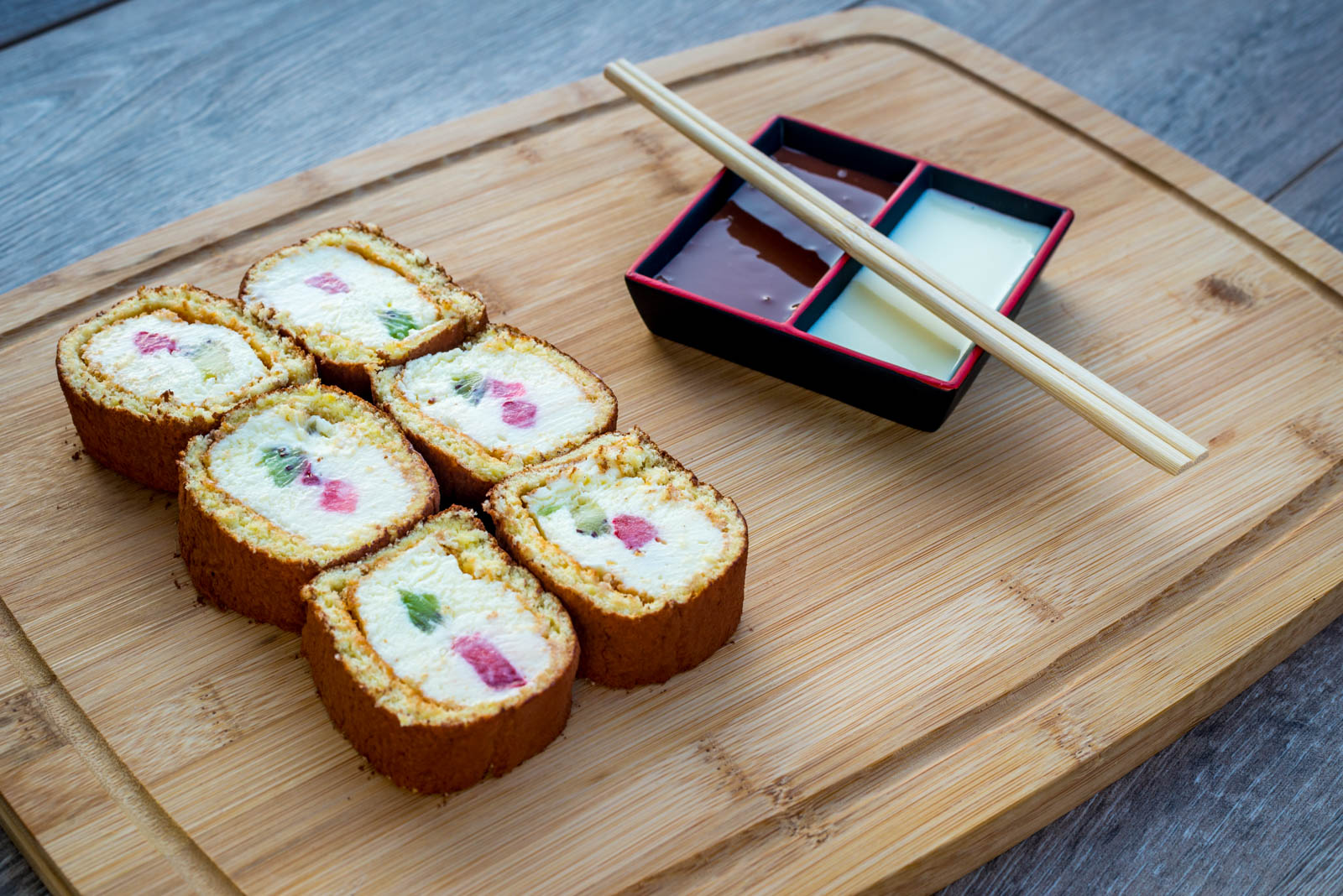 Well… at least it seems I succeeded in the end: I absolutely love this Tiramisu-shi, a tiramisù in the shape of sushi (I know they are actually "makis", but "tiramisu-maki" was totally uninteresting as a name). 😛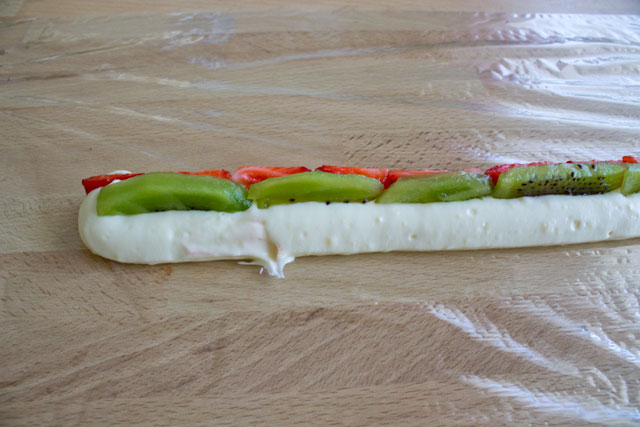 The Tiramisushi is a recipe by Italian chef Luca Montersino and is made of a core of mascarpone cream mousse with fresh fruits (I used strawberries and kiwis to remind of the fish and avocado), wrapped in spongecake. The tiramisù is then rolled in cocoa powder, sliced like makis and served with a chocolaute sauce or ganache.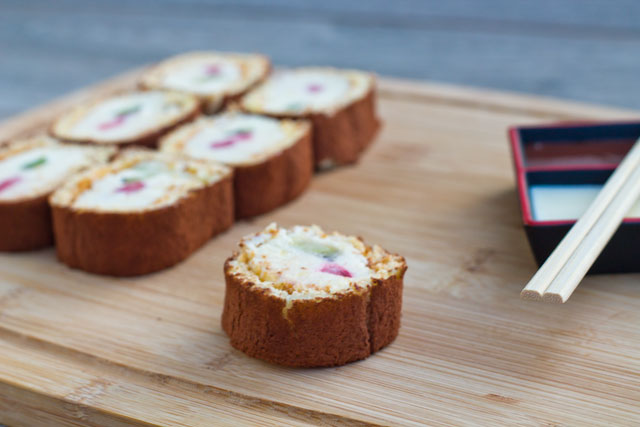 And yes, you can actually eat it with chopsticks! It's probably one of the nicest and most captivating desserts I've ever made. It's not super simple (rolling the cylinder of mascarpone mousse without shooting cream everywhere made me sweat!) but it's manageable and it will certainly dazzle your friends! 🙂
Tiramisushi

Print recipe
Ingredients
250g
Heavy cream (min. 30% fat)
100g
Fresh strawberries
100g
Fresh kiwis
As needed
Cocoa powder
85g
Granulated sugar
25g
Water
8g
Sheet gelatin
250g
Mascarpone cheese
Rolled spongecake
| | |
| --- | --- |
| 45g | Egg yolks (~2 yolks) |
| 110g | Eggs (~2 eggs) |
| 110 | Granulated sugar (for the egg yolks) |
| 65 | Egg whites (~2 egg whites) |
| 15 | Granulated sugar (for the egg whites) |
| 65 | Pastry flour |
Mascarpone cream mousse
Directions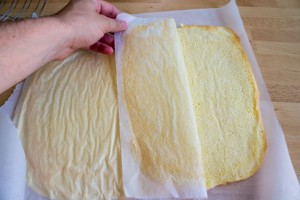 9
Invert the baked spongecake on a sheet of sugar-sprinkled parchment paper and gently remove the other sheet of parchment paper
Mascarpone cream mousse
12
In the meantime, whip the egg yolks at high speed: when the sugar syrup reaches 121°C, pour it gently but steadily over the egg yolks to pasteurize them while keeping on whipping. Squeeze the gelatin and add it to the eggs. Keep on whipping until they reach room temperature. This mixture is now called pâte à bombe.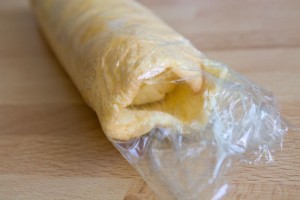 24
Roll the spongecake around the cream cylinder until one edge meets the rest of the spongecake. Cut the spongecake in this point, so that the cylinder is perfectly wrapped inside a single layer of spongecake (it is a tiramisushi, not a Christmas yule log). Wrap in plastic film and freeze for a couple of hours.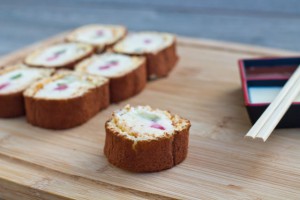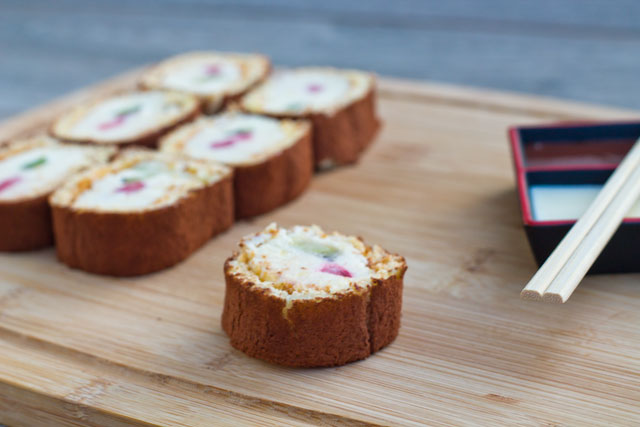 25
When the tiramisushi is frozen, roll it in cocoa powder and then cut it in equal maki-sized slices. You can store it in the fridge for around 4 days and then serve it with a chocolate ganache (pour 100g of boiling cream over 100g of chopped chocolate and stir with a spatula to create an emulsion).