Recipe: Traditional Tiramisù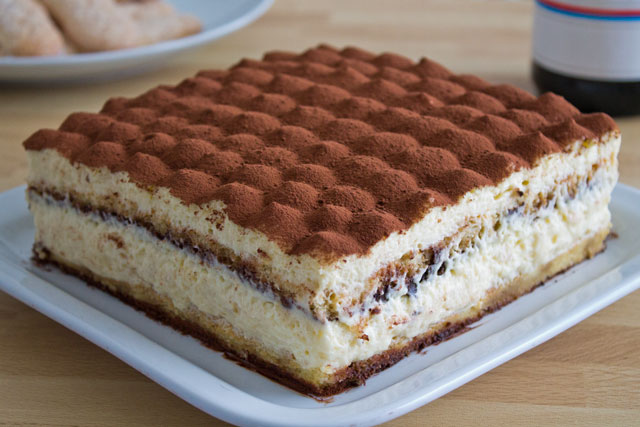 Don't ask me how this blog existed so far without a Tiramisù recipe. There's simply no excuse!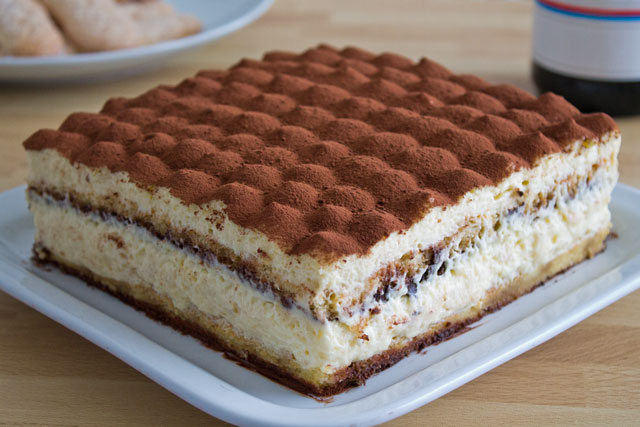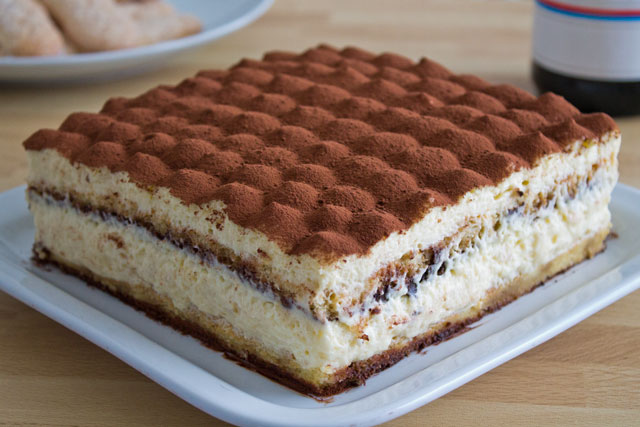 This is one of the most famous desserts in the world, yet it is quite recent. Apparently (but you know, in the history of pastry, nothing is for certain), it was invented in Treviso, near Venice, in the 1960's in a family-run restaurant.
Its name might sound a bit funny and it literally means "cheer-me-up"/"lift-me-up", probably because of its high energetic content coming from the eggs (some also say because of its – unverified – aphrodisiac power).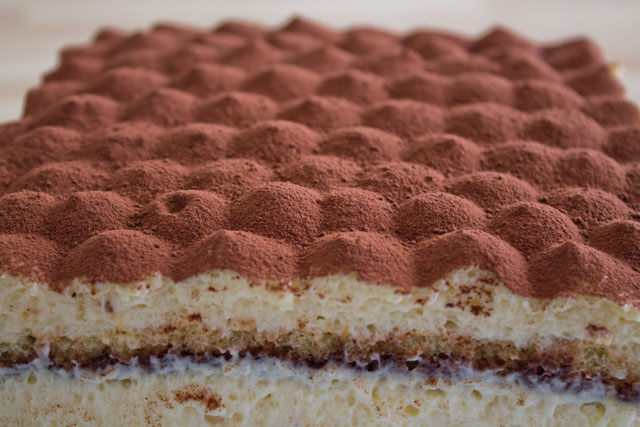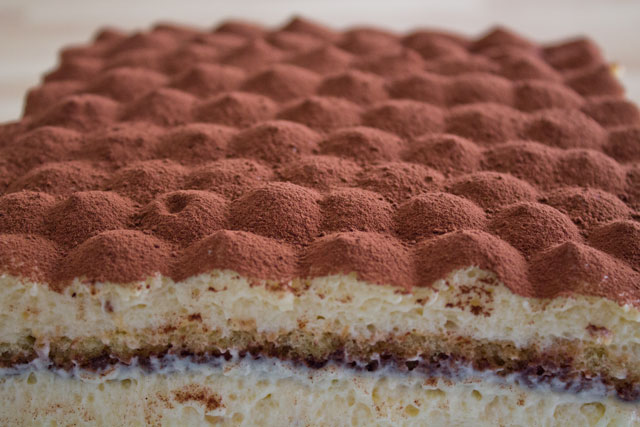 This famous dessert contains three great Italian ingredients:
Ladyfingers: these biscuits were originally invented in the region of Savoy (which is now in France, but previously belonged to Italy) and are still widespread in the former territories of the House of Savoy (e.g. Piedmont and Sardinia)
Mascarpone cheese, originally from an area not far from Milan
Coffee
(In addition to these, the mascarpone mousse is very similar to an Italian sabayon with Marsala wine)
Almost every household in Italy has its own special recipe of Tiramisù: with egg yolks, with egg whites or whipped cream, with or without Marsala wine… and the variants are endless.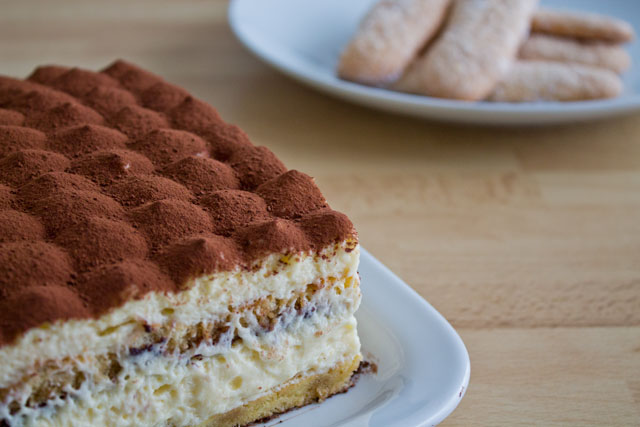 What I tried to write in this post is a traditional recipe (which is also the best I've tasted so far, in my humble opinion): Tiramisù is often a homemade dessert made with simple ingredients and simple techniques. For this reason, the original version contains raw eggs: this definitely makes it a potentially hazardous dessert (salmonella!) and for sure you won't find a pastry shop that dares serving you this recipe.
Nevertheless, if you buy good-quality, fresh eggs (and you handle them carefully: see notes below the recipe), you sensibly limit the health risks… and trust me, it is really worth it because this is one of the best desserts ever!
Traditional Tiramisù (with raw eggs)

Print recipe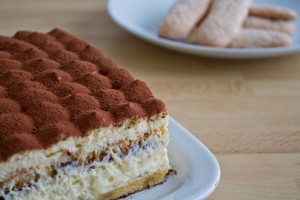 Ingredients
Ladyfinger spongecake
| | |
| --- | --- |
| 4 | Egg whites |
| 75g | Granulated sugar |
| 4 | Egg yolks |
| 50g | Bread flour |
| 40g | Cornstarch |
| | Powdered sugar (as needed) |
Mascarpone mousse
| | |
| --- | --- |
| 3 | Egg whites |
| 80g | Granulated sugar |
| 3 | Egg yolks |
| 50g | Granulated sugar |
| 250g | Mascarpone cream cheese |
| 3 tablespoons | Marsala wine (or any sweet dessert wine - optional) |
Decoration
Coffee syrup
| | |
| --- | --- |
| 3 | Espresso coffees (room temperature) |
| 2 tablespoons | Granulated sugar |
Directions
Note
The Tiramisù traditionally contains raw eggs, so pay utmost attention when cracking them to limit health risks: crack them on a flat surface (and not on the edge of your bowl), wash your hands before and after touching them, and make sure that the egg yolks and whites are never in contact with the external part of the shell.
Since the ladyfingers are normally relatively dry, it is better to let the Tiramisù sit for a few hours in the fridge before serving: this way the mousse with moisten the spongecake.
The Tiramisù holds well for 2 days in the fridge.
In alternative to a baked round/rectangle of ladyfinger batter, you can pipe (or buy) single ladyfinger biscuits and carefully dip them into coffee before placing them into the mould.
You can experiment with any other type of biscuits and cookies to replace the ladyfingers (hint: try speculoos!)