The best amateur macaron in Nice 2013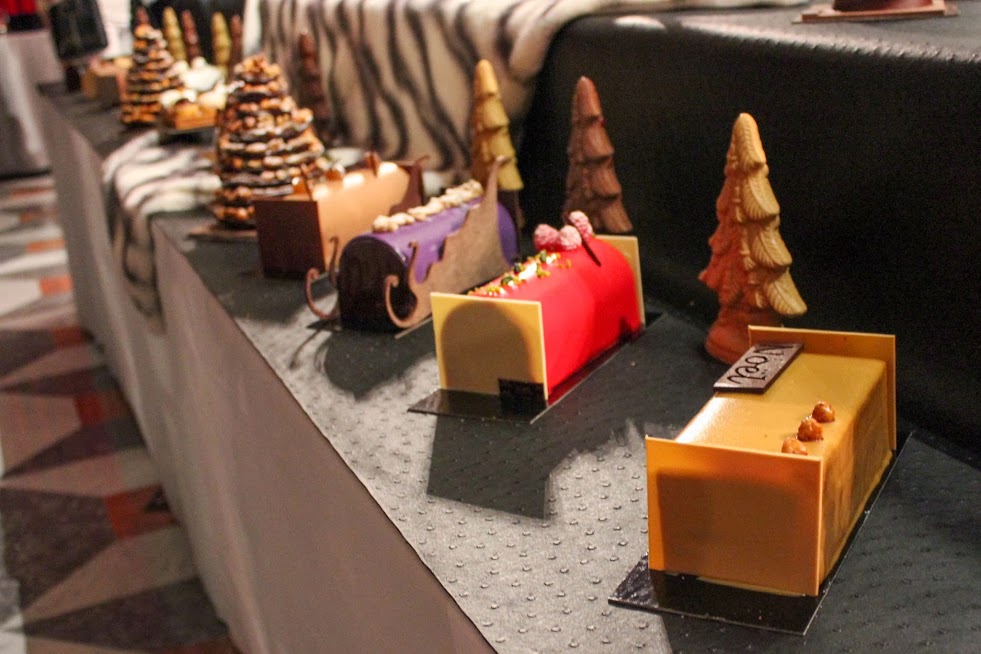 Last Saturday was the day of the the competition "The best amateur macaron" ("Le meilleur macaron amateur") in Nice, to nominate one winner who could represent the city to the French finals next spring.
I participated in it last year but I didn't win anything… and I would have liked to enter the competition this year as well, but you know, I'm not an amateur anymore, I've got a cool pastry diploma now, oh yeah!
Like last year, the award "ceremony" was at the majestic 5-star hotel "Le Negresco" in Nice: all participants and the 3 finalists were rewarded during the presentation of the Christmas collection by pastry chef Pascal Lac, the local organizer of the macaron competition.
Since I was not in the competition, I must admit I was at the Negresco mainly to taste the new "bûches de Noël" (Christmas yule logs) by Lac. Long gone are the times of "Swiss-roll"-like logs: now modern pastry chefs use specific long moulds and the result is much classier than the old-fashioned bûches.
I tasted 6 different yule logs (SIX, oh yeah, the best afternoon ever) with very interesting flavours and textures. Among them:
– Guérande: chocolate, apples, salted caramel
– Marron: chestnut cream and chestnut chantilly
– Perle: vanilla and strawberry with a madeleine-like spongecake
– Mattéo: passion fruit savarin cake with chocolate spongecake, caramel and chocolate mousse
The best one by far for me was the "Guérande", I loved the slightly salty aftertaste of the chocolate and apple bûche… Pascal Lac himself, instead, said he prefers the one with raspberries since he's more of a "fruit lover" (which you don't really expect from a "chocolatier", but anyway…)!
At 6pm then, the best amateur macarons of Nice were announced. The winners are:
3) Andrée Polizzi: macaron with whipped Génépi (liqueur from the Alps) ganache
2) Laurent Farini: mojito macaron!
1) Hélène Roustan: macaron with chesnut cream, vanilla and Tonka beans
As usual, participants distinguished themselves with very unusual and elaborate flavours (like, have you ever tasted Tonka beans? I have not!) which meant the level was very high although nobody was a professional.
Now the next step in the competition will be the French final which will be held in Nice this year!!! I hope there will be another "public event" to follow the competition… and maybe taste something! 🙂