Passion fruit and raspberry éclairs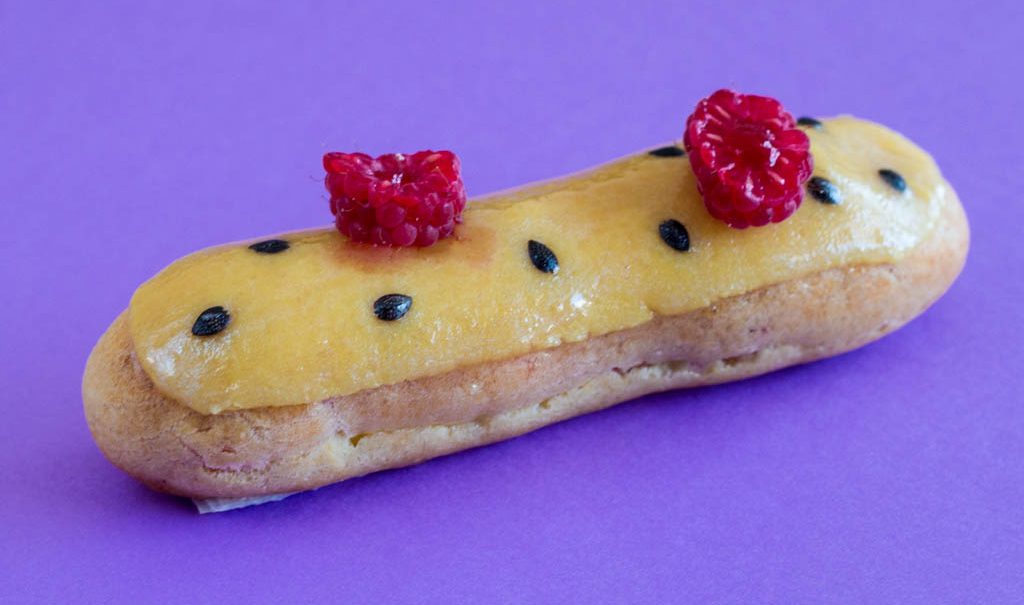 A few weeks ago I bought the book "Éclair de génie" by Christophe Adam, the former pastry chef at Fauchon who established his own mono-product business about éclairs a few years ago.
All his éclairs are stunning and quite different from anything, so I was curious to read his recipes and find out how to achieve those stunning looks and effects.
Well, let's say he needs some help from some cool ingredients that are not commonly available in a supermarket, but which can be easily purchased online. Last week I received my order with pectin and cocoa butter and decided to try my first "cool" éclair.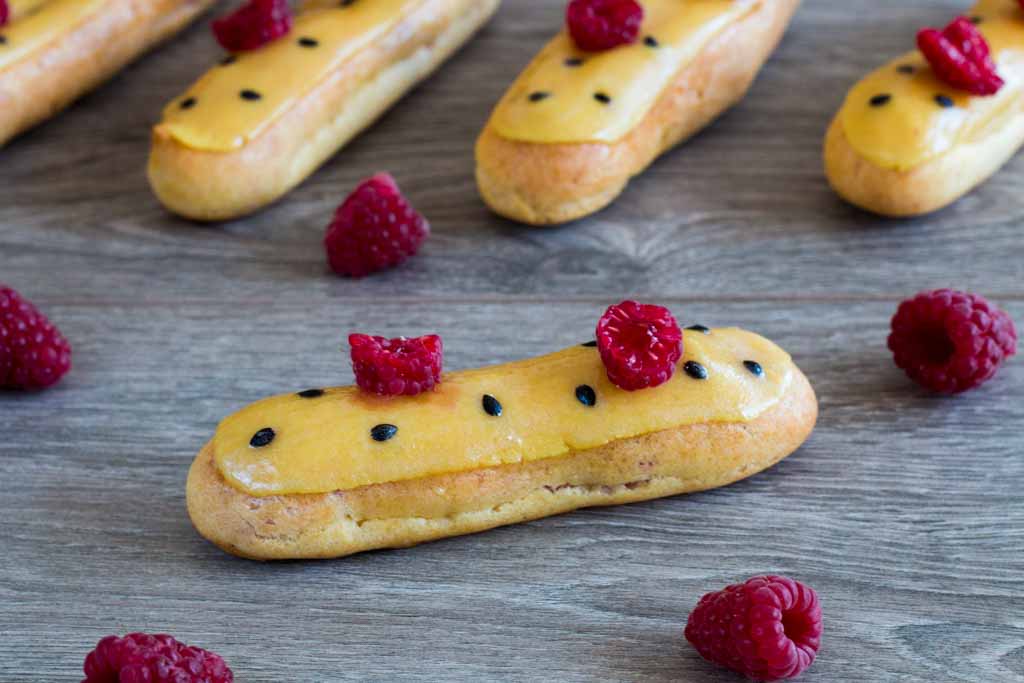 For these hot summer days, the choice fell on these elegant passion fruit and raspberry éclairs. The combination of flavours is absolutely amazing! And they look cool too!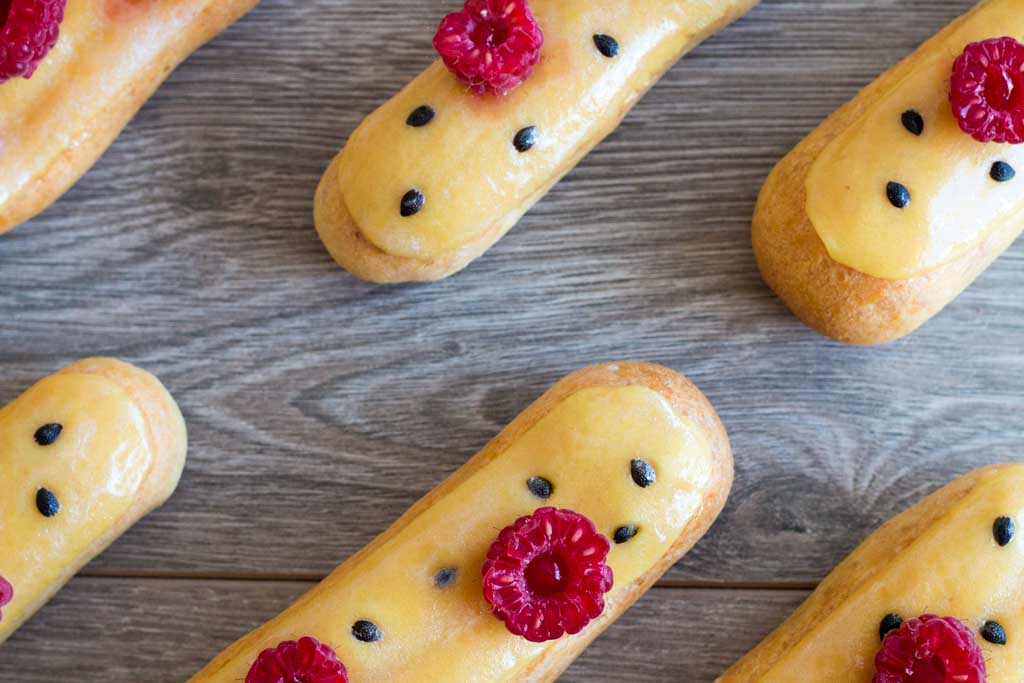 The top is made with a colored almond paste, glued to the éclair with (home made) neutral glaze, and then glazed with more glittered neutral glaze. My result is slightly different from the original because I didn't have an éclair-shaped cookie cutter to cut the almond paste precisely and I was not able to find edible glitter, so I just used a coloring powder (definitely less sparkling).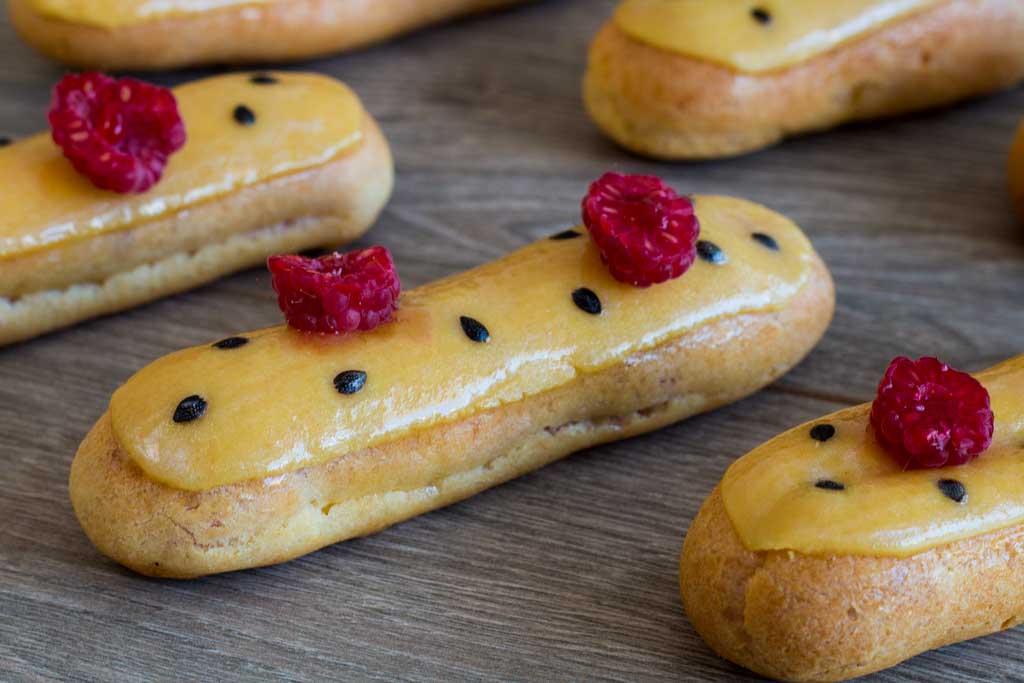 I´m not a super fan of passion fruit, but these recipe made me fall in love with it, especially for the combination with the raspberries coulis. But be warned, all pleasures come at a cost: it took me around half a day to make these éclairs from scratch (with a bit of preparation for the glaze the day before too), so plan carefully your day!!! 🙂
Passion fruit and raspberry éclairs

Print recipe
Ingredients
Choux pastry
| | |
| --- | --- |
| 85g | Milk |
| 85g | Water |
| 1 pinch | Salt |
| 85g | Unsalted butter |
| 85g | Bread flour |
| 148g | Eggs |
| 3g | Sugar |
| 1 | Vanilla extract |
Passion fruit cream
| | |
| --- | --- |
| 75g | Passion fruit juice (around 7 fruits) |
| 10g | Lemon juice |
| 1g | Gelatin |
| 105g | Eggs (~2) |
| 85g | Granulated sugar |
| 155g | Butter (room temperature) |
Raspberry confit
| | |
| --- | --- |
| 60g | Granulated sugar |
| 4g | Pectin (almost a teaspoon) |
| 90g | Raspberry juice |
| 30g | Glucose syrup |
| 20g | Lemon juice |
Neutral glaze
| | |
| --- | --- |
| 125g | Water |
| 5g | NH pectin (1 teaspoon) |
| 30g | Granulated sugar |
| 100g | Granulated sugar |
| 8g | Glucose syrup |
Decoration
| | |
| --- | --- |
| 100g | Almond paste (with 50% of almonds) |
| As needed | Yellow colouring |
| As needed | Orange colouring |
| As needed | Golden food glitter (optional) |
| 20 | Fresh raspberries |
Directions