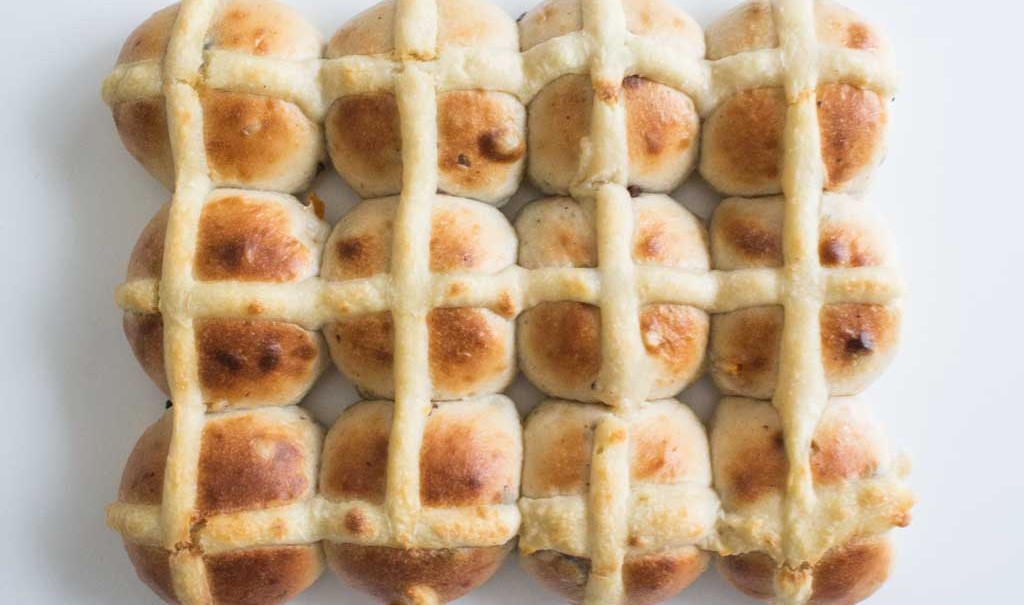 These hot cross buns are the first thing I baked after I felt a bit more comfortable with my sourdough starter!
(The recipe in this articles includes directions and quantities both in case you are using yeast or sourdough)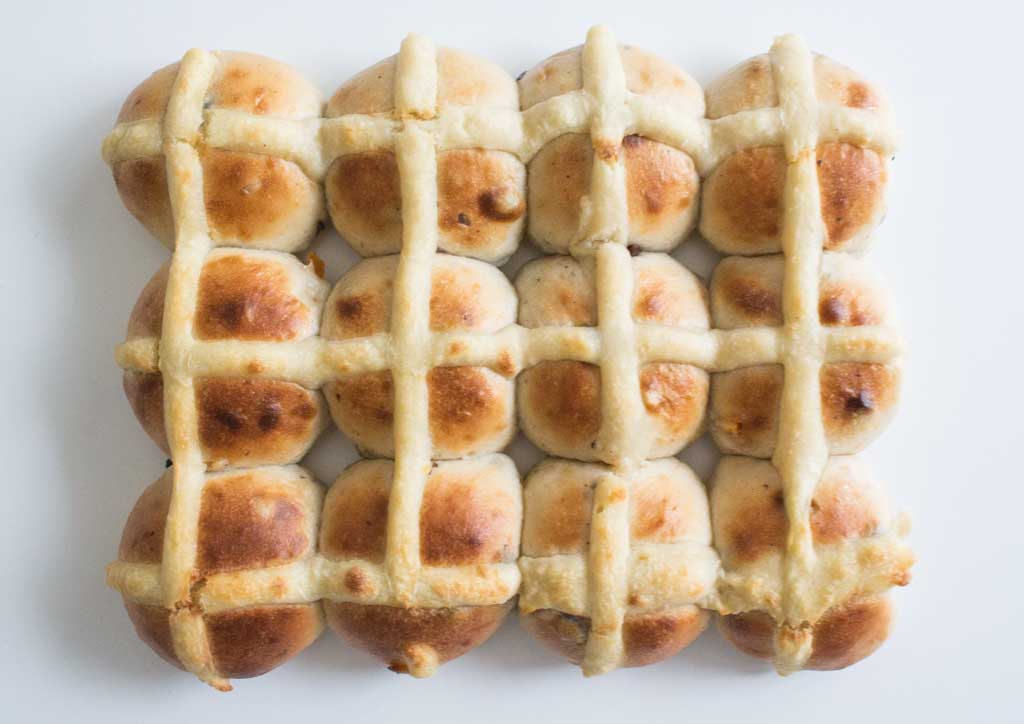 I chose them for a simple reason: we are in Lent, the 40-day period of observance before Easter! And for once, I am able to post a recipe on my blog before a holiday actually occurs.
For those who don't know them, the hot cross buns are the traditional Lenten bread with a distinctive white cross of dough on top and they are very common in the UK.
Historical note: the bun's origin is unknown but the legend says that Anglo-Saxons ate the buns in honor of their goddess Eastre. The cross on top probably represented the moon and its quarters. When the Romans arrived, the clergy could not stop the use of these sacramental buns, so they just blessed them and gave the cross a Christian meaning.
This was a first attempt at adapting a recipe with yeast, and the result was quite tasty (although under-fermented). What I learn in the process is:
The total fermentation/proofing time with sourdough is much (much) longer than with yeast, like 4 times longer (calculation based on other experiments after these buns)
There is no clear relationship between the quantity of sourdough you have to use and that of yeast-flour-water that you have to remove. In my case, I used 125g of sourdough, and removed 40g of water and 100g of flour. For this task, I guess practice makes perfect.
Modern recipes call for simple sugar icing on top, while the traditional recipe uses a proper thick dough made with flour, butter and milk. The one I used is taken from the book "On baking". To avoid having massive crosses like mine, try to pipe the dough in very thin stripes, as it should be! 🙂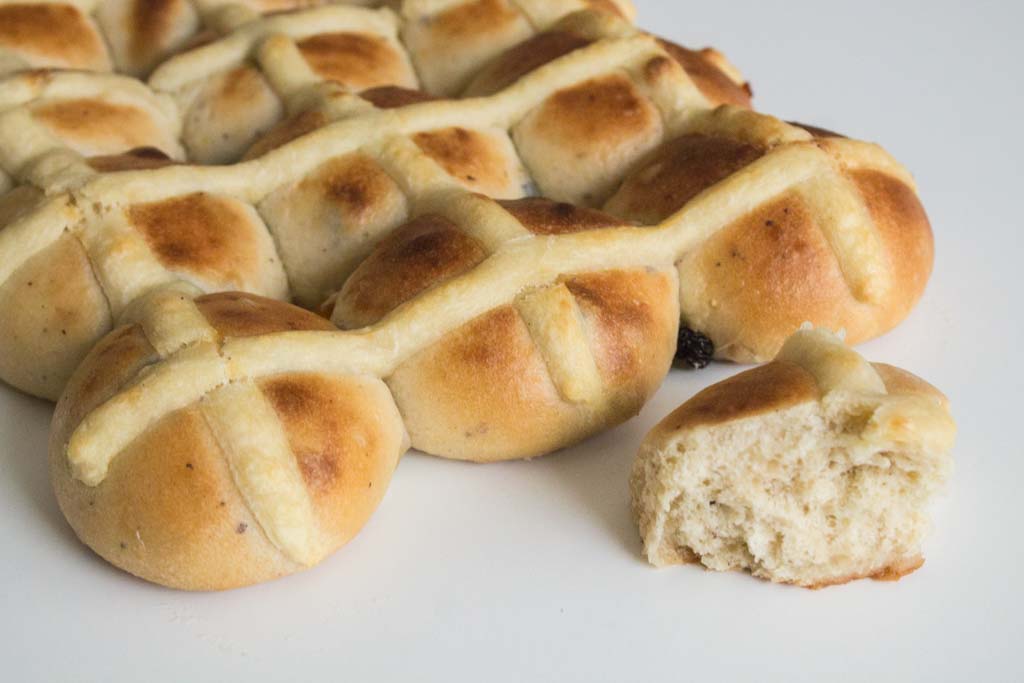 And in your country what is the traditional Easter dessert? Give me inspiration for next year! 🙂
Hot cross buns

Print recipe
Ingredients
Dough
| | |
| --- | --- |
| 150g | Golden raisins |
| 150g | Dark raisins |
| 40g | Candied orange peel |
| 500g | Medium-strength flour - W 260 (400g if using a sourdough) |
| 60g | Unsalted butter, room temperature |
| 50g | Granulated sugar |
| 5g | Malt (optional) |
| 25g | Milk powder |
| 20g | Yeast (or 125g of sourdough starter) |
| 9g | Salt |
| 50g | Eggs |
| 0.5 teaspoon | Vanilla extract |
| 0.5 teaspoon | Cardamom (ground) |
| 0.5 teaspoon | Allspice (ground) |
| 1 teaspoon | Ginger (ground) |
| 0.5 teaspoon | Cinnamon (ground) |
| 260g | Water (220g if using a sourdough) |
Cross dough
| | |
| --- | --- |
| 110g | Pastry flour |
| 20g | Unsalted butter, room temperature |
| 95g | Milk |
Bun glaze
| | |
| --- | --- |
| 25g | Water |
| 50g | Granulated sugar |
| 1 pinch | Ginger (ground) |
| 0.5 teaspoon | Lemon juice |
| 0.5 teaspoon | Grated lemon zest |
Directions