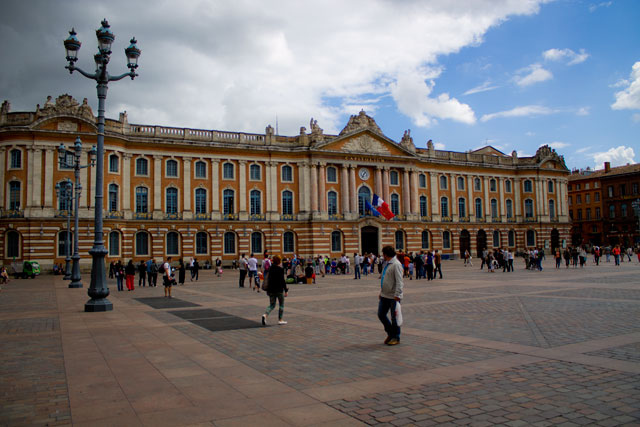 Some time ago I visited Toulouse, also known as "the pink city" for the massive amount of red-brick buildings (so it should rather be "red city", yeah, that's what I thought too).
It is also famous for its huge Capitole square and is one of the biggest cities in France.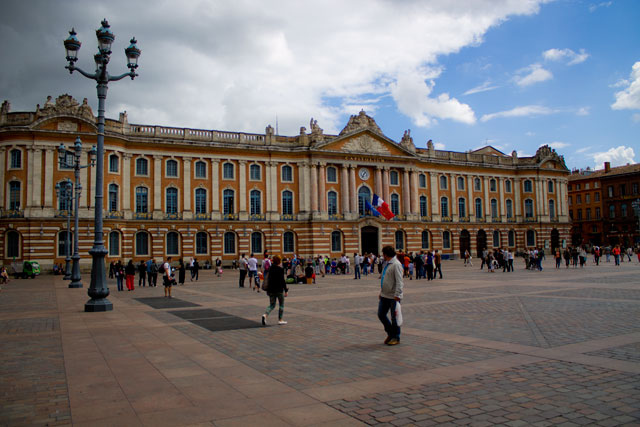 For me, "visiting a city" is a synonym of finding the best pastry shops in town 🙂 so on this occasion too I toured the streets of the city centre to find the nicest sweet spots in town.
The first one I encountered on my path was "Michel Belin".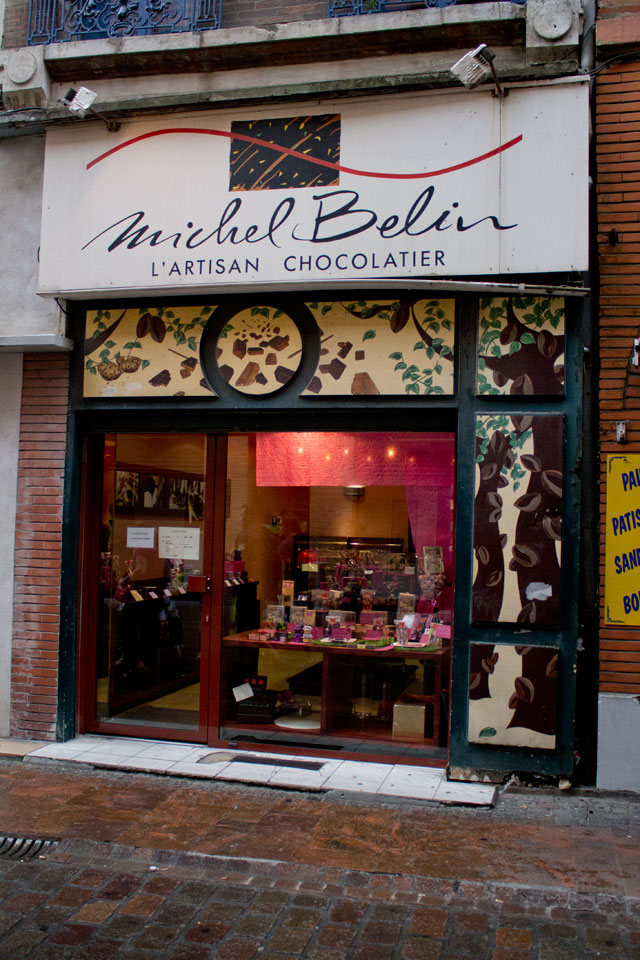 Michel Belin is an artisan chocolatier, member of Relais Desserts and owner of a boutique in downtown Toulouse and in Albi, a town nearby.
If you say "Toulouse" in France, you also say "violette": the violet flower is the symbol of the city, where it is treated as a fine specialty. Many shops, including Michel Belin, in the region sell candied violet petals and other violet-based products (e.g. natural flavouring for pastries, chocolate bars with violette, etc)…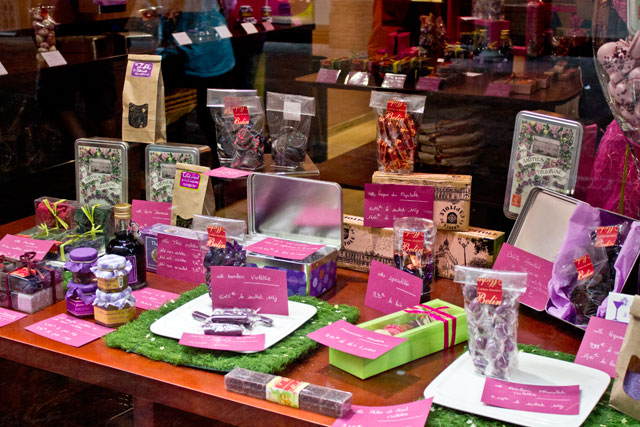 But the best product of the shop was, of course, chocolate! The shop offered a dozen or so different types of dark and milk chocolate, with different origins and cocoa percentages, plus many more unpackaged pieces of chocolate with nuts, dried fruits or candied flowers.
I really regret not tasting all of them as all the few different chocolates I tried were amazing.
The prices were ok for a big city, a bit more than 4€ for a square of chocolate (80g, I think), but of course violets were more expensive (a small box of candied petals cost around 10€).
It was quite hot when I was in Toulouse, so I stopped several times for an ice cream too! The best places I found were Octave and Philippe Faur, where both the creams and sorbets were outstanding. Again, price ranges were in the French average (which is, like, the double of Italian prices for ice creams).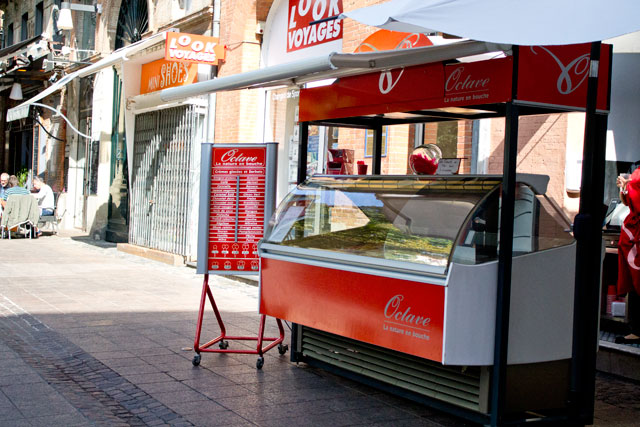 Finally, for some more traditional pastries, I headed to Pillon, apparently an institution in Toulouse.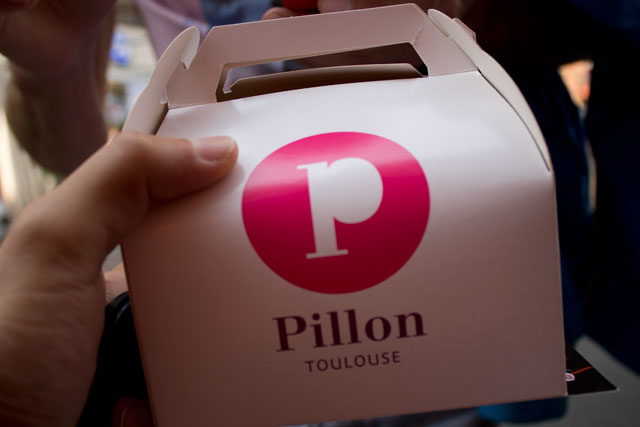 I tried a double-chocolate verrine and I recommend it! 🙂 I also appreciated that the shop offered something more original than the standard croissant.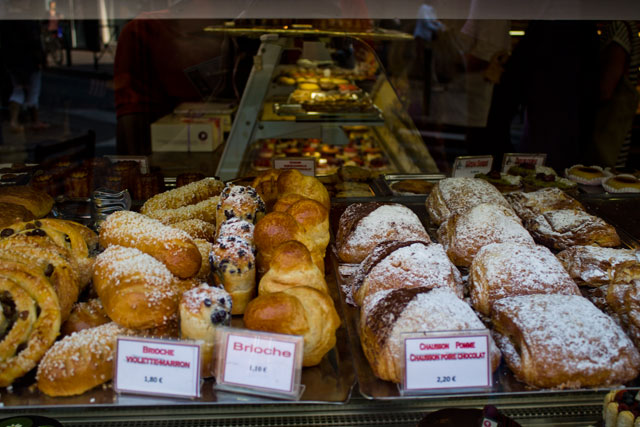 Usually French pastry chefs are quite traditional when it comes to pastry basics such as croissants and brioches: for example, while in Italy you can find chocolate-filled brioches almost in every bar, in France you're going to have a hard time if you're looking for a filled croissant.
Well, Pillon had right in the shop windows some very original chestnut and violet brioches, plus a pear-chocolate turnover, definitely something worth trying for a change!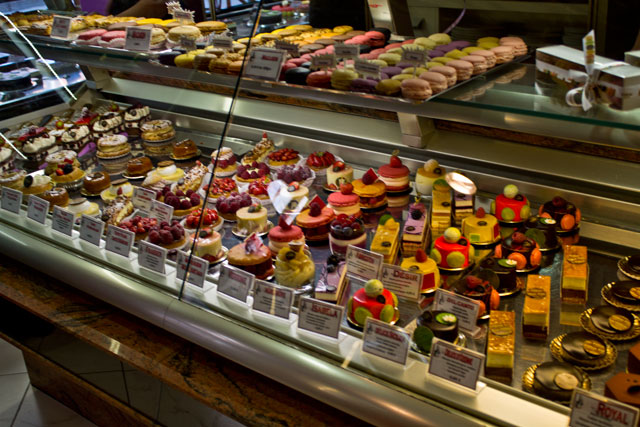 I was very pleased with the service because the shop assistant was very helpful and knew what she was selling. She was also the only one so far who imagined the consequences of me entering the shop with a camera, so she put all the individual cakes in order for my picture (aww so nice!). She wins! 😀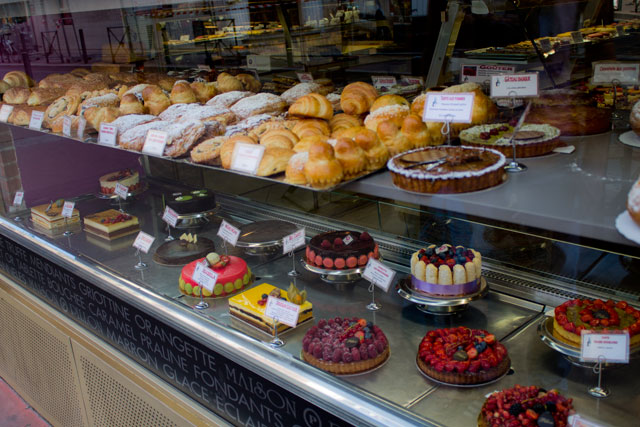 Artisan chocolatier Michel Belin
9 rue du Taur
31000 Toulouse
Tel: +33 (0)5 61 23 40 21
Octave
9 Place Du Capitole
31000 Toulouse
Tel: +33 (0)5 61 12 27 00
Philippe Faure
51 rue des Filatiers
31000 Toulouse
Tel: +33 (0)5 62 73 11 89
Maison Pillon
2 rue Ozenne
31000 Toulouse
Tel: +33 (0)5 61 52 68 14