Double chocolate and vanilla yule log
Aaah it's that time of the year again! Christmas is in the air and there are a few traditions that I really look forward to:
A walk in the snow
Eating panettone
Listening to "All I want for Christmas is you" by Mariah Carey 😛
Well, this year I'm going to break all the traditions.
Maybe because it's still 15° C outside and any snow seems veeery far. Or also because I started creating my sourdough starter more than a month ago… and after several failures, the sourdough is not ready yet, so bye bye panettone dreams (note: sourdough is THE fundamental ingredient for a panettone).
Moreover, thanks to David Letterman, last year I discovered "Baby please come home", a Christmas song that wins above all (and which is massively famous in the US but not here), so bye bye Mariah Carey too!
So what's left with no traditions? Stealing other traditions, of course… like the French yule log (or Swiss roll or bûche, whatever you want to call it).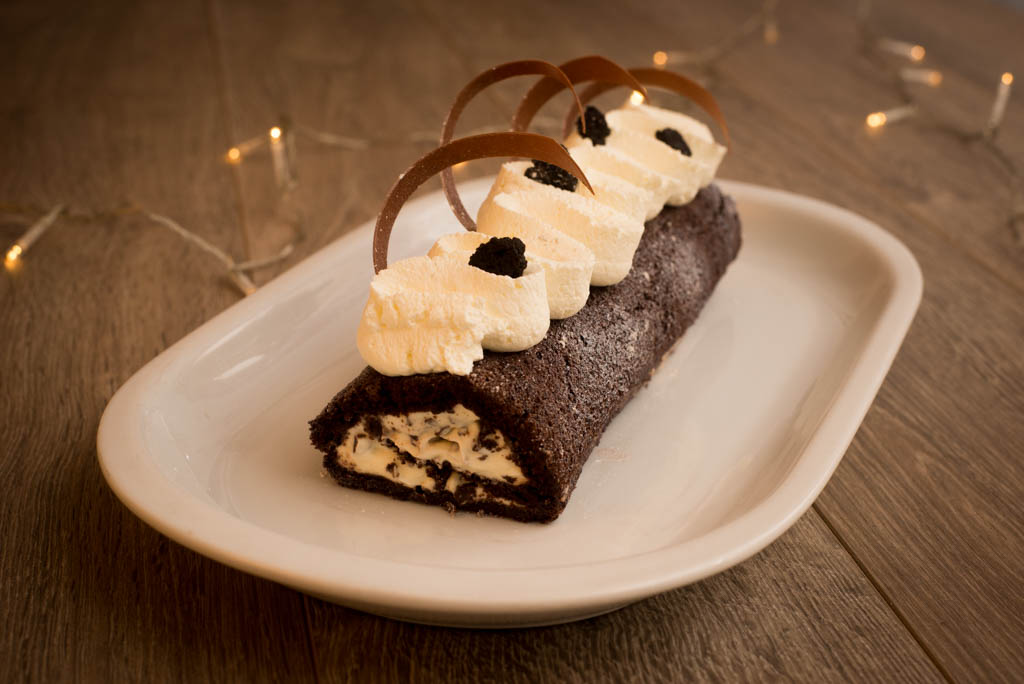 For this year, I decided to invent my own recipe for a bûche de Noël and I'm pretty satisfied with the result. I am not very confident yet when it comes to creating a recipe, but I followed a very practical approach. From what I understood about pastry in these years, a good cake must have:
A spongecake or a base baked layer
A syrup to moisten the spongecake
A filling (a mousse, a ganache, a cream…)
Something crunchy on the inside
Something crunchy on the outside
A minimalist decoration (usually some chocolate cutouts)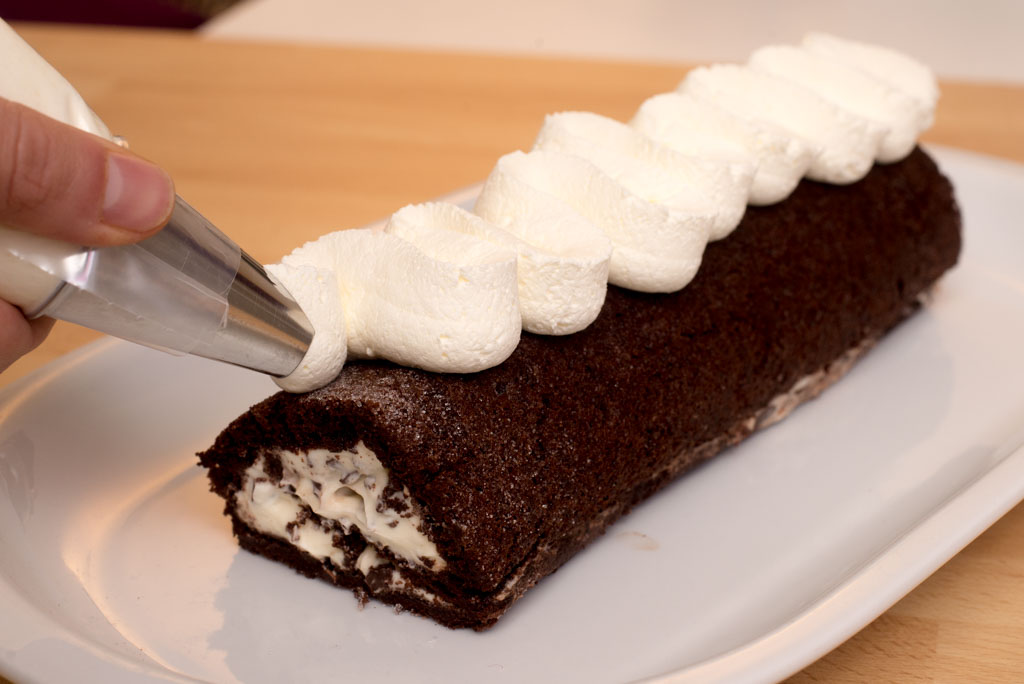 So that's it, I read a few recipes here and there and made a plan: I re-used the flourless cocoa spongecake and bitter syrup from my chocolate log from two years ago, I invented a white chocolate vanilla ganache with clementine juice based on the pistachio ganache of this year's éclairs, then chopped a bit (a loooot) of top-quality dark chocolate (70%) and sprinkled it everywhere. I finally rolled the cake, topped it with a simple Chantilly cream, a few bits of cocoa crumble (delicious!) and chocolate cutouts.
Now, the cutouts were probably the most difficult part because chocolate has to be tempered and I don't find it easy at all at home. Basically the chocolate has to be melted and reach 45°C, cooled down quickly (by adding more finely chopped chocolate) to 28°C then brought back again to 30-31°C, without passing 32°C. Going above 32°C will destroy the crystallization of chocolate and therefore the whole tempering process would have to be started again. If you are stressed at the sole idea of tempering chocolate, imagine how stressful it is to take pictures during this delicate process! (This is basically to justify why I don't have any photo of my chocolate tempering attempt).
Long story short, I am definitely in love with this bûche! It is definitely simple compared to how crazy pastry chefs go in designing their yule logs, but it tasted amazing! Especially after one day, the clementine flavour had time to sit and diffuse in the spongecake and filling, making the cake light, surprising and Christmassy! Happy holidays everybody! 🙂

Chocolate, vanilla and clementine yule log

Print recipe
Ingredients
Flourless chocolate spongecake
| | |
| --- | --- |
| 110g | Egg yolks (5 egg yolks) |
| 90g | Granulated sugar (for the egg yolks) |
| 1 | Clementine or tangerine zest |
| 160g | Egg whites (5 egg whites) |
| 90g | Granulated sugar (for the egg whites) |
| 50g | Unsweetened cocoa powder (sifted) |
Cocoa syrup
| | |
| --- | --- |
| 20g | Unsweetened cocoa powder |
| 130g | Water |
| 40g | Granulated sugar |
Vanilla and clementine ganache
| | |
| --- | --- |
| 250g | Heavy cream |
| 1/2 | Vanilla bean |
| 120g | White chocolate (a good one!) |
| 20g | Clementine or tangerine juice |
| 1 | Clementine or tangerine zest |
| 150g | Dark chocolate (coarsely chopped) |
Crumble
| | |
| --- | --- |
| 50g | Salted butter |
| 50g | Brown sugar |
| 40g | Pastry flour |
| 7g | Cocoa powder (sifted) |
Decoration
| | |
| --- | --- |
| 100g | Heavy cream |
| 30g | Mascarpone cheese (optional) |
| 15g | Granulated sugar |
| | Chocolate cutouts (optional) |
Directions
Flourless chocolate spongecake
Cocoa syrup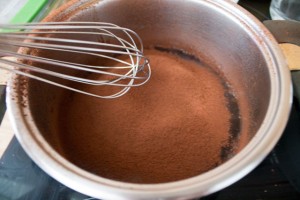 9
Mix sugar, cocoa powder and water and bring to a boil for 1 minute. Let cool down at room temperature.
Vanilla and clementine ganache
Crumble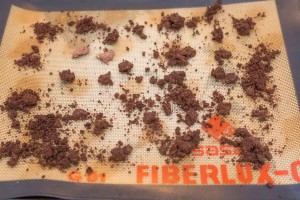 15
Place the sandy mixture on a baking tray and bake for 10-15 minutes at 180°C then let cool down at room temperature.
Assembling the cake