Recipe: Pistachio macarons (with Italian meringue)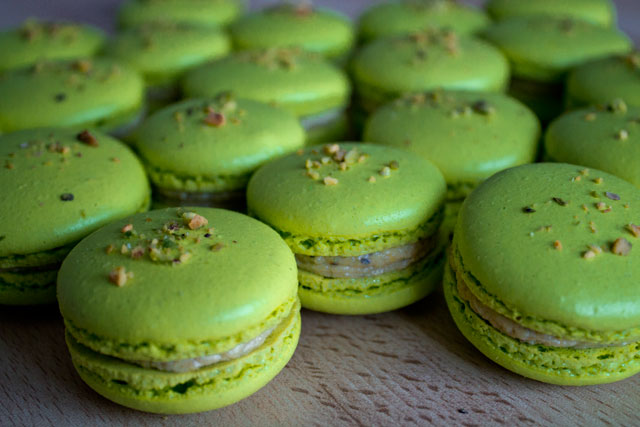 Some time ago I decided to make green macarons and so I bought a powdered green colouring (which for some reason is orange until it melts in a liquid).
Several months later, I finally made them! Don't know why I waited so long but here they are! 😀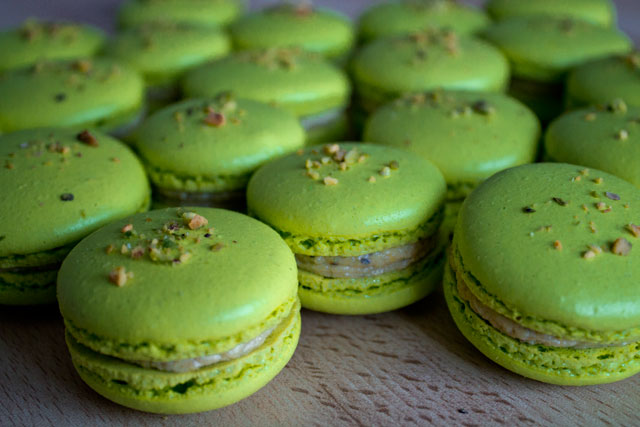 This recipe, taken from Christophe Felder's book "Pâtisserie!", is for around 80 pistachio macaron shells (so 40 macarons) and a pistachio buttercream filling.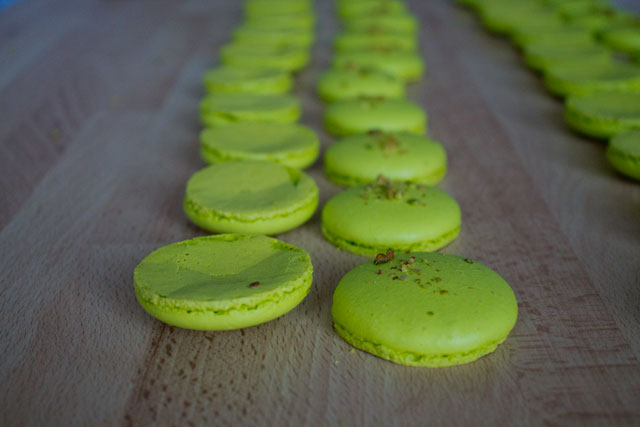 To make them, I had to use fresh unsalted pistachios: they are not so easy to find in supermarkets (apparently the whole world likes them salted) and they're even a bit pricey, but the result was definitely worth it. 🙂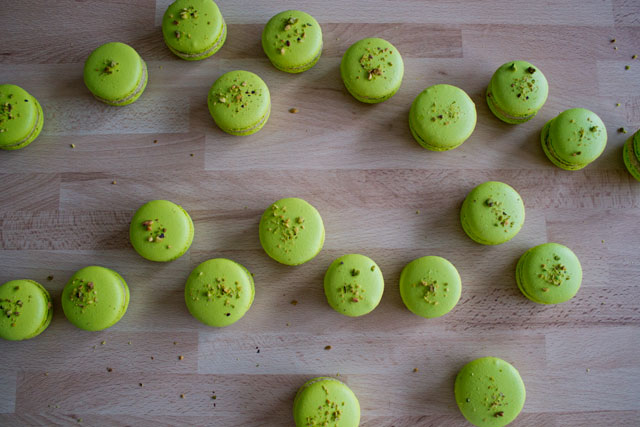 Moreover, the recipe called for pistachio paste. You can certainly find it in shops, but why buying it while RoadToPastry has a fantastic recipe for a homemade pistachio paste?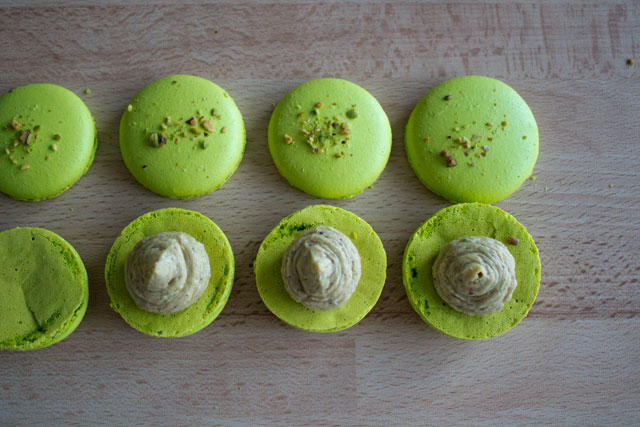 So far I had only made macarons with a ganache filling, and this was the first time I tried a buttercream filling. It is not difficult at all: it's just soft butter whipped with some sugar, ground almonds and the main ingredient, pistachios.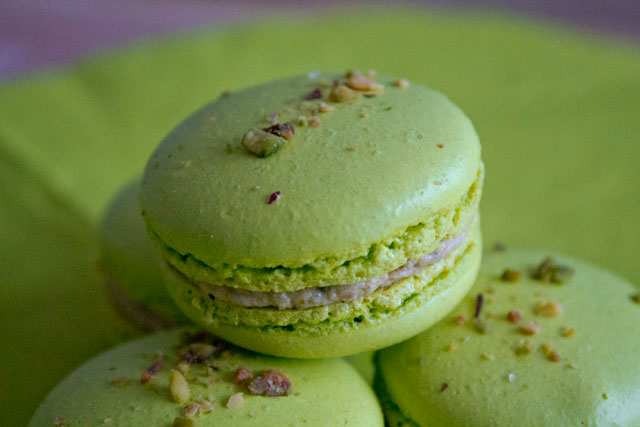 As I already mentioned in a previous article, macarons are quite touchy and require a lot of precision and a good mastery of the technique. Nothing impossible, if you follow my step-by-step recipe below (and don't forget reading the notes at the bottom)! 🙂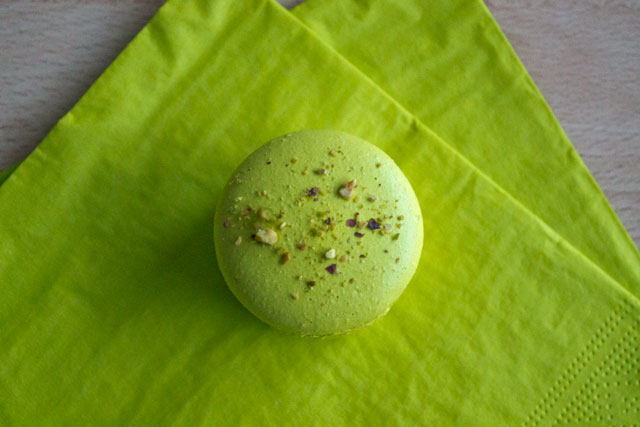 Pistachio macarons (Italian meringue) with buttercream filling

Print recipe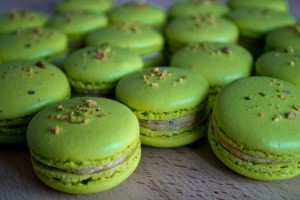 Ingredients
Macaron batter
| | |
| --- | --- |
| 200g | Powdered sugar |
| 135g | Almond flour |
| 65g | Pistachios (or 65g of almond flour) |
| 75g | Egg whites (for the dry ingredients) |
| 75g | Egg whites (for the Italian meringue) |
| 200g | Granulated sugar |
| 75g | Water |
| | Powdered green colouring (just the tip of a knife) |
Pistachio buttercream filling
| | |
| --- | --- |
| 200g | Unsalted butter (softened) |
| 130g | Powdered sugar |
| 80g | Almond flour |
| 60g | Pistachios (finely chopped) |
| 80g | Pistachio paste |
Directions
Note
When the food processor is in action, its blades will heat the almond flour and pistachios: for this reason it is very important to work with chilled ingredients and to avoid overheating them by pausing the processor regularly
Macarons require precision in terms of quantities, technique and also temperature: use a chilled almond flour, room temperature egg whites and check the sugar syrup temperature with a thermometer (yes you really need it, but it just costs about 15€)
Based on personal experience, silicone mats are not the best choice for macarons as the "crown" at the bottom might not develop well; I prefer the good old parchment paper in this case
To pipe the batter, keep the pastry bag vertically and mechanically apply the following technique: 1) Pipe enough batter - 2) Stop piping - 3) Draw a round on top of the piped macaron and quickly lift the piping bag vertically at the same time
For best results, pipe the macarons alternately in the pan, like in the pictures
It is possible to scale this recipe, but be careful when scaling down since it can be very difficult to whip well less than 60g of egg whites
Macarons need to absorb humidity for at least one day in the fridge . Then they can keep for up to 5 days in an airtight container in the fridge and can be frozen as well for several months.