Recipe: Chocolate macarons (Italian meringue)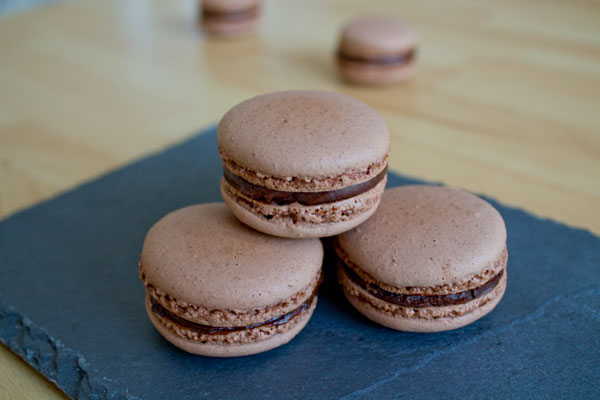 Macarons are definitely fashionable these days! Here in France they can be found everywhere in hundreds of flavours and even abroad they are now quite popular.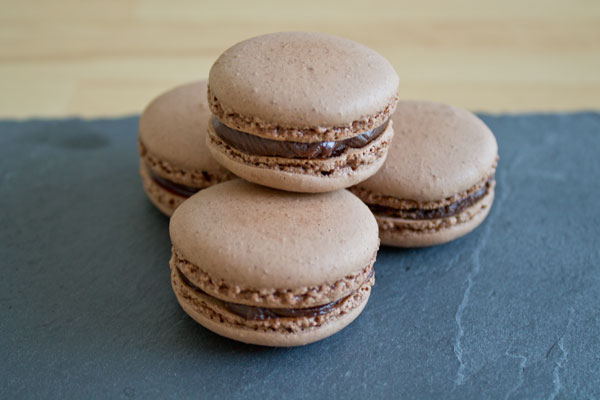 Making homemade macarons is definitely a challenging experience: it requires precision and technique, but with some practice it can become highly rewarding (and you will also save a lot of money since macarons are usually ingloriously expensive)!
Moreover, macarons are a great way to use up your leftover egg whites!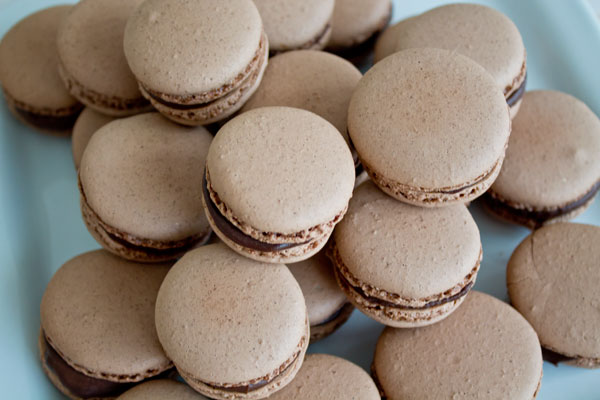 For this recipe, taken from Christophe Felder's magical book "Pâtisserie", the Italian meringue is used: this means that a thermometer is required for a good result (come on, you can buy it, it's 15€ in my supermarket). In case you're wondering, the Italian meringue is used in order to confer more stability to the batter and also to make a final product with a longer "shelf life".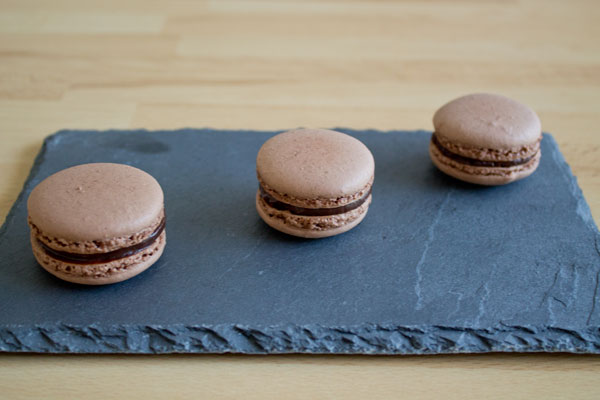 Here is the step-by-step recipe of chocolate macarons… just remember to prepare the ganache filling the day before!
More info on the troubleshooting of macarons coming soon!
Chocolate macarons

Print recipe
Ingredients
Macaron batter
| | |
| --- | --- |
| 185g | Almond flour (chilled) |
| 185g | Powdered sugar |
| 75g | Egg whites (room temperature) |
| 30g | Cocoa powder |
| | Dark red/Brown food colouring (powder - optional) |
Italian meringue
| | |
| --- | --- |
| 50g | Water |
| 200g | Granulated sugar |
| 75g | Egg whites (room temperature) |
Chocolate ganache - Filling
| | |
| --- | --- |
| 200g | Heavy cream |
| 140g | Dark couverture chocolate (60% minimum) |
| 45g | Unsalted butter (diced, room temperature) |
| 15g | Honey |
Directions
Note
When the food processor is in action, its blades will heat the almond flour: for this reason it is very important to work with a chilled flour and to avoid overheating it by pausing the processor regularly
Macarons require precision in terms of quantities, technique and also temperature: use a chilled almond flour, room temperature egg whites and check the sugar syrup temperature with a thermometer
The macaronage step is the most delicate part of the recipe. As a good approximation, pass the spatula through the batter and if the latter becomes smooth again in around 10 seconds, it should be ready (I usually focus more on the shininess anyway).
Based on personal experience, silicone mats are not the best choice for macarons as the "crown" at the bottom might not develop well; I prefer the good old parchment paper in this case
To pipe the batter, keep the pastry bag at a 60° angle and mechanically apply the classical technique: Pipe - Stop piping/squeezing - Move the piping bag in a round path on the macaron to prevent a tip from forming - Lift the pastry bag and move on
For best results, pipe the macarons alternately in the pan, like in the pictures
It is possible to scale this recipe, but be careful when scaling down since it can be very difficult to whip well less than 60g of egg whites
Macarons need to absorb humidity for at least one day in the fridge . Then they can keep for up to 5 days in an airtight container in the fridge and can be frozen as well for several months.