Genoise-style buttercream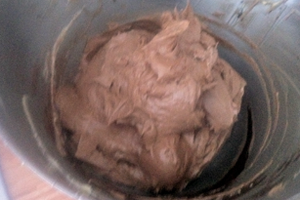 If you want to fill and decorate a Christmas Yule Log (Bûche de Noël), buttercream is the perfect choice for a rich taste and nice appearance.
There are different methods to make buttercream, and the following recipe presents the Genoise-style one, which uses whole eggs rather than just yolks or whipped whites. As you can imagine, it is not the lightest of buttercreams, but it is well suitable for the holiday season! 🙂
Genoise-style buttercream

Print recipe
Ingredients
| | |
| --- | --- |
| 3 | Eggs (room temperature) |
| 200g | Granulated sugar |
| 60ml | Water |
| 30g | Glucose (you can omit it or replace it with honey) |
| 350g | Unsalted butter (very soft) |
| 140g | 70% Chocolate (Optional - Melted on a bain-marie and cooled) |
| | Other flavourings (e.g. coffee, vanilla...) (optionalyl, to your taste) |
Directions
Start whipping the eggs in a mixer bowl at high speed until they become thick and foamy, approximately 10 minutes
In the meantime, prepare a syrup with sugar, glucose and water
When the syrup gets to 119°C, pour it slowly in the eggs, with the mixer at medium speed
Keep whipping at high speed until the egg mixture cools down, approximately 15 minutes
Start adding butter, one dice at a time: the egg mixture will collapse and start to be grainy, but don't worry, it's normal
When you've finished adding the butter, the cream has a glossy appearance and smooth texture
With the mixer on at low speed, slowly add the flavouring at room temperature (e.g. chocolate, coffee...) in the buttercream
Note
The buttercream can be used at once since it has the perfect consistency to be spread or piped. It can also be stored for several days in an air-tight container in the fridge, but then it must be left at least 10 minutes at room temperature before using.