Puff pastry – Pâte feuilletée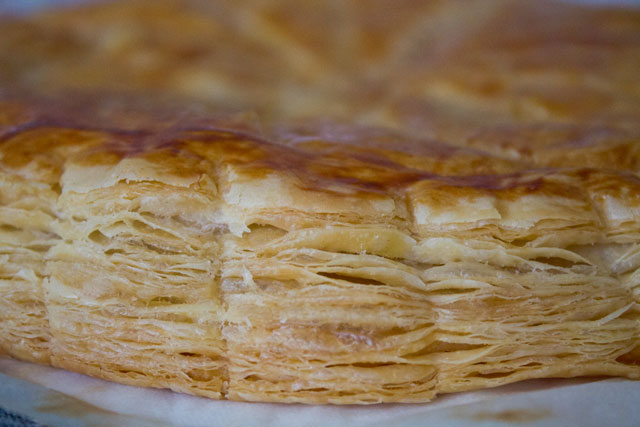 Butter, butter, butter! Puff pastry is basically flour, water, and (lots of) butter. It is nevertheless one of the greatest products you can find in a bakeshop.
It is very versatile and can be used in many different shapes and with many fillings, both sweet and savoury. The high quantity of fat and the particular way of making puff pastry result in many thin layers in the finished dough: this explains the French name "Mille-feuille" (i.e. "a thousand leaves"), used for the world-wide famous cake made of pâte feuilletée  and pastry cream.
The theory
So what is puff pastry exactly?
Puff pastry is made up of a détrempe (a dough made with flour, cool water, salt, and a bit of soft butter) and a block of butter incorporated in it. The détrempe is folded like a letter to lock the block of butter in. Repeating the folding for 5-6 times after rolling out the dough each time creates many layers of dough and butter.
When in the oven, the butter starts to boil: the steam lifts the successive layers higher and higher. Moreover, the heat cooks the flour in the détrempe, which becomes harder since the water evaporates. The final result is flaky (thanks to the butter), with many visible layers: if the dough is properly prepared, puff pastry should rise up to 6-8 times its initial volume.
To prepare puff pastry from scratch, you don't need any yeast nor baking powder! I would just suggest a fresh room: when I first tried the recipe in summer, the butter was constantly melting as a result of my (not so fast) rolling. When butter is too hot to be worked, it escapes from the détrempe, destroying all the layers in the dough (and making a mess in the kitchen).
Puff pastry – Pâte feuilletée

Print recipe
Ingredients
Tournage (Folding)
| | |
| --- | --- |
| 250g | Unsalted butter (cold) |
Détrempe
| | |
| --- | --- |
| 75g | Unsalted butter (very soft) |
| 300g | Bread flour (chilled) |
| 315g | All-purpose flour (chilled) |
| 315ml | Water (cold) |
| 8g | Salt |
Directions
Note
Since making puff pastry takes some time, don't hesitate to scale the recipe so to have more puff pastry with the same effort. In my recipe I used "only" 250g of butter to avoid wasting too many ingredients in case of failure.
Raw puff pastry can be frozen for several months or stored for 4-5 days in the fridge
Make sure you always remove excess flour before folding the dough: you will avoid gray streaks in the puff pastry and uneven rise
When you roll out the dough, be sure to do it quickly (otherwise the butter will start melting) and not too strongly (you might destroy the layers you've created so far)
In the folding phase, it is of vital importance that you roll out the dough vertically and that you keep the rolling pin always parallel to your body, otherwise the layers will not form properly. You also need to keep the dough in the shape of a rectangle: in case this doesn't come out naturally, you can easily adjust the dough by rolling it out more just on a side or by pulling it with your fingers.
Of course, don't even think of accelerating the process by skipping the dough's rest times in the fridge: you will end up with an elastic dough which is hard to roll out and in which the layers are not well set