Recipe: Strawberry sorbet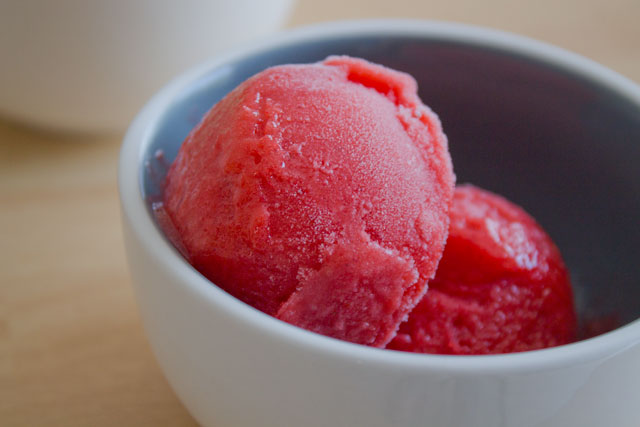 It's getting very hot in here! Even if we're not in summer officially yet, the warm weather has arrived… and who wouldn't enjoy a good refreshing ice cream in this season?
Since I got myself an ice cream machine a couple of years ago (one of the best investments ever!), I started churning my ice cream with pretty good results… only recently did I start experimenting with sorbets!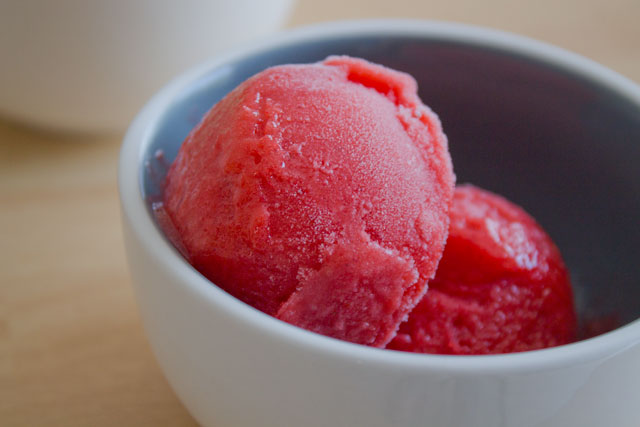 My latest creation was a delicious strawberry sorbet, based on a recipe by chef George Bumbaris and chef Sarah Stegner from the Ritz-Carlton Hotel in Chicago. The great thing about sorbets is that they are extremely easy to make and fat-free: a sorbet is different from regular ice cream because it usually made just of fruits, sugar and water. That's it!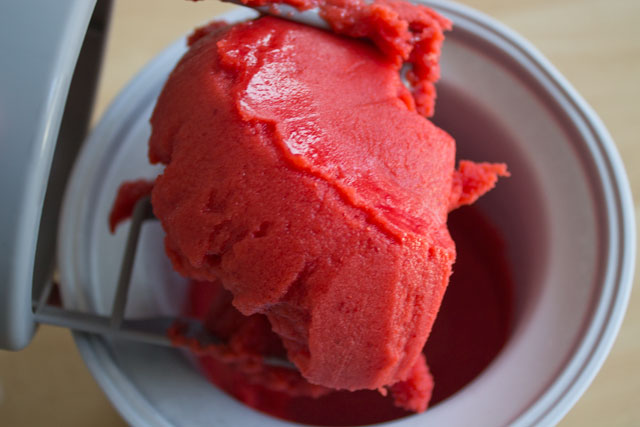 Of course, you do need an ice cream machine and the skill to make a sugar syrup (boiling water and sugar together, uhm… you can make it! Trust me!) 🙂
So enjoy this step-by-step recipe of my strawberry sorbet… and let the summer begin!
Strawberry sorbet

Print recipe
| | |
| --- | --- |
| By author | George Bumbaris and Sarah Stegner |
Ingredients
| | |
| --- | --- |
| 5g | Pectin (optional) |
| 480g | Strawberries |
| 15g | Fresh lemon juice |
Sugar syrup
| | |
| --- | --- |
| 120g | Water |
| 120g | Granulated sugar |
Sorbet
Directions
Note
Optional: if you're using a saccharometer (Baumé hydrometer), you can ensure that the final mixture before churning has a density of 17°-18° Baumé for optimal results and texture