Recipe: Chocolate fudge brownies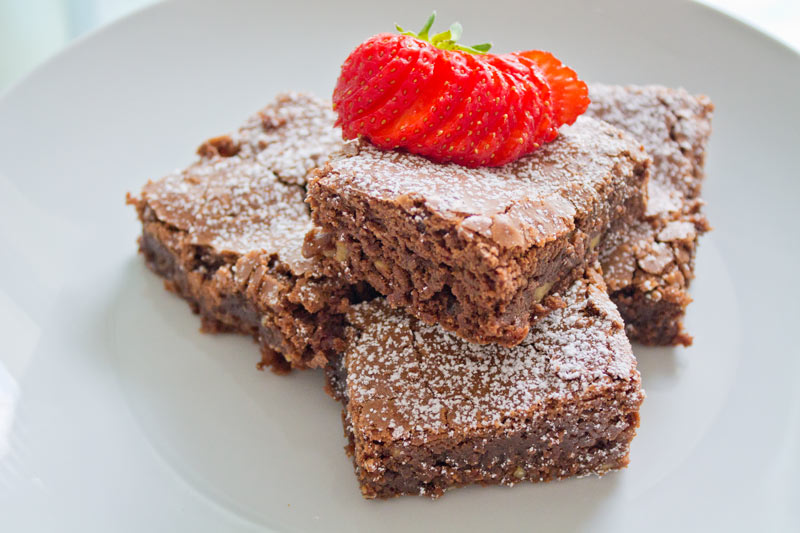 Brownies are the perfect treat for chocolate lovers!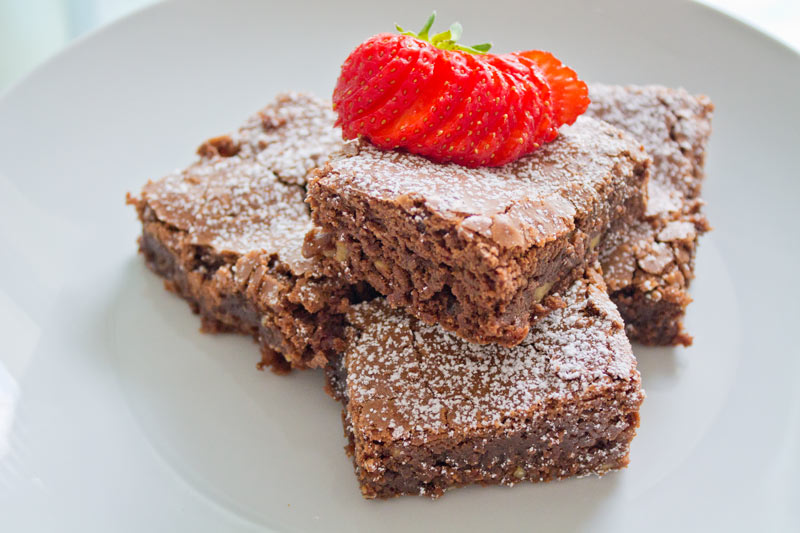 These dense American pastries are very easy to make, and they are usually baked in a sheet pan and cut into squares or bars. Their consistency can vary from fudgy to cakey, depending on the recipe and on the cook's philosophy. 🙂
Brownies are homey products that can nevertheless be easily enhanced to become a refined dessert, with the addition of flavourings (e.g. extracts, nuts, jams) or icing (e.g. cream cheese).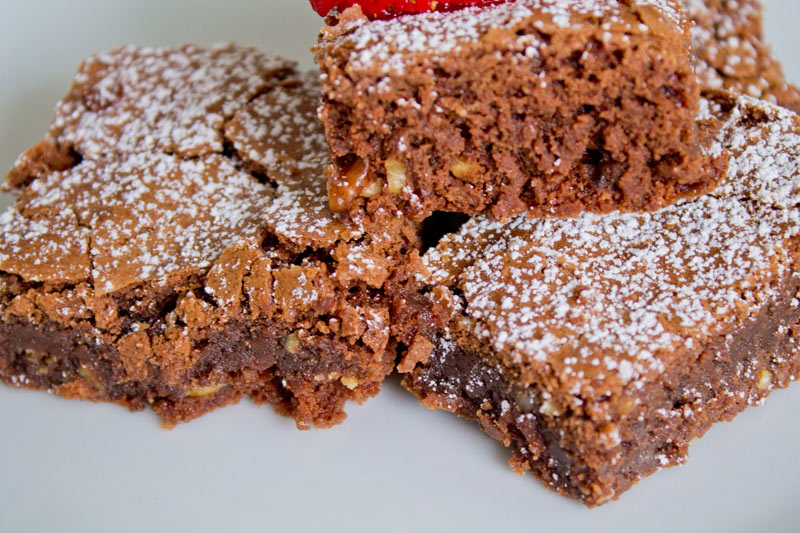 Traditionally, at home they are just baked and dusted with powdered sugar, while in restaurants they are served with whipped cream or a scoop of vanilla ice cream.
The role of the main ingredients in recipes of brownies
– Butter: a high percentage of butter to flour tends to produce a dense, fudge brownie; the high quantity of fat in the recipe will also help in having completely flat product after baking. The fat coats the flour, preventing the protein from developing into gluten.
– Flour: the proteins in flour are responsible for forming gluten in contact with a liquid. If that liquid is a fat like butter (or A LOT of butter like in this recipe), the gluten strands are loosened and the result will be a very soft product with a light structure.
– Sugar: the higher the ratio of sugar, the gooier the finished brownie will be. Sugar is used while whipping eggs or creaming butter because it gives the batter
– Eggs: they provide liquids and fats but also the air that is necessary as leavener in the recipe when they are whipped. A high quantity of eggs, though, will result in a crumb structure that is more typical of cakes than brownies.
– Chocolate: of course it is the main flavouring in brownie recipes but it also helps developing a dense and rich structure. I suggest using an unsweetened chocolate (e.g. 70%), to compensate for the high quantity of sugar.
How to make chocolate brownies?
Brownies do not contain any baking powder and the only leavener is the air incorporated during the mixing process. Some recipes call for creamed butter, some others only for whipped eggs (rarely for whipped egg whites since this would make the texture too light and cakelike).
Melt chocolate and butter over a double boiler
Whip eggs and sugar until they form the ribbon
Stir in the melted chocolate mixture
Stir in flour and other flavourings
Bake until the batter is set but not dry. You can usually know a cakes is fully baked when a toothpick comes out clean, but you might want to get brownies out of the oven a few minutes before that (personally I like them extremely moist!).
Let the brownies cool completely in the pan before cutting. For a clean cut, you can freeze them before portioning.
So finally, after all this theoretical stuff, here's my step-by-step recipe for chocolate fudge brownies!
Disclaimer: they are indeed irresistible, but I decline all responsibility for your levels of cholesterol or diabetes! 🙂
Chocolate fudge brownies

Print recipe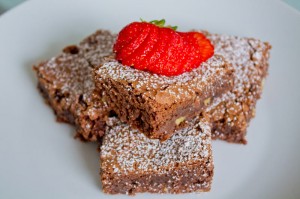 Ingredients
| | |
| --- | --- |
| 250g | Unsalted butter (room temperature) |
| 225g | Chocolate (70%) |
| 250g | Eggs (~ 4) |
| 560g | Granulated sugar |
| 225g | Pastry flour |
| 1 pinch | Salt |
| 1 teaspoon | Vanilla extract |
| 1 teaspoon | Coffee extract (optional) |
| 100g | Pecan or walnut pieces |
| | Powdered sugar (optional) |
Directions