How to make a modern version of a classic: Black Forest
If you have followed some of my previous posts, you know I like elaborated cakes with many different layers. Yes, the kind of cakes that make me say "Challenge accepted!".
Now that I'm filming my recipes, the process takes even longer: for this specific cake, I threw away almost a whole weekend, but it was totally worth it!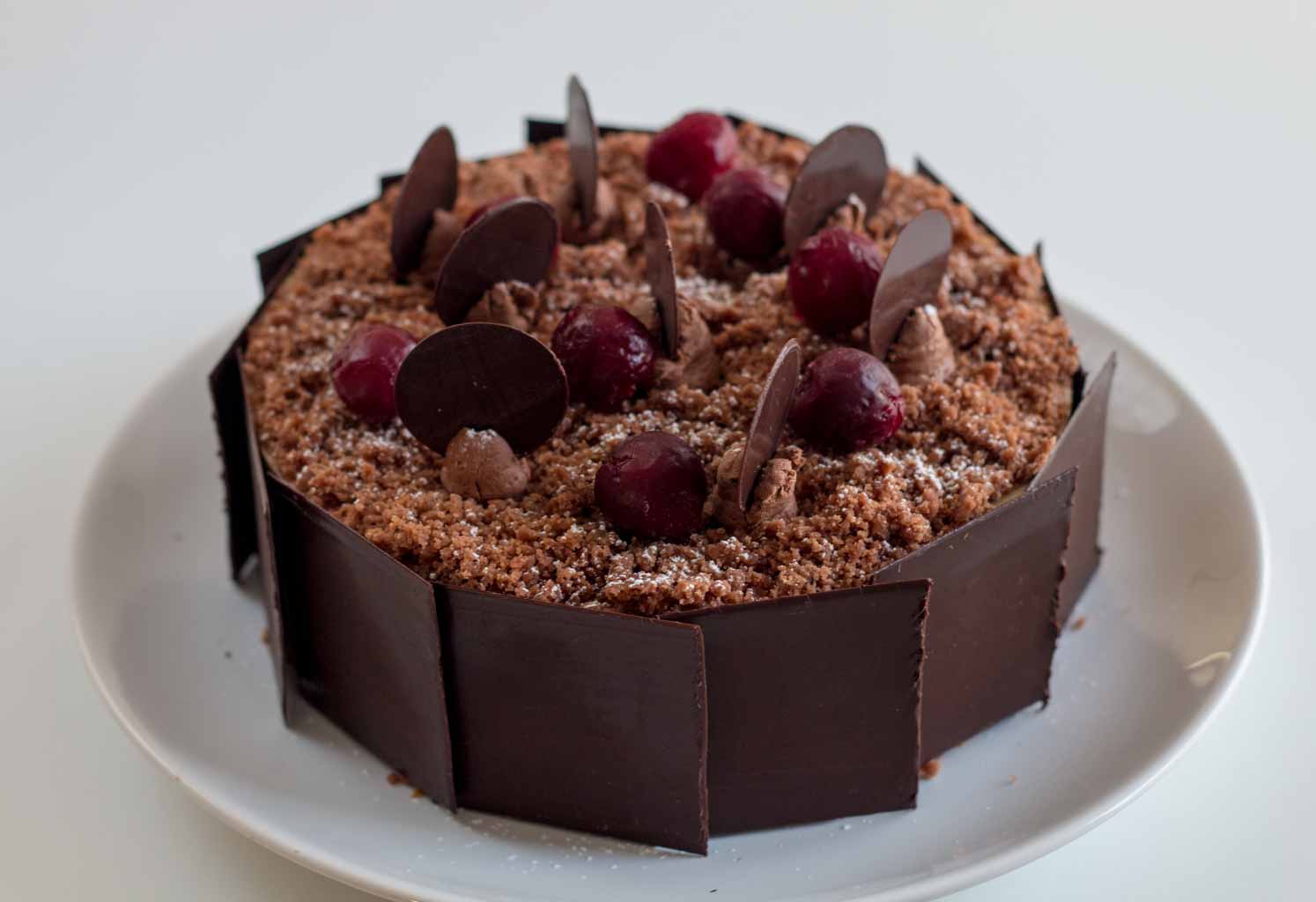 This is the modern version of a pastry classic: the Black Forest. The original cake has German origins and is made of chocolate spongecake layers sandwiched with whipped cream and sour cherries. It usually has chocolate curls on the outside, and the spongecake is moistened with kirsch, a cherry brandy.
The recipe I chose, though, comes from Philippe Rigollot, a great French pastry chef: he modernised the Black Forest making it an elegant (and super tasty) cake.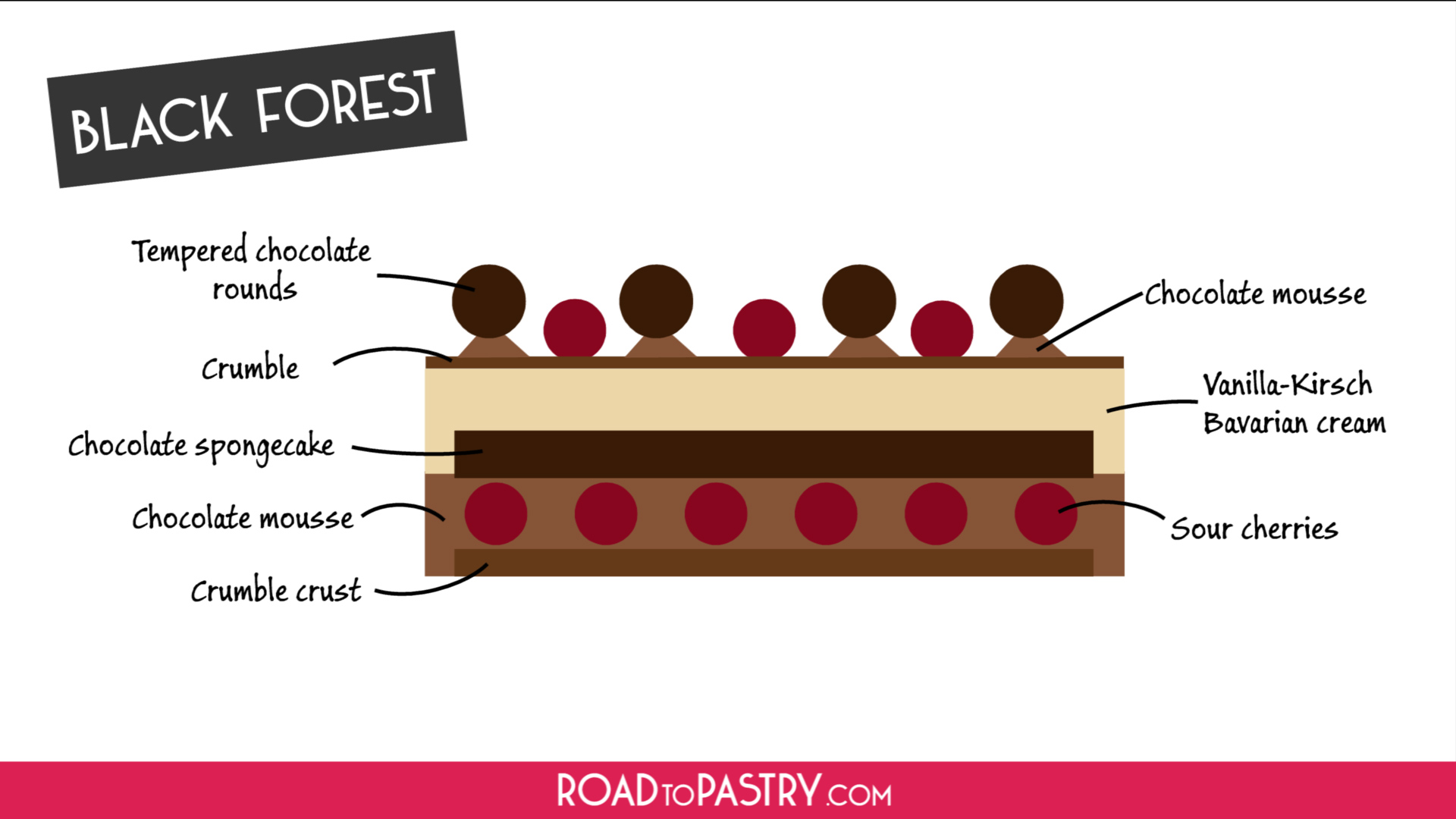 This cake is not complicated per se, but I wouldn't recommend it to beginners. Its main components are a crunchy biscuit as base, a simple chocolate mousse and a vanilla Bavarian cream with kirsch and white chocolate, and the softest flourless chocolate spongecake in the middle. The decoration involves tempering chocolate, which is not hard but requires practice (and I am not satisfied yet with my tempering skills).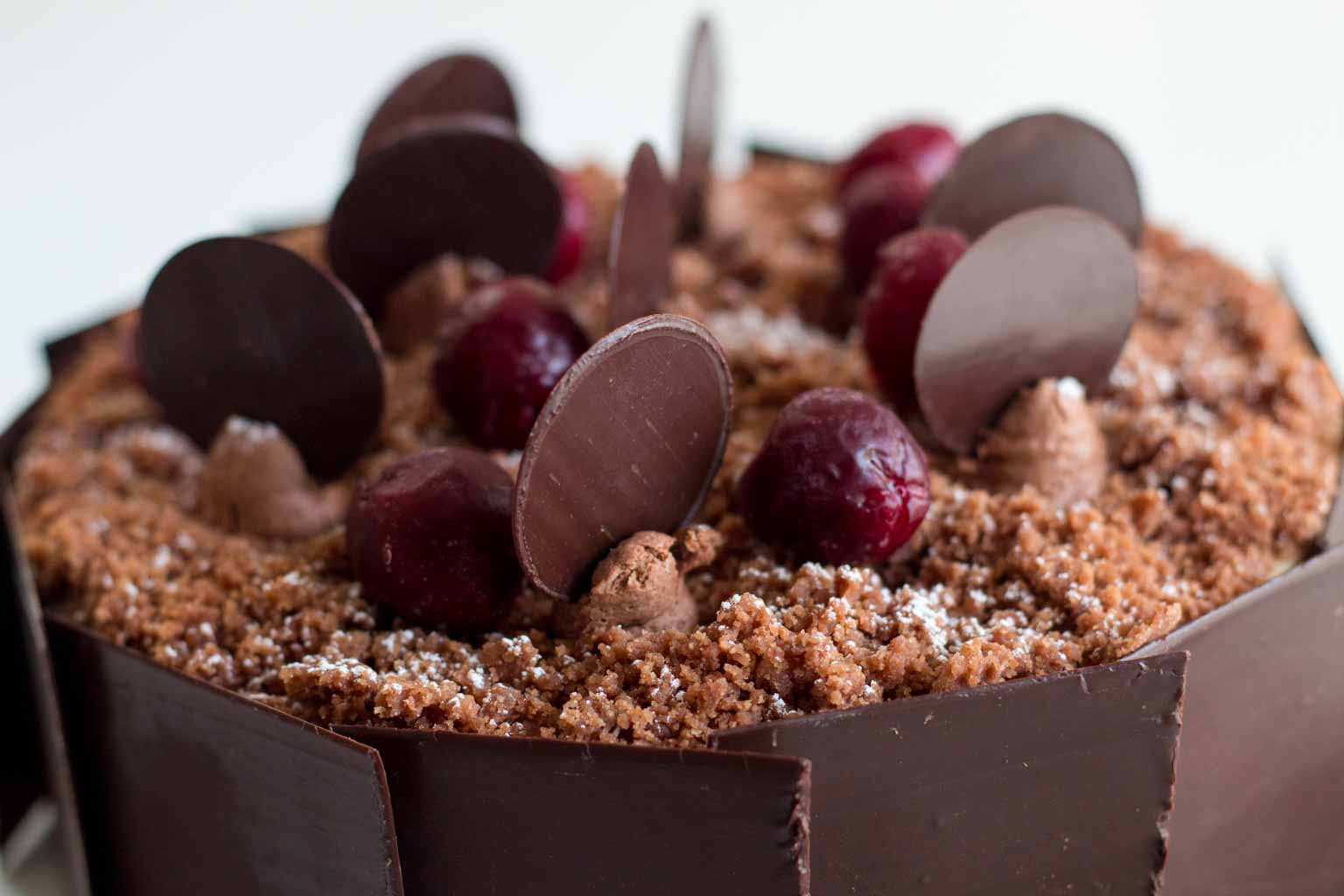 *Note: to temper chocolate, just melt it at 55°C, then cool it down quickly to 28° and then reheat it to 32° (but not beyond, otherwise you'll have to start from scratch). After this you can spread the chocolate on PVC sheets or strips and cut it the shape you want.
Anyway, this cake is officially one of my favourites now! The mousses are perfect, but the cool touch is the base, which is very crunchy, yet flaky and also a bit salty (which goes perfectly with chocolate!).
What I loved the most is the decoration on the top with stylized trees made of chocolate mousse cones and tempered chocolate rounds, they are just too cool!
So what do you think of this cake? Does it make you say "Challenge accepted" too? 🙂
Black Forest

Print recipe
Ingredients
Flourless cocoa spongecake
| | |
| --- | --- |
| 95g | Egg whites |
| 115g | Granulated sugar |
| 70g | Egg yolks |
| 20g | Cocoa powder |
Crumble crust
| | |
| --- | --- |
| 145g | Unsalted butter, room temperature |
| 25g | Dark chocolate (70%) |
| 50g | Powdered sugar |
| 2g | Salt |
| 105g | Pastry flour |
| 9g | Potato starch (or cornstarch) |
| 40g | Cocoa butter (or unsalted butter) |
| 40g | Crushed crepes dentelles (or any crunchy wafer-like product reduced to crumbs) |
White chocolate Bavarian cream
| | |
| --- | --- |
| 200g | Milk |
| =1/2 | Vanilla bean |
| 30g | Granulated sugar |
| 36g | Egg yolks |
| 15g | Cornstarch |
| 30g | Kirsch |
| 6g | Gelatin |
| 60g | White chocolate |
| 190g | Heavy cream |
Dark chocolate mousse
| | |
| --- | --- |
| 1.5g | Gelatin |
| 70g | Milk |
| 85g | Dark chocolate (70%) |
| 145g | Heavy cream |
Filling and decoration
| | |
| --- | --- |
| | Dark chocolate squares and rounds |
| | Canned pitted cherries (macerated in kirsch) |
Directions