Why does sugar make pastry products moister?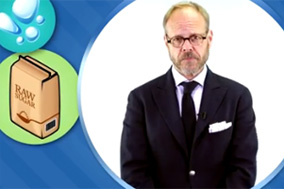 I found this interesting video on my Facebook yesterday. It is about sugar, among other things.
I loved the beginning which captures the essence of pastry with one sentence:
If you understand science, at least some of it, you're going to have more power over your food.
Pastry is chemistry and any recipe is like a formula. This video addresses one interesting topic: why does sugar make products moister?
The answer is pretty easy: sugar makes products moister because it is hygroscopic.
What? :-S
Let me brag a bit about my knowledge of Greek (yeah, we still learn ancient Greek in Italian high schools): hygrós means "humid" and scopèo is a verb that literally means "to look at": in few words, hygroscopic refers to the ability of a substance to attract and hold water molecules from the surrounding environment. Sugar loves water!
That also explains two other phenomena that I faced as a beginner pâtissier:
– Sprinkle powdered sugar over a cake; the next day it's gone! It is actually still there, just melted by the water it has attracted from the moisture of the cake.
– Make amazing caramel decorations for a cake; store the cake in the fridge and after a few hours the decorations are gone! Same explanation as above: the humidity in the fridge and in the cake "melt" the sugar and make it "disappear".
More information in this video by celebrity chef and TV host Alton Brown (starts at 2:08):