Competition: The best Christmas cake in Saint-Jean Cap Ferrat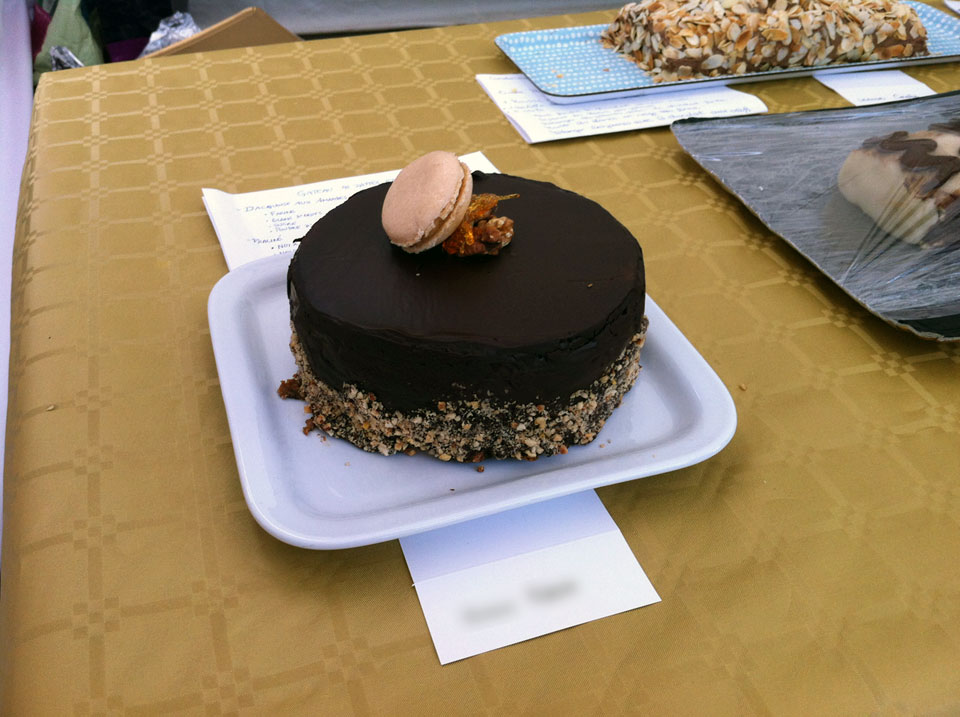 Et voilà, after 2 weeks of experiments, I came out with my cake for the Christmas competition at Saint-Jean Cap Ferrat, a small town on a dreamy peninsula not far from Nice.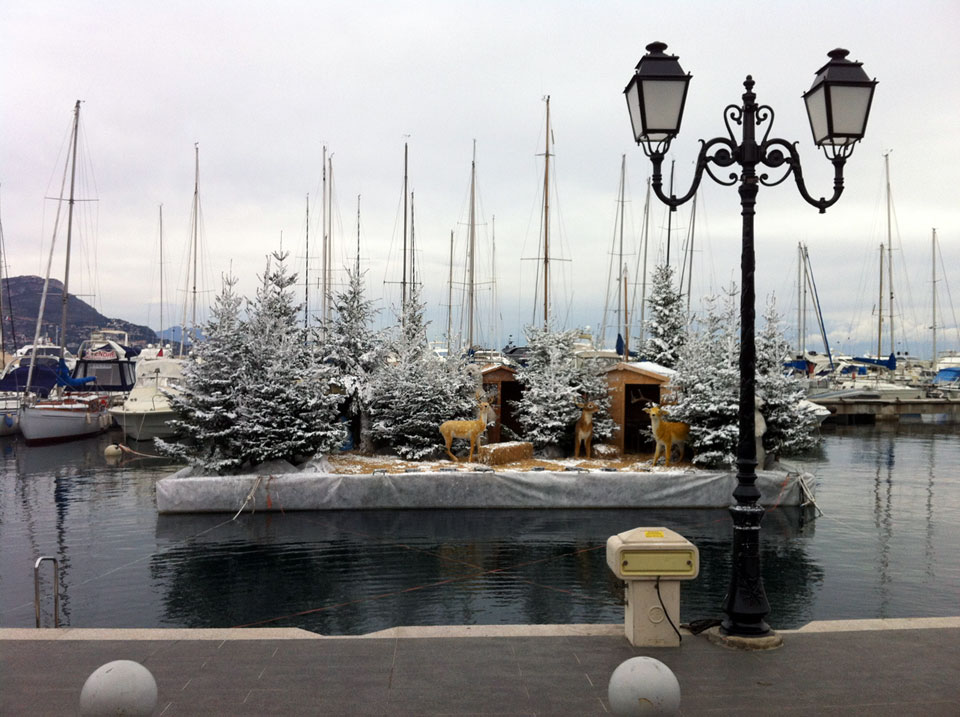 (fake snow of course, that day was cold but until the day before there were 18°C, a bit hot for snow)
The city is now famous for his landscape and amazing coasts, but also because it is one of the richest towns in France, since many millionaires (the Rothschild baroness was just one of them) have decided to live or spend their holidays there.
The competition had strict rules: participants had to present a home-made cake by using any of the ingredients proposed in a list. Complying with this limitation was tough, since vital pastry ingredients like cream were not allowed.
Moreover, it was mandatory to use some or all the components of the "treize desserts provençals" (Thirteen desserts of Provence), a historical tradition, different in each family, which usually includes:
Raisins or grapes
Walnuts or hazelnuts
Dried figs
Almonds
Dates
Dried plums
Apples
Pears
Oranges
Winter melon
Tangerines
Nougat
After some thinking, I drew the layers of my cake (from the bottom):
Hazelnut dacquoise
Hazelnut praliné
Chocolate spongecake
Tangerine pastry cream
2nd layer of chocolate spongecake
Date pastry cream
3rd layer of chocolate spongecake
Chocolate ganache (with milk only) to cover
Caramel decorations and one macaron on top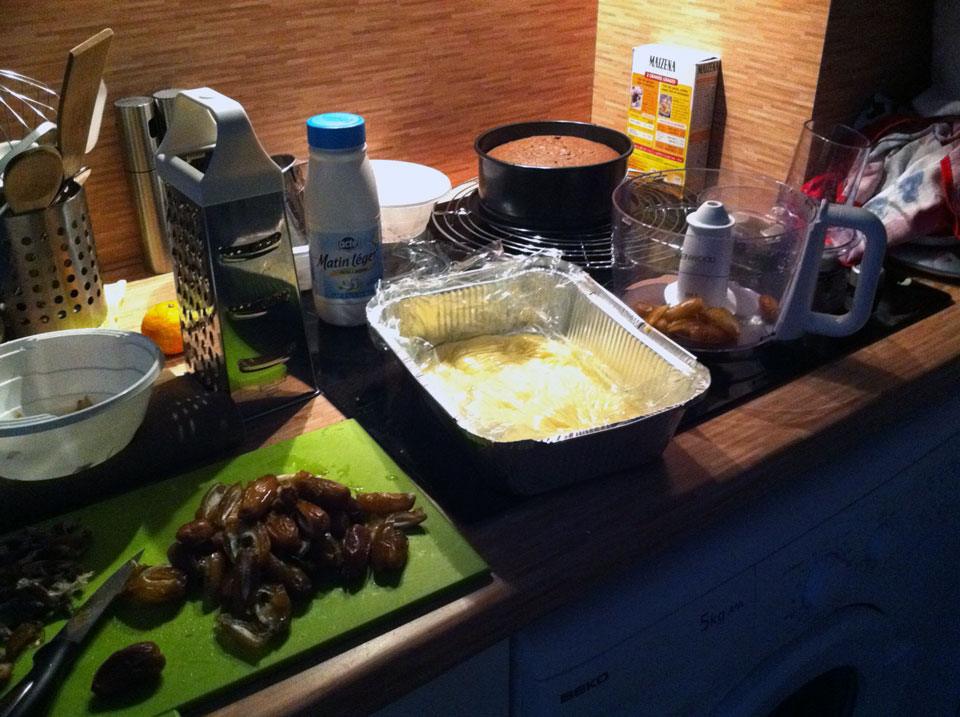 Despite the mess in my kitchen, I was really happy with the cake and proudly brought my creation to the contest tent in Saint-Jean Cap Ferrat (the road full of uphill climbs didn't relax me at all since any small rough movement could have destroyed my gâteau).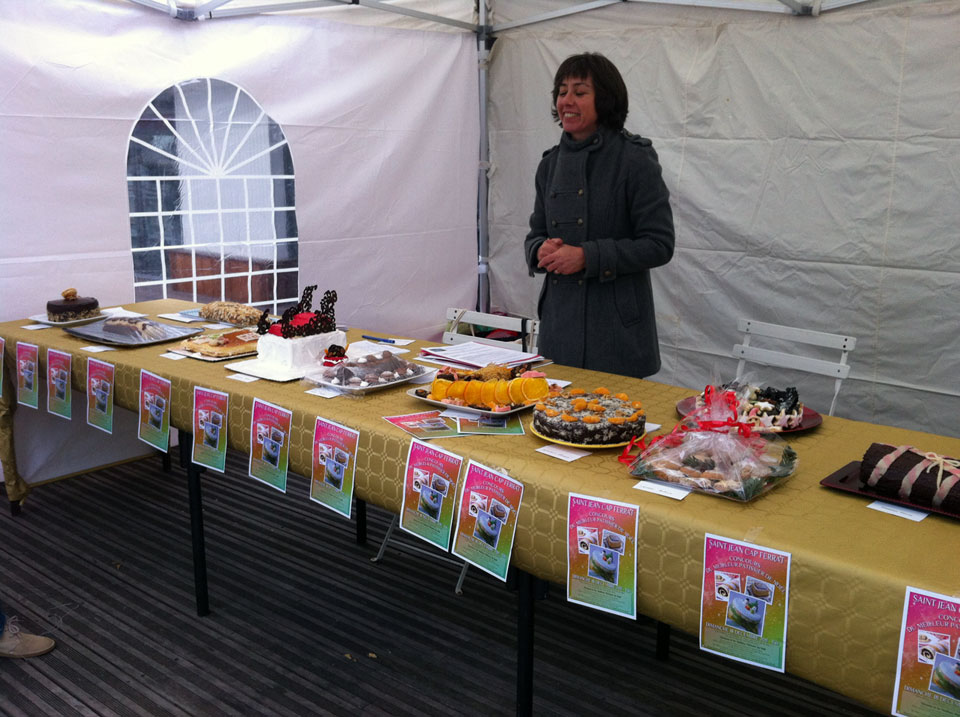 Nothing bad happened luckily, and this was the result: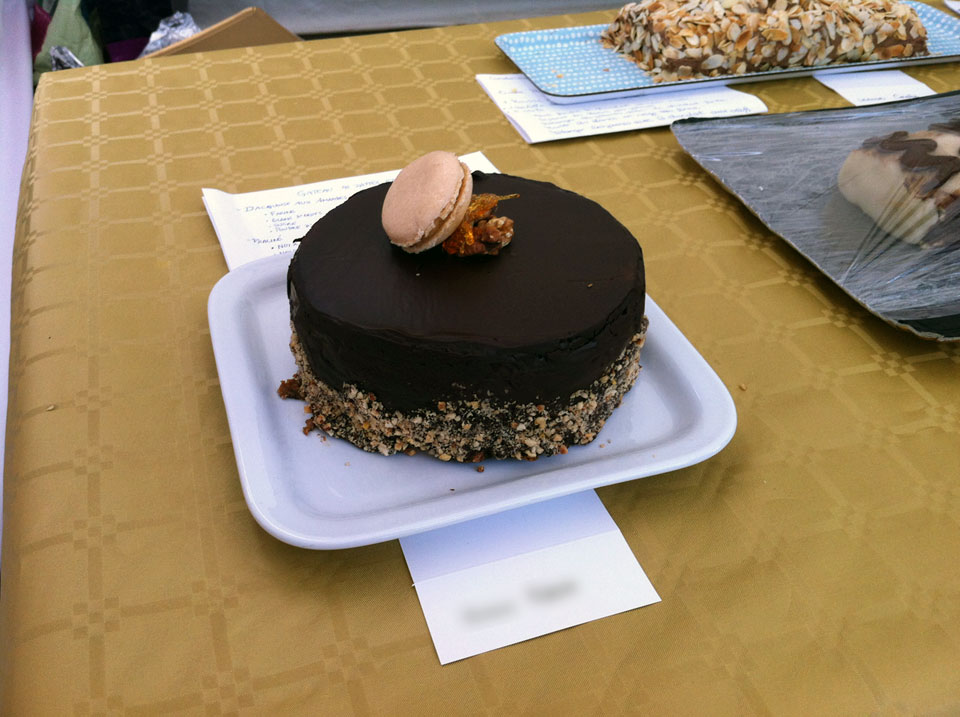 As soon as I saw the other cakes, I realized that probably I was the only one who respected the rules about the ingredients, and hoped that judges would consider that. One of the competitors was "Santa's sledge":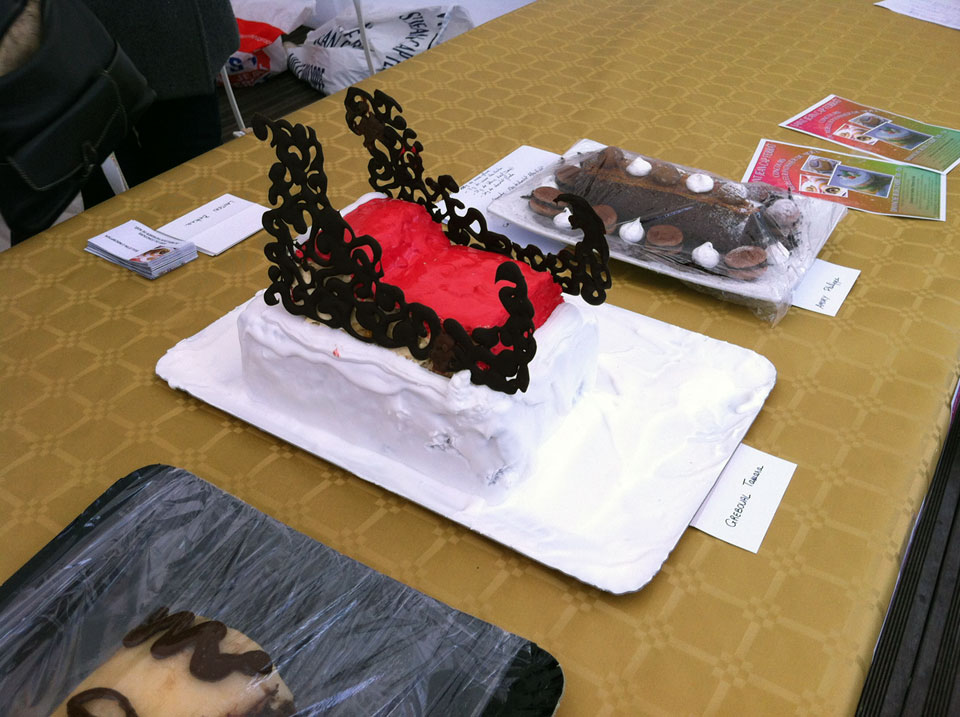 Definitely eye-catching, but not my style of cake. Plus, it was really funny when one of the organizers tried to cut the white part which served as a base for the sledge and the owner of the cake shouted: "No no, that part is made of cardboard!!!" :-O
After several hours of freezing in the main square of Saint-Jean Cap Ferrat, finally the judges announced the results:
– First prize for the bûche de Noël aux marrons (Chestnut Christmas log)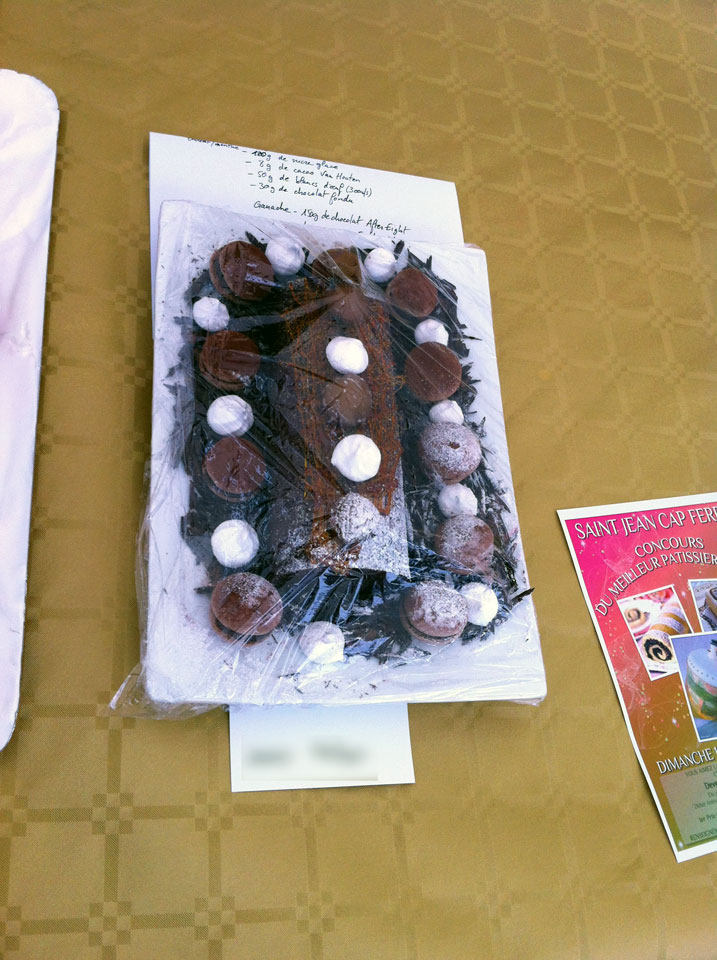 – Second place for the decorated house filled with fromage blanc and passion fruit: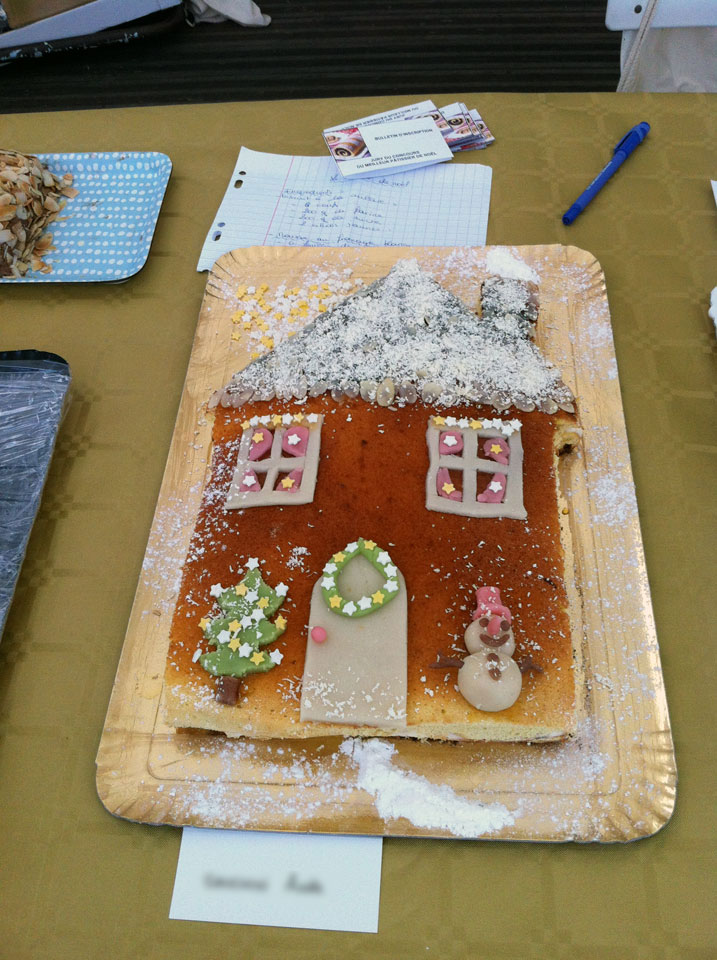 Ok, once again, not at all my style of cake, but it ranked better than mine. It is enough to piss me off 😛 But let's keep it cool and let's accept… the third prize!!! 😀
Apparently, according to the jury, my cake was not decorated enough, but in the end I think it is amazing that I was able to win something in a pastry competition, after just 6 months  of practice! It just motivates me to go on…
And the prize is cool as well: a pastry course with Pascal Lac, the best pastry chef in Nice!